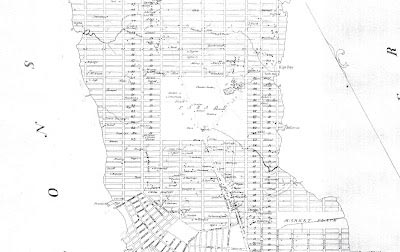 Geography and geometry have been intimately joined from the origins of the urbanism. Across the geometry the planning of the cultures became simple, and also the construction of the city. The plot reticulada not only allows the control of the present – and the assumption of the past – but it shelters the future growth, theoretically immensely.
The particularity of Manhattan is in his limited extension, in the water that surrounds the island. In 1811, one commission directed by DeWitt Clinton it did of the geography geometry, with a surprising plan: to cover the totality of the island with a mesh of 12 broad longitudinal avenues and 155 transverse streets – following the logic of the form – generating approximately 2.000 rectangular apples, 2.000 artificial islands of room in a sea of traffic.
Since the great reticle was remaining interrupted by the physical limits of the island, immediately a notable importance acquired the third party of the axes of the space: the uprightness. Since the horizon, for geography and for geometry, was finite, the sky would be the new limit. The mesh was becoming three-dimensional, and the growth in height, virtually unlimited.
antonio s. río vázquez . architect
a coruña. juny 2012
Author of the blog, El tiempo del lobo
Antonio S. Río Vázquez (A Coruña, 1981) es arquitecto por la E.T.S.A. de A Coruña, master en Urbanismo y doctor por la Universidade da Coruña. Especializado en teoría y diseño, su línea de trabajo se ha centrado en la investigación y divulgación del patrimonio arquitectónico moderno. Ha desarrollado proyectos de modo independiente y ha colaborado con varios estudios de arquitectura. Es socio fundador de Aroe Arquitectura. Es profesor en el Departamento de Proyectos Arquitectónicos, Urbanismo y Composición de la Universidade da Coruña, y ha sido profesor invitado en la Robert Gordon University de Aberdeen (Reino Unido), en la Universidade do Minho (Portugal) y en la Università degli Studi di Roma La Sapienza (Italia). Es miembro de la red UEDXX Urbanism of European Dictatorships during the XXth Century, del Grupo de Investigación en Historia de la Arquitectura IALA y del Grupo de Innovación Educativa en Historia de la Arquitectura. Ha formado parte del proyecto de investigación FAME Fotografía y Arquitectura Moderna en España, 1925-1965. Los resultados de sus investigaciones, tanto personales como conjuntas, han servido como aportación a eventos de debate y difusión científica y han sido publicados en libros y revistas.