In this new installment of the Baliza section, we move to Pamplona to chat with Agustín Ferrer Casas, architect, draftsman and self-taught screenwriter, lover of the clear line and dark stories. Classic style, both in the drawing and in the technique used.
Tanned in the world of comic competitions for more than twenty years until reaching thirty awards in different categories, he combined these with his architecture studies and his work as a technical architect until becoming a professional author in 2011.
During these years he has published in the company of others the titles Gandhi, el maestro de la vida (Editorial SAURE, 2004), La nueva era del sueño (Editorial SAURE, 2005) -these two through separate prizes- and De muerte ( GP Ediciones, 2016), and solo Cazador de Sonrisas (Grafito Editorial, 2015), Arde Cuba (Grafito Editorial, 2017) -winner of two awards, the best album in Valencia and the best script in the Donostia Comic Fair in 2018-, Las apasionantes lecturas del Sr. Smith and Cartas desde Argel (West Indies Publishing Company, 2018) -the latter's winner of the 2016 Mancha-comic-, as well as collaborating in various publications of the cultural magazine Jot Down.
His latest work is MIES (Graphite Publishing, 2019) a fiction biography about the German architect Mies van der Rohe and that coincides with the 50th anniversary of the death of the great architect, and where he makes a journey through his life and work.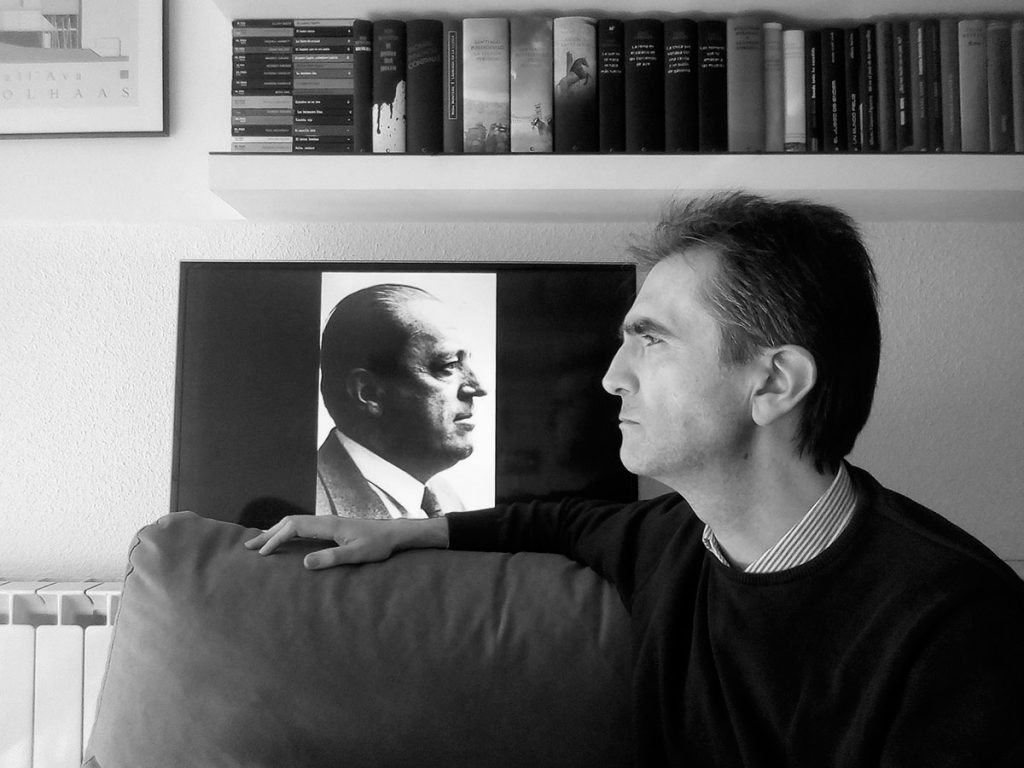 How would Augustine be defined?
Difficult to define oneself (laughs). I see myself as a kind of hermit who, for work and family reasons, lives away from the world in his particular cave. Sometimes grumpy, distant and antisocial. And other empathic, loquacious and in need of affection. Typical of someone who has chosen this way of life so lonely.
Someone told me once that I should leave my comfort zone. What for? Then it would not be me.
How and when were your beginnings in the ninth art? Why did you realize that you wanted to dedicate yourself fully to it?
I guess as a child, like almost all kids, I had access to the classic comics, Mortadelos and Zipi Zapes through Tintines and Asterix. While in others they only supposed children readings, since I had the art with drawing from a young age, I suppose that in me they inoculated the taste for comics. But everything was left there, waiting for it to germinate. Drawing comics did not give as much luster as studying a career. And if this was architecture …
Many years later they broadcast by EITB, the autonomic television of the Basque Country, a series titled "Grandes maestros del cómic". There, in episodes of monographs, authors such as Moebius, Enki Bilal, Howard Chaykind, Charles Schulz, Miguelanxo Prado, Mattias Schultheiss, Alan Moore, Alberto Breccia, Tanino Liberatore, François Schuiten… And I had an epiphany with twenty years! The world of comics opened before me in all its glory, in its adult version.
My new rediscovery of the Ninth Art was consolidated through an academic work during my studies of Architecture at the University of Navarra. The subject of Aesthetics gave me the opportunity to write and document a small study about aesthetics in comics.
But it was one thing to write something theoretical about the world of comics and quite another to know if I was capable of telling a story using the tools of this medium: narrative and drawing.
At that point the comic contests crossed my path. Those that proliferated years ago in towns, villages and cities of our geography. And the baptism of fire, chance, was summoned thirty meters from my house. I decided to try my luck participating, to see if I was skillful or had two left hands to do something decent. I should have been trained because I won the first prize, I, a rookie with his first short story!
And so, taking it as a distraction and self-taught, between studies first and work later, for almost twenty years I got thirty prizes in as many contests.
But as I just said, this was nothing more than a hobby while working in an office of architects (in case someone is curious, the Pamplona studio Capilla Vallejo Arquitectos). It was after thirteen and a half years, when I was in quarantine, that the cables crossed and I decided to leave that job. So, unconsciously. Or maybe not.
For a few months I collaborated in a magazine of "humor" of national circulation, El Clímaco, that pretended to make the competition to El Jueves. My participation in this company lasted the eight issues of the publication, until it went bankrupt.
With nothing on the horizon, I bet to elaborate a long first story, set in the California of the early 60s, with a dentist without empathy for the pain of others and addicted to LSD as a protagonist. In 2014, Grafito Editorial published this my first comic, Cazador de Sonrisas. Then came other titles to MIES.
Did you encounter many difficulties? Which were the most problematic?
The biggest difficulty was getting into the middle, finding a hole in the market. Until I decided to become "professional" I had not collaborated in any media (fancines or other supports). He had only participated in contests and those only had the diffusion of the circle of the contest, a small exhibition (if any) or a free publication of the winning works (with good luck).
When I developed Cazador de SonrisasI did it with the naive intention of publishing it through a crowdfunding campaign. Luckily I abandoned the pilgrim idea of self-publishing when crossing my path with that of Graphite Publishing, which was born at the same time that I finished this first long story. And they decided to release their catalog with her.
The biggest problem, once published a graphic novel that worked well as was Cazador de Sonrisas, was to find another story that exceeded the first. It is very scary not to hit the subject and that the reading public abandons you.
How did you combine drawing stories with architecture and teaching? What experience did you bring?
During the years in which I worked in the office, I limited myself to making stories of no more than four pages, six at the most, to a DIN A3 size. And it did not exceed three or four stories a year since it only drew on weekends, if it could. Neither did he intend nor could he do more since the contests, as he acquired more years, were reducing in number. Luckily I kept winning, which gave me the necessary boost for the next.
This experience of years gave me the style resources that make me recognizable. Work by hand and this can be a first mark of identity. And he also restrained my ways when telling stories, which were short. As those who write short stories in narrative, this served as training when telling longer stories.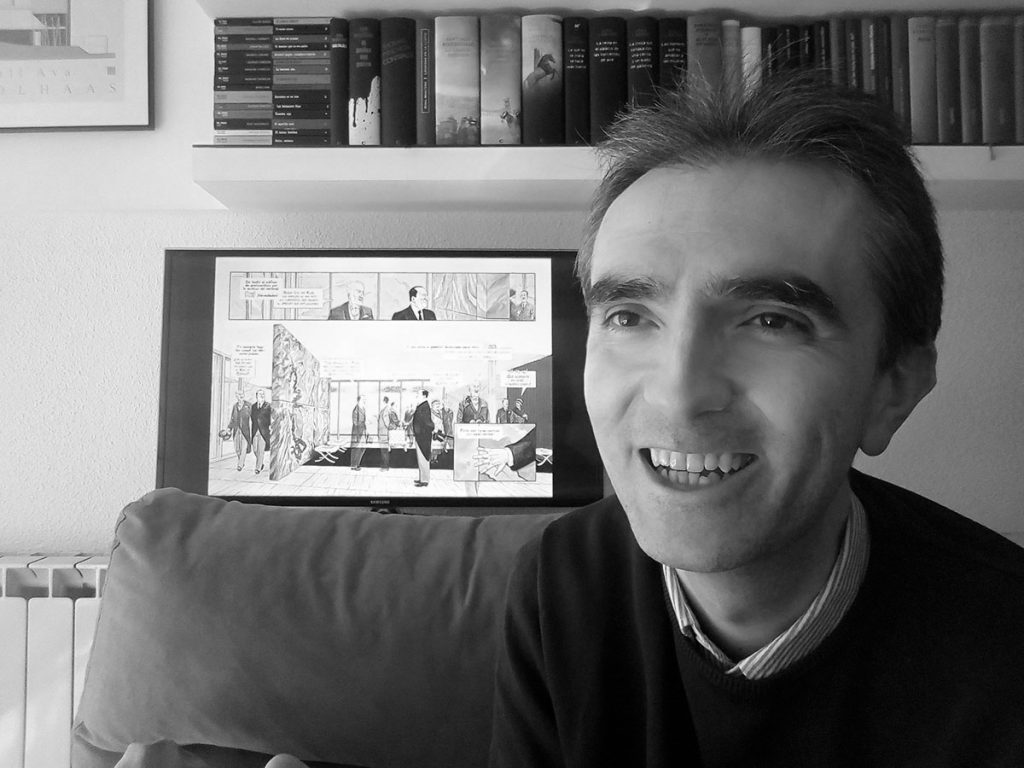 How is the day to day of Agustín at the time of beginning and to elaborate a graphic novel?
I can only define my method of work because I hardly think it is useful for other authors: I have no method of work (laughs).
And I can not say what has been the way in which a work is started since the few books that I have done have all had different genesis. Saving this small obstacle, inspiration or commission, the rest of the process is practically the same.
Previously I try to document as much as possible about the topic that I am going to address. Regardless of whether it is a fiction or based on real events -that can be fictionalized for the benefit of drama and narrative license. It is at this moment when I read everything I can find of the time or the situation in which the story will unfold. Apart from that I look for all the possible images that can help me when drawing. I do not care if it's photos, documentaries, movies, etc.
On a quite elaborate synopsis, in which there are no dialogues, I calculate how many pages each scene will occupy, always thinking of an even-odd number if we are talking about the beginning or end of the comic. I more or less mentally compose it. Then, when developing the written part, I confirm if I am falling short or not in that allocation of pages, but without drawing anything more than the rectangle of the sheet, never the inner content.
When I go to draw each scene is the moment in which I sketch, in that way, the content of that page. That scene I have previously written, in the manner of a script in which the dialogues appear, rarely (if ever) the description of the scene. I do not consider it necessary since I have it in my head. Usually the A4 that I represent is not bigger than 6x4cm and I always think about the content of the next page, although it is not a double page. More than anything to give continuity to the scene when you have the book open, seeing left and right pages simultaneously. I may be telling truisms, but this has always worked for me.
After the process is the classic – for me, I repeat. I make the sketch in A4 pencil (or A3 landscape if it is a double page), I trace the result on a Canson paper of 160g/m2 of gray color trianon (my favorite), I return to draw in pencil on that paper, ink with marker calibrated fine, I erase the pencil, moisten the paper and fixed it to a board with thumbtacks so that it does not deform with the use of watercolors. I let it dry, unless I have to make a sky, in which case I use the moisture of the paper to work with the randomness that watercolors and acrylics allow. When the paper is dry, I paint and color like a kid. Finishing this process delimited the contours with calibrated markers, evaluating with thickness the different depths of the drawn. The closest more chubby and the far thinner, when not blurred. And, finally, I scan the result, clean and correct some mistake, that I'm also wrong, and I design the page with its sandwiches and texts.
So, except for the scanning and text entry phase, the rest of the process is analog.
I repeat this with each series of scenes. I mean, I'm having pages finished. I do not do a preliminary storyboard, nor do I sketch all the comic, then I inject it and in the end I color. I can not with that method. I prefer mine, more anarchic, which is my comfort zone after all.
How is the process of design, development and marketing of an Agustín creation?
This escapes me a little. I can talk about the strategy I followed with MIES, which can be closer to the question you ask.
In this case, everything fitted in at the beginning. When I started working in 2015 at MIES, I knew that its publication should coincide with the 50th anniversary of the death of the German architect. Then I left the project temporarily to create Arde Cuba by editorial order and when I took it back in 2017 the deadlines had been shortened and I had to reduce purposes (number of pages and things to tell that were going to remain in the pipeline due to lack of time).
EDuring the development of the work I was teaching small samples of it through social networks, which allowed me to create excitement among my readers and new friends of the project, especially the architectural sector who were curious to know what would end what I showed them.
When the closing date of my work was approaching, my editors were gathering information about the possible channels of dissemination of the work, especially in the field of architecture and design. In fact we had a meeting with the management of the Mies van der Rohe Foundation in Barcelona in order to publicize the proposal just one year before its publication on paper. And I, for my part, sought the help of those who, without knowing it, contributed more to the genesis of the comic, the journalist and art historian Anatxu Zabalbeascoa – in a harassment operation via Twitter, I must recognize with blush. I wanted that, since my MIES was inspired by an article he published in 2014 in El País Semanal, I participated in it with an epilogue.
Crucial was the collaboration of Anatxu so that the British architect Lord Norman Foster also wrote the prologue. With all this,
What could go wrong?
Subsequent marketing has been the subject of the editorial. I will only say that the dissemination provided by the Mies van der Rohe Foundation and the work of the publisher informing the different media mentioned above have served to have the book expanded its word for Europe, Asia and America. The figure of MIES has an incredible pull. It also adds to this that the legendary Bauhaus school turns 100 this year 2019.
All this has contributed to MIES has left the usual scope of the graphic novel. What will happen with titles that do not have so many points in their favor? That is the uncertainty and fear of every author.
How do you choose and mold the characters in your graphic novels?
I like dark characters, with unusual lives, that have a somewhat rogue vein but that are attractive to readers and make them want. That was the resource that I used for my first graphic novel character, Dr. Herbert F. Dunne, in Cazador de Sonrisas. Maybe that is what attracted me to the figure of MIES and I may also see myself reflected tangentially in his person. We already know, the search for creativity that runs hand in hand with personal freedom.
The transfer of these personalities to the comic and transmit sensations to the reader is achieved through expressions, physical gestures, hands, gestures, comments or ways of speaking and even to be silent. Even in the comic the use of silences are usually very descriptive. And the characters are left to do, like actors in a movie. In my particular movie.
How do you get to contact and sign up for a publisher?
Again I speak only of my experience, because I think it differs from the hard way of other cartoonists. Send synopsis, samples, descriptions of characters, ideas, etc., to the editorials is usually the usual. And the usual thing is also to be rejected with good words (in the best cases).
I sent my first long story, Cazador de Sonrisas, completely finished to Graphite Editorial that at that time I was looking for cartoonists, scriptwriters and stories to start their journey as a new label. I think the first conversation was a bit shocking. But when they saw that they had a complete story they were epatados. They did not know whether to publish it or not. It was a story that could be defined perfectly as a thriller, but the cocktail mixed LSD, bondage, light sex, murder, orthodontics, paraphilia and dark characters in the bright California of the 60s.
In the end they decided to bet on it and until now, it is going for its second edition. Three of my titles have their stamp and have sold their rights abroad.
If I speak of the two titles of West Indies Publishing Company, it must be said that there is also a mixture of friendship and commitment to the world of comics in its edition.
Therefore, until now I have not known on my feet the sharp pebbles that sow the rough roads that lead to the doors of the publishers. And if I kicked them I wore good boots that gave me confidence to stomp.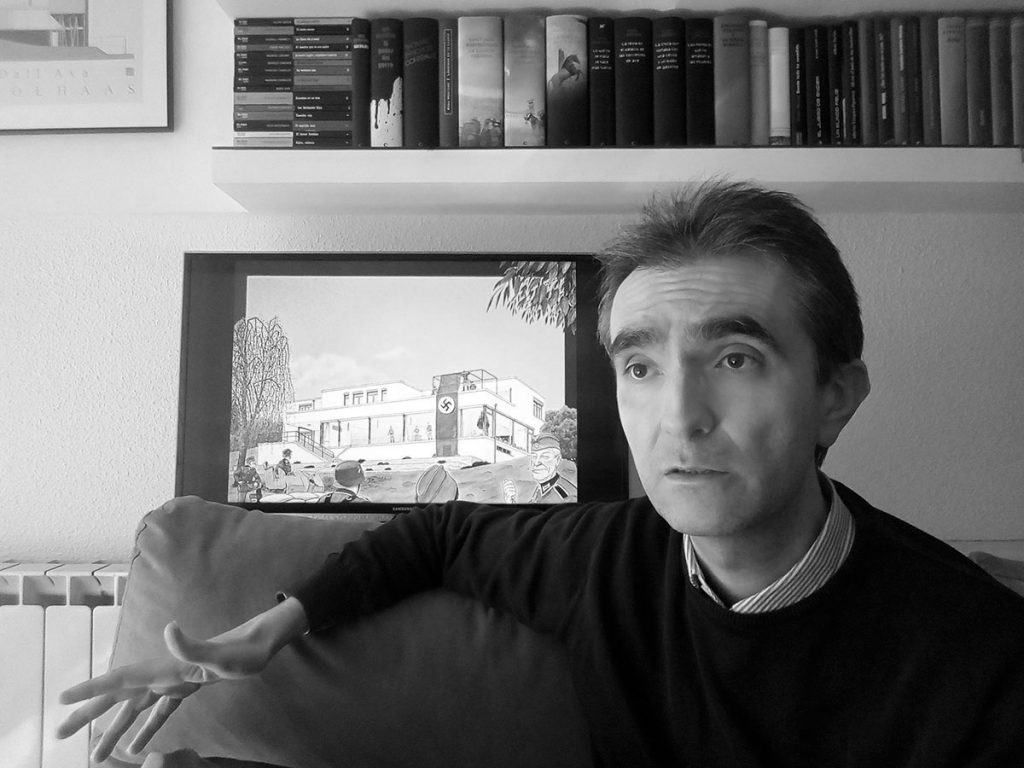 The most worrisome is to maintain the level in all the senses. After a first title, we want the next book to be better than the previous one. And you have to maintain the fidelity of the readers. That is achieved by publishing this new title in the shortest time possible, which is an inconvenience in my case. I am meticulous in my work and I do not bother with the results. The first one that has to be satisfied with my work has to be me.
So time and inspiration are the two main problems when you have managed to make that leap.
What are your references?
I can only mention as references the own ones as author. In my case I started as a draftsman very influenced by the work of established authors such as Moebius and Enki Bilal. At the local level I greatly appreciated the work of Miguelanxo Prado and Das Pastoras.
Later I realized that, with an own and recognizable style, I could admire other authors, but not necessarily take them as a model.
Which segment of the public / client do you address?
My titles are aimed at an adult audience, with diverse concerns (political, social, historical, aesthetic …). Fortunately, in the comic market there is as much variety of titles as there are readers, although I believe that it is necessary to promote that the number of the latter increases. Not already making them reproduce physically, which would be a nice and fun method, but creating readers from schools, with children already ".done". School libraries should be well nourished and the promotion of reading should not be just words.
How and for what do you use the "new technologies"? Has the "network" facilitated your work?
I spent thirteen and a half years sitting in a chair, in front of a computer drawing architectural plans and their derivatives. It seemed like he was doing dialysis on the mouse. Apart from that, I was teaching AutoCAD for twelve years as an associate professor at the University of Navarra (until the Bologna Plan defenestro).
I think I had enough doses of "new technologies".
My work is 90% analog and only for touch-ups or layouts I use the computer. There is no choice.
Another thing is the use, not for pleasure, that I have to make networks in order to disseminate and publicize my work to give signs of life to the readers. Small samples, reminders of where to find my titles and announcements of their presentations. Not as much as I would like, because I'm not digital and, if I do not know how to manage well, it takes a lot of time from work.
Of course, I enjoy counting through Facebook my little escapades to the few events in which I participate and where I add, whenever I can and as fun, a small story half fiction dedicated to voyeuristic readers, that there are.
Do you combine or complement this activity with other tasks or in other fields?
No. I only dedicate myself, in all the time allowed by my work as a family caregiver, to this profession of draftsman and scriptwriter. It's the good thing, or the bad, to have the office at home.
It would be impossible for me to do anything else because all this has caught me with an age that surpasses me. At best, from time to time, I make some custom illustration for some client with possible and good taste.
Architecture, has many battle fronts open (LSP, Bologna, unemployment, job precariousness, COAs, ETSAs, emigration, communication, etc.), will not they be too many for the existing polarization within it?
How do you see the future of architecture? And the one of the profession?
What improvements do you think are fundamental and should be implemented immediately?
I answer all these questions with one:
Why do you think I left the architecture and everything related to it? (Laughter)
For not giving foot with this answer to the question: then,
Why the hell did you make a comic about Mies van der Rohe?
I would say that I had a debt to architecture and the figure of MIES seemed arrogant and juicy enough to offer readers a graphic novel about his work, but above all, about his person. And this book was intended for the general public, so it was not only a compendium of his works, but also relate, and fiction in some cases, episodes of his life. Luckily Mies is so emblematic that the world of architecture has devoutly taken this book to which I have devoted so much time and work.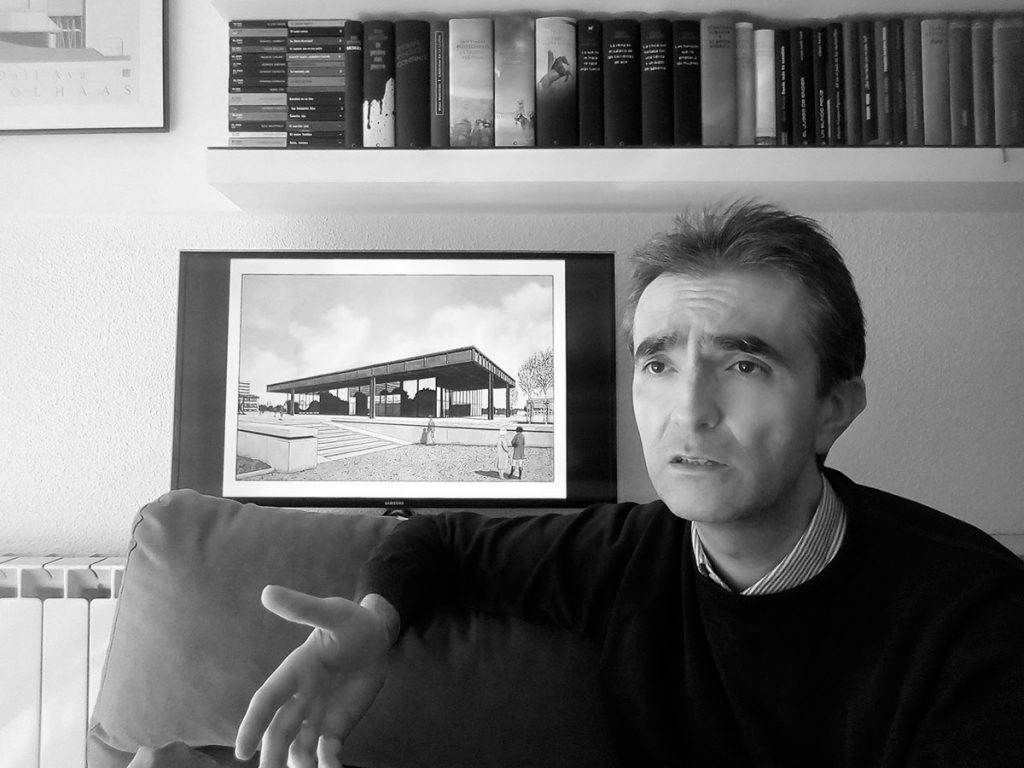 As an "entrepreneur", what do you think of architects who "open and / or recover" new fields and / or approaches to the profession?
I point out what has been said by many others: I hate the term "entrepreneur" that politicians and liberal economists have taken out of their sleeve. It seems something fun and joyful to launch into adventure, to undertake. It is neither fun nor joyful to be an independent professional. That is the correct term.
Now, answering the question, I will say that when a door closes suddenly, under your nose, it is necessary to look for another one open. Even a window. There is no choice but to innovate, recycle, find your niche (work, not mortuary) in which to stand out. You can not stay at home waiting to be called (although it has happened to me).
Are you happy with the trajectory made so far? What future projects await you?
I am happy, I can not complain. I entered, after the quarantine, in a medium in which you must compete with younger authors, with a lot of talent and fresh ideas, and even academically trained and continuously renewed. Although right now I can not be very objective, just finished MIES. It is a time similar to a postpartum depression that will last until you have a new project in your hands.
And speaking of this, I still do not have a new book in mind. I guess someone will think that it would be logical to continue with the path opened by MIES, working on another architect known Wrigth style, Le Corbusier, Kahn… But that would be pigeonholed in a theme and that is not the way. Yes, we could talk about some female figure in the field of architecture, always in the shadow of other men architects, partners and even spouses. It would be an interesting, demanding and necessary approach.
To finish, what do you advise current students and future architecture professionals?
The same as the future authors of comics: that they dedicate themselves to something else (laughs).
Now seriously, to be trained, to prepare well, to be interested in what is done outside their immediate environment … Many times focusing only on what one likes (or what their teachers like, thinking about satisfying them) let the perspective be lost It is one thing to pollute and another to see what is good and what is not. Creating an opinion is always good. But for that, you have to learn first.
And, of course, learn from the greats. Mies is an example.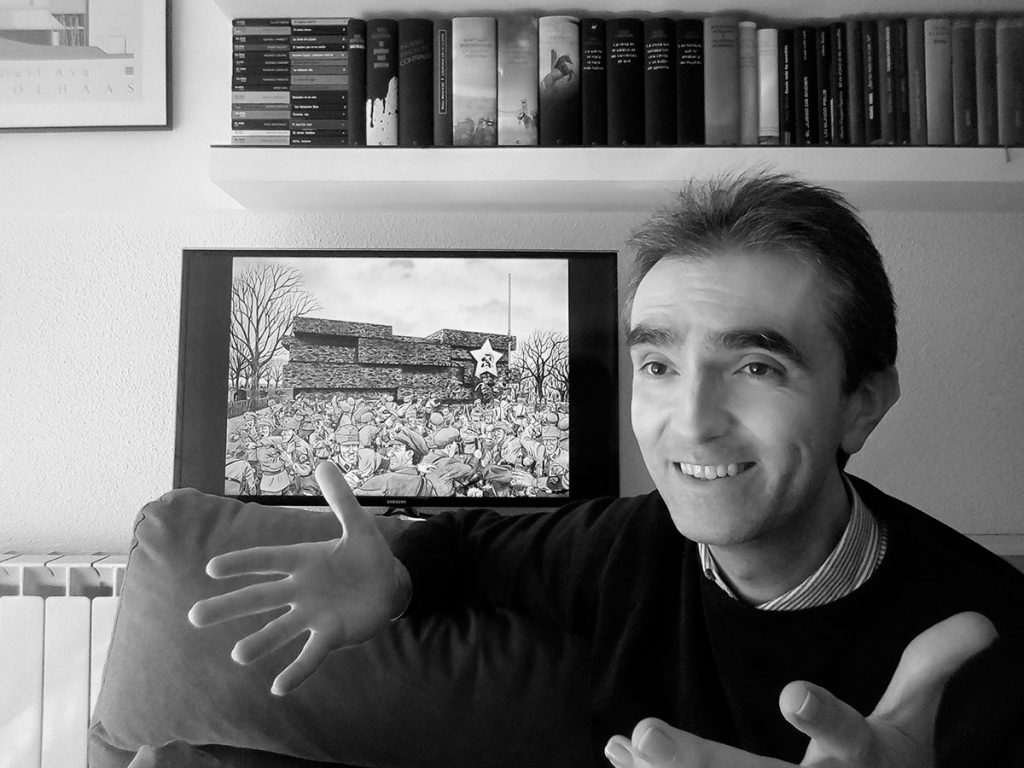 Agustín Ferrer Casas · Cartoonist, screenwriter and cartoonist
May 2019
Interview by Ana Barreiro Blanco and Alberto Alonso Oro. Thank Agustin for his time and predisposition with this small space.