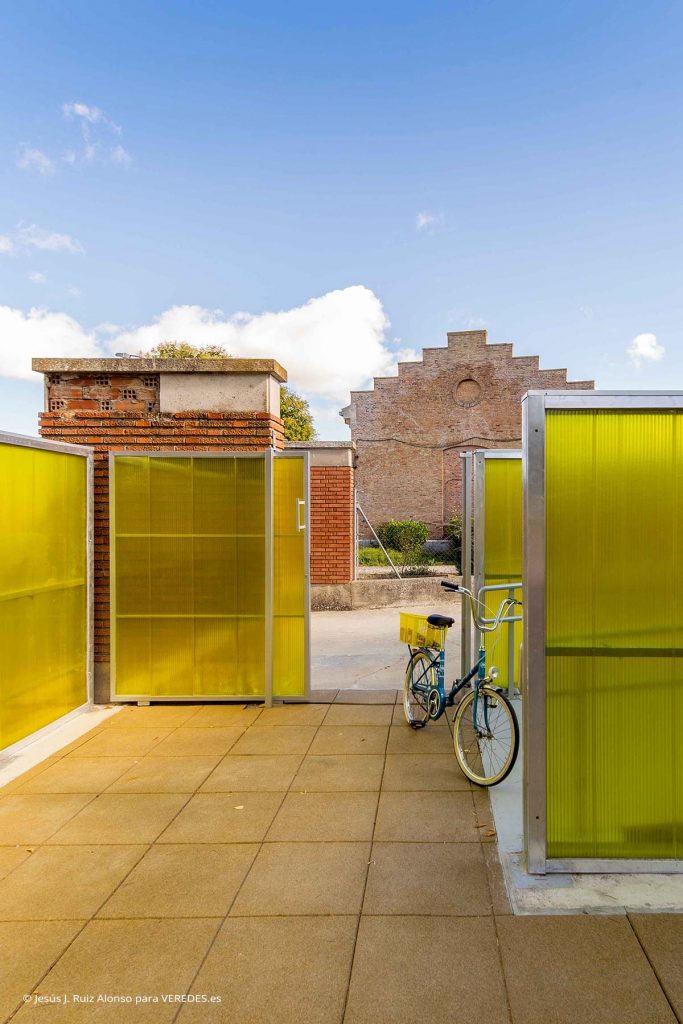 Few economic resources; a great surface to transforming. An interior; a court. We had to cover a municipal demand, a need that becomes urgent in a municipality, in a region, which suffers the litany of the depopulation and which he needs from endowments, services, you help which there remain for do not turn touched by the migration.
The day-care center reforms two classrooms, you empty already of children, of the only college of infantile and primary education of this municipality, Villalón de Campos, lodged in the flat geometry that were describing the voices of the imaginary prominent figures of Delibes in Tierra de Campos.
Before the lack of budget – little more than 50.000 eur – in almost three hundred square meters of surface that compose the court and the classroom there have used slightly usual materials, of industrial character, since it is the panel OSB or the yellow polycarbonate. Industrial matter, which they revert his industrial, cold, aseptic condition, to transform in more nice, tactile something, hot and especially make happy; difficult what is to avoid of the color when it tries of doing buildings destined for the smallest to him. Our intention is to revert the original properties of the materials installed in the imaginary one and identified with certain use, property or type of building from the way in how it bathes the light, his disposition or combination.
The duality osb/policarbonato is an appellant in this dialog of objected in order to facilitate architectural tensions that provoke complex situations and make the work more wealth-producing. Solid / vaporous, opaque / translucent, natural / artificial, they are qualities inherent in both matters that join in this small place. The polycarbonate facilitates perceptions estratificantes, depth and thickness to the closing, stretching the space from his condition of veil, looking like that exist multiple planes when actually both the osb and the polycarbonate are placed both to lead.
A small necessary, social, and principally resistant work against this shade that defines the depopulation.
Work: Reform of place in day-care center in Villalón de Campos
Author: Óscar Miguel Ares Álvarez
Construction management: Óscar Miguel Ares Álvarez
Year: 2017
Location: Avenida del Parque s/n. Villalón de Campos, Valladolid; Spain
Collaborators: Bárbara Arranz González, Jesús J. Ruiz Alonso, Dorota Tokarska, Sergio Alonso Alonso
Photography: Jesús J. Ruiz Alonso | Pedro Iván Ramos Martín
Floor area: 300 m2
Building company: Contratas y Obras San Gregorio S.A.
Forniture: Moi Interiorismo y Equipamiento.
Promoter: Villalón de Campos Town Council.
+ contextosdearquitectura.com