In this new delivery of Buoy, we enter two worlds that are in full summit, the formation and the BIM, for it that better way of it doing that of the hand of the young person architect zaragozano Rafael González del Castillo Sancho (1988). This architect formed in the ETSA Madrid, possesses Master BIM and Máster MBA, is already the whole not alone veteran as professional of the architecture (it has worked for several domestic and international enterprises of diverse sectors), in spite of short age, in the emprendimiento.
To his backs it possesses projects as Designing the Future, DTFmagazine a magazine of architecture and innovation that takes already 14 published numbers selling in Europe and America. Between 2014 and 2015 it throws more business: Fast Wood Festival, workshop of construction in wood, REVIT à la carte, platform of REVIT's teaching and The Neoteca, study of design and architecture focused on companies, specialized in marketing and technologies.
But today we will chat on one of his last projects, Editeca, school of formation online, that gives education on Revit, BIM and Virtual Reality to pupils of Spain and America with such programs as: Master BIM Manager Online y Master Realidad Virtual Online.
This crucible of multidisciplinary knowledge has led him to gaining different prizes (it is necessary to stand out 2013 receives the Prize to the Most brilliant Young Mind of Spain in the Congress IV of Brilliant Minds of the Theatre Price of Madrid), to give courses in universities and companies, referee in several conferences on emprendimiento young woman and to be sworn in national and international contests of architecture.
Ado preambles we leave you with the chat supported with Rafael.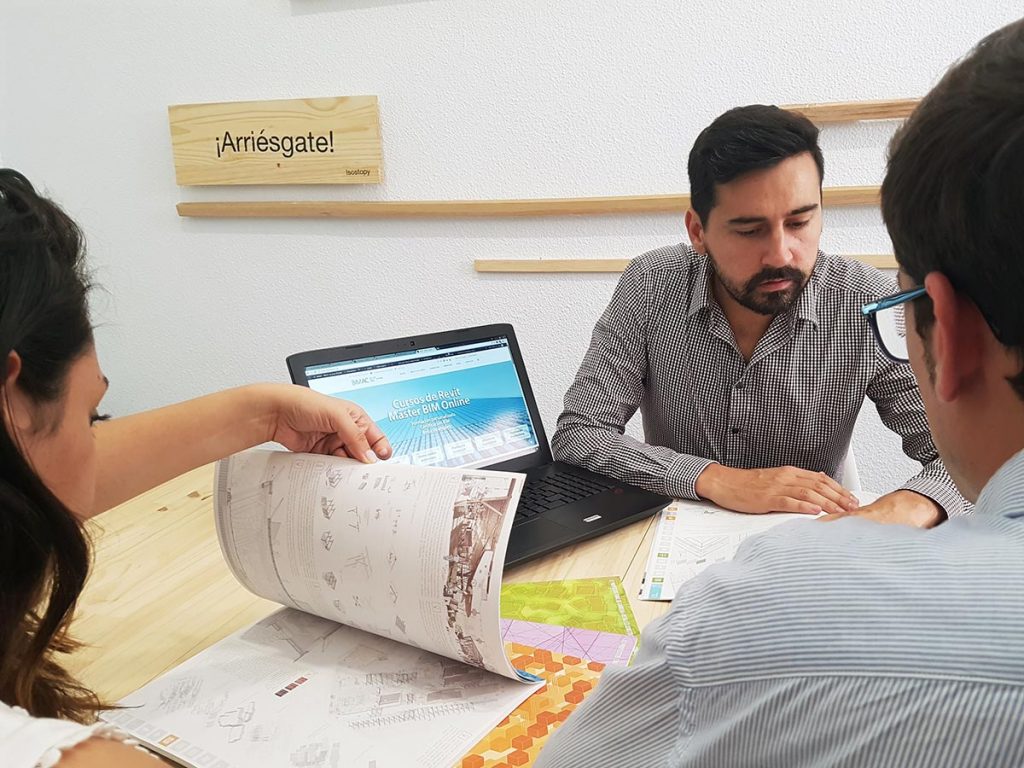 How, when and why does Editeca arise?
Editeca is aEscchool of Design, Ingineering,TECnology y Architecture of Spanish-speaking in format online.
In 2015 REVIT is born à la carte to form to groups and Spanish companies in REVIT due to the great demand to pass of CAD to the methodology BIM. We start forming in the Technical University of Madrid, the University King Juan Carlos and in the University of Saragossa one year later. In 2016 we throw our first courses online that triumphed in Internet due to the great formative quality. Hereinafter in 2017 we extend REVIT's courses to other softwares BIM. This way BIM was born à la carte (BIMAC). Finally the growth was so dizzy thanks to our effective methodology online that we proposed to open a School of Design, Engineering, Technology and Architecture.
Our formative offer is composed by courses and master divided in 3 areas: BIM, Virtual Reality and Impression 3D. Our courses online offer the advantage of formation without from date and without schedules in order that the pupil is formed to his pace. Our formation is constant and practical joining theory, exercises, personalized tutorships and the development of royal projects. Formation online, personalized and adapted in order that the pupil could do it to his pace: how, when and where it wants. Our Masters are totally customizable. We rely on several specialities, that they adapt to the needs of every pupil. On having finished, we grant Máster's Certificate of our school and official additional certifications as Autodesk's Official Certification.
Did you meet many difficulties? Which were the most problematic?
Yes, like any business, it is very difficult to begin, knowing what demands the market, what you can offer, who you are and what you sell.
On the other hand, the bureaucratic hobbles are, a good equipment finds with whom you understand yourself well or to confront the raises and descents of the sales. Approximately 2 years ago I decided to leave my work to undertake and proposed to last 2 winters. Nowadays I am very satisfied with the decision, but during these 2 years it was winning much less than they were paying me in the study. It is a risk that each one must assume, can be that then it you is OK or not.
I work from morning till night and give everything for the business, it is my commitment. When my equipment goes away of the office I still continue managing there the company, nevertheless it is something that I like and that I enjoy. The weekends I disconnect.

How did you detect the need of this service?
It was a bit tangential, enclosed it might say that accidental: I had done to me a Máster BIM, but I found a work where one was not employed at BIM.
One day a friend recommended me to give lessons to a group of students of architecture: 20 hours in a weekend, it was a great effort on the part of all. From there I decided to create a web and to move her between my contacts. Little by little me requests started raining to do formation presencial and I thought:
"This only I can do it in Madrid and Saragossa, what does happen with the rest of cities that they cannot do a formation presencial in Madrid?"
Then I decided to create a course online, which did not have any sale in several months. Based on effort, very much movement and contacts it started taking force, mouth-to-mouth resuscitation being recommended, until ultimately I was extracting more and more courses since the being liked our methodology much very flexible and personalized. Finally a friend who wanted to be formed asked me:
"And do not you have any more courses?"
He gave to me the idea of creating a Máster BIM online based on more courses, so I started recruiting other teachers who were trusting in my methodology and we extract the Master BIM online that a today is our more successful and recommended format.
Which are your references?
Our references always are private organisms, already be for the design, the communication or models of business. We do not concentrate on public universities since they have a complex system. We are an equipment with technical re-turned profiles, so all our graphic design and methodology follows a related line to the architecture and the engineering.
Also we advance thanks to the test and the mistake: what the pupils like, which he would like that we were improving or what it does not seem to them to be so important. We are to the service of our pupils constant and they can contact us for many routes (telephone, e-mail, forum or message for the platform).
They are those who mark the pace of the relation,
That we do not like to be heavy either!
To what clients' segment do you go? Which are the services more defendants?
We go fundamentally to the whole sector of the construction: Architects, Engineers, Riggers, Draughtsmen, Interior designer … Though also we have pupils who are IT, Artists or You Publicize for the sector of the Virtual reality. Every person got mad about the new technologies has content in Editeca.
On the countries, we have pupils in Spain and in Latin America, though also we have Spanish-speaking pupils who are in countries with another language and are formed in Spanish by us. The more demanded is the Máster BIM online and inside the agenda it would be architecture, facilities MEP and lately measurements and budget BIM.
How and why do you use the "new technologies"? Has "network" facilitated your labor?
We use the new technologies to be able to improve our methodologies of work and make them more effective. One of our beginning is "to automate and to optimize". The network has facilitated that our formation comes to pupils who might not do the same formation in format presencial.
Our teachers are teachers in Spanish or international universities and gather all this content to transform it into a format online, because of it always we say that we offer "qualit formation to attainable prices":
We want to make come the best formation to that pupil who cannot come to Madrid or Barcelona to be formed.
How is it day after day in Editeca?
We are a multidisciplinary equipment. We have several persons being employed at the offices and many collaborators at the network. In the school we are a young equipment hooked to new technologies, are connected always and discovering new softwares, plug-ins, gadgets …
We have professionals of marketing, design, computer science, communication and education. We like to be flexes, as the formation that we offer in Editeca, in addition we use several platforms online to communicate, to assign tasks to us, to contact the pupils, to solve doubts …
We might say that we have a structure of start-up.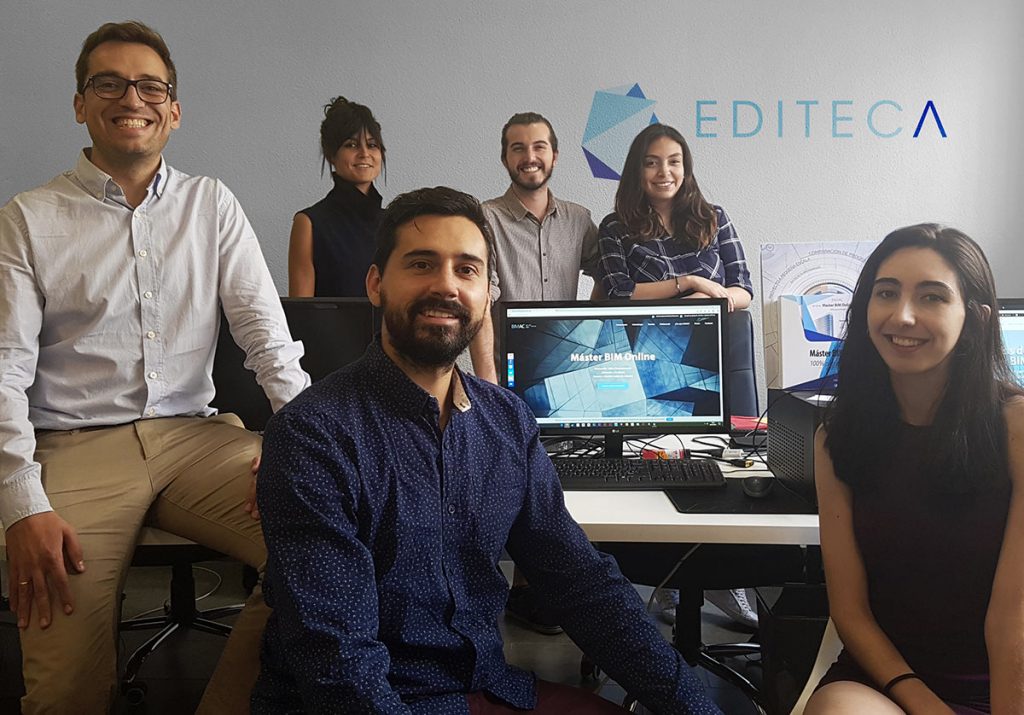 Do you arrange or complement this activity with other labors or in other fields?
Yes, though less and less, I am so satisfied with the equipment and with our labor in Editeca, that I am delegating other business in my other partners. Nowadays we are more focused in DTFmagazine and La Neoteca,, nevertheless Fast Wood Festival is yielded to a group of students of architecture, engineering and design who manage it in a Non-profit association, my labor only is an advising.
The architecture, it has opened many fronts of battle (LSP, Bologna, unemployment, labor precariousness, Spades, ETSAs, emigration, communication, etc), will not they be too much for the existing polarization inside the same one?
Under my point of view, we have to focus in advancing and being productive, for it it is necessary to try to obtain the caress end (that is the materialization of a building) of the as ideal as possible form thanks to the BIM, the VR, the impression 3D or any other system. I have been formed in a public university, of which I am very proud, then to go on to the private formation.
I consider that for a time in forward, the public system is not going to be able to cover the needs that the market demands since it has little room for maneuver to change his study plans. In addition the public university is formed by many civil servants and titular teachers by antiquity, which to explain concepts that do not change is marvellous.
Nevertheless to explain the new technologies not so much. Because of it we gather this updated formation.
In the European universities, normally the assistant teachers are young professionals who are giving lessons several years but not the whole life, hereby the concepts get up-to-date and always very fresh.
How do you see the future of the architecture? And that of the profession?
In several occasions I have commented that the architecture is suffering and being going to suffer many changes. This is due to the economic crisis but also due to the new technologies. We in Editeca go months looking for a Community Manager that is a technical profile (draughtsman, architect, ingenierio …) and it is difficult to us to find it very much. On the other hand in the equipment we are architects and engineers (telecommunication and aeronaútico) re-turned into digital marketing, graphical design, administration of companies, IT or even commercial.
In several chats BIM I speak on the future profiles that already are demanded and that it will be more in the future, it is the case of the architect programmer, of the investigator BIM, of the analyst of information, of the manager of energy efficiency …
What improvements you believe that they are fundamental and that they should be started of immediate form?
I think that it would be marvellous that the universities were opened more and that there was fewer "titulitis", that a person who studies IT engineering could do the majority of subjects of Architecture or another branch. Also it would be suitable that "were eliminating" the subjects and it was learned in a more horizontal way, for example with an annual project that should be spilt of the different branches and teachers of diverse areas. This is implanted in the Máster habilitante of the ETSAM and looks like to me a wonderful idea.
Nice what would be that every pupil was personalizing his formation and was planning his own way!
For example in the European universities, you can choose many subjects of other qualifications, supporting always the main some. Also there coexist pupils of the last course with those of the first course giving the same matter of projects, each one to his level.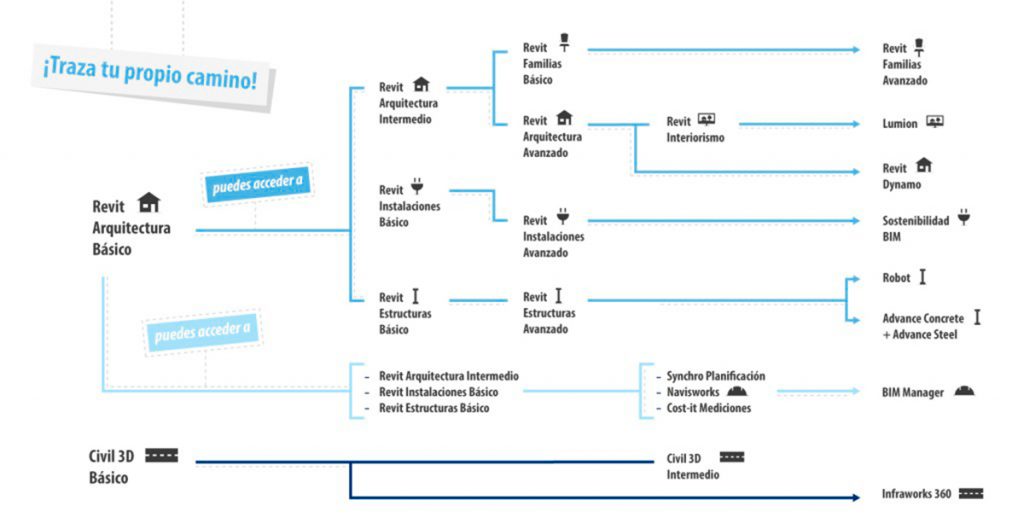 As "entrepreneur" what do you think of the architects who "open and / or recover " new fields and / or approaches of the profession?
They are a few adventurers, are those who are going to mark the future and those who are going to discover the way that we will follow the others. To be tangential or innovative does that we grow as company. We are the privileged some of which this type of persons exist in our company.
Are you satisfied with the path realized till now? What projects of future do you wait for (you)?
Yes, we are very satisfied, in fact we have overcome our expectations. We are growing organically thanks to the recommendations of our pupils of courses and másteres BIM. The future relapses in expanding our methodology online in other areas, since it is very tested and works.
In Editeca we have 3 horizons:
Horizon 1:
Extracting new formations related to BIM and Reality Virtual.
Horizon 2:
Exporting our methodology to other areas related to the Design/Engineering/Architecture/New Technologies.
Horizon 3:
Extracting new products related to the Architecture/engineering: publications, plug-ins, gadgets … it would be so marvellous to have a department of research and development!
Finishing, what would you advise the current students and future professionals of architecture?
That beside focusing in his studies, which they diversify in other areas: theatre, cinema, design, communication, marketing, urban psychology … I Think that to start by being a multidisciplinary profile opens a lot of ways and finally you will cross the one that is marking the life. I am charmed with teaching and the BIM, but he was not thinking that I was going away to dedicating to being forming and a consultant BIM.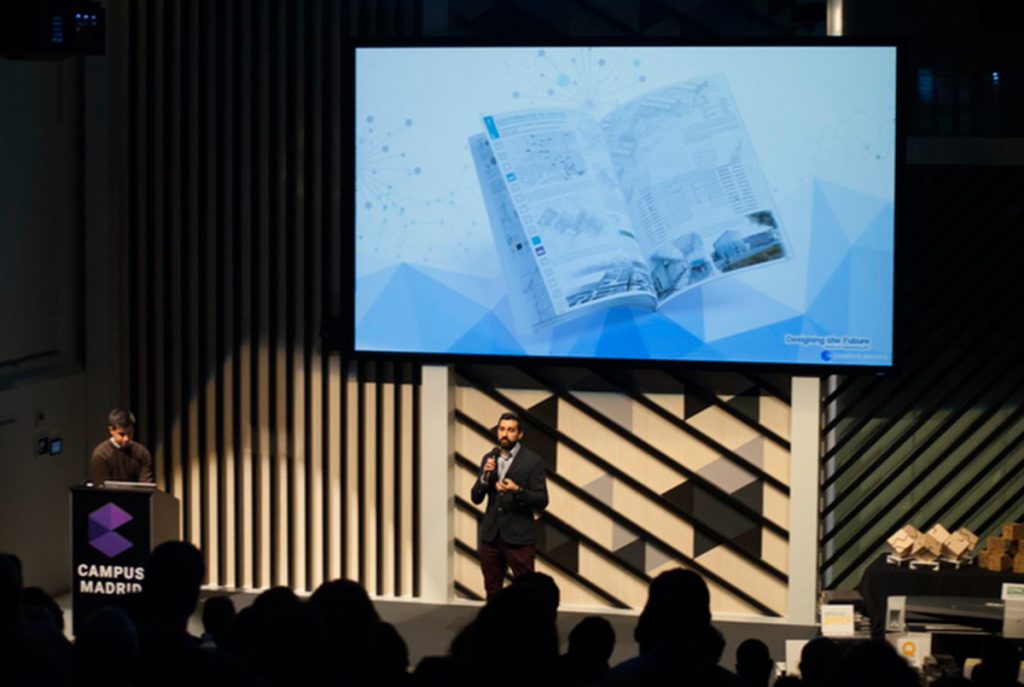 Rafael González del Castillo Sancho  · Editeca, School of formation online
March 2018
Interview realized by Ana Barreiro Blanco and Alberto Alonso Oro. To be grateful for Rafael his time and predisposition with this small space.