The pioneering arquitect women: the presence of the absence (II) | Cristina García-Rosales
I will begin for Scotland. We all know Charles Reine Mackintosh.
Well then, Margaret and Frances Macdonald, two sisters designers (still they did not have the title of arquitectas) worked together with Mackintosh and his friend Herbert MacNair at the beginning of the 20th century – from 1900 to 1928-, forming the so called group of the Four.
This group worked and established the first impulses for the renaissance of the design and of the architecture. The four realized graphical compositions, projects of interiorismo and of architecture with a style that can be defined as Modernist or Art nouveau, using sensual forms, material nobles and inspiring by the nature.
What very few ones know is that she was Margaret who, between other many designs, drew the roses that they incorporated later in furniture, windows or railings. And when Mackintosh started gaining a well-deserved reputation him, critiques came to him attributing "disproportions" to him for the harmful influence of the taste of his wife. Opposite to the critics, Mackintosh limited himself to saying that it was the one that had the "genius", and he only "talent". Margaret as so many other women did later, it worked always to his side and remained secret according to the customs of the moment.
His delicate sensibility becomes present in the design of the stays of his buildings, attributed – even it does little well-, exclusively to his companion. In his projects more acquaintances since they are Hill House, the School of Art or the Tea House, (all of them in Glasgow) they designed together up to the last detail of the furniture (lamps, tables or beds) and in the lounge of you, even the disposición of the tablecloths, the menus and the uniforms of the waiters.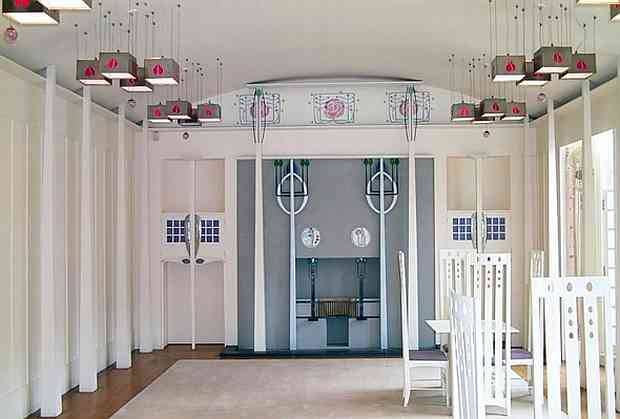 Mackintosh and Margaret Macdonald were treating the spaces, as if they were in if same complete projects. This way the chairs were getting accommodated to the proportion of the windows, relating to the chimneys or to the cupboards. Margaret in addition was taking charge of the print of the tapestries, which were harmonizing with the drawers, of the design of the windows or of the lamps. An integral conception capable of providing to his inhabitants vital balance, a sensation of harmony, of serenity and of interior peace.
Cristina García-Rosales. Architect
Madrid. February 2014
The pioneering arquitect women: the presence of the absence (IV) | Cristina García-Rosales
Soy arquitecta (1980). Mis proyectos son muy diversos. En 1995 fundo el grupo La Mujer Construye, en el que ocupo la Presidencia.