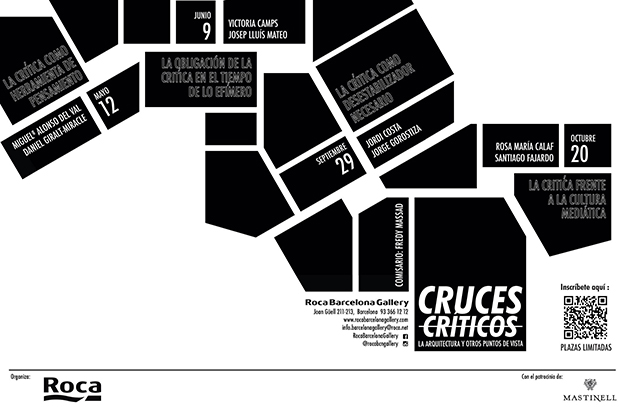 Roca a new cycle of meetings starts in the Roca Barcelona qualified Gallery 'Critical Crossings. The architecture and other points of view'. An activity in format of dialogs between an arquitectos and professionals of different creative disciplines, directed professionals of the sector, which possesses the comisariado of the critic and architect Fredy Massad.
Every session of this cycle assembles an architect with the intellectual one of another area, which work could contribute relevant points of view for a rethinking of the critical reflection in the architecture. Together, they analyze the dimensions of the reflection and the exercise of the critique from his particular perspectives.
The concept of this cycle arises as a reaction to a context marked by the gradual banalización of the architectural speech that, conceived basically as media merchandise, tended to turn into a mere rhetoric ductile and theatrical, lacking in any will or commitment with the thought.
In parallel, the activity of the critique of architecture began to change into a form of constant plaudit this model who, having legitimized it, was helping to validate likewise this process of banalización and to there annul and despise any attempt of critical reflection that was questioning it, which ended up by culminating in the elevation of voices that decreed the death or completely unnecessary character of the exercise of the critique.
The first dialog, 'The critique like tool of thought', will lead it Daniel Giralt-Miracle, critic and historian of the art, and Michael Ángel Alonso del Val, architect and the director of the School of Architecture of Navarre. Both will converse on the value of the critique as necessary tool of thought in the processes of creation and, concretely, his paper inside the current context of social and cultural dynamics marked by a renovation of speeches that appeals to the transformation of attitudes and ways of making and producing.
This cycle has the aim to provide to the professionals a content of reflection and awareness on his own profession.
Búsqueda para satisfacer el conocimiento de la actividad arquitectónica y tangentes que se generan. La idea es crear un espacio para divulgar los diversos proyectos en busca de nueva inspiración y de intercambio.