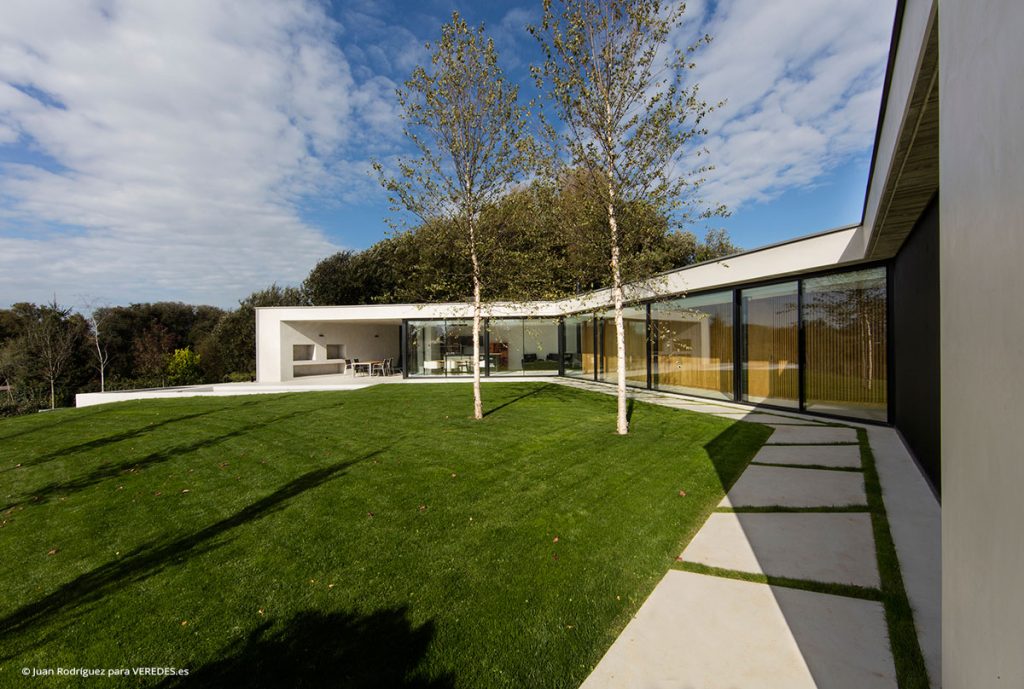 Housing in ground floor in Oleiros's municipality, which is implanted in the area considering the conditions of item of the plot, understanding the place and looking for the best orientation.
The plot has an irregular plant and with a light slope towards his interior, with an access for the zone this one from the road principal one.
The access from the road principal one is realized approximately in the link of union between the area of housing and that of garage, facilitating so much the access rolled towards the zone of garage, as the pedestrian one towards the interior of the housing.
For the building a volume of concrete appears with the surrounding one in zinc of lifted meeting and elements of wood. With a disposition in "U" that develops parallel to the road one of access and to the way of service placed in the boundaries North and West of the area, being opened towards the interior of the plot looking for the best orientation of the same one.
The housing consists only of a ground floor that is divided in three principal areas, the garage, the housing and a covered terrace.
Of equal way, the geometric form and the disposition of the housing in the plot, favor that Northwest and North-east is closed in his orientations to gain privacy, and be opened in the southern part towards the urbanization of the plot across carpentries by sliding system.
The area destined for housing places later of the garage and lines up parallel to the way of service. This volume has two differentiated zones; a box of wood that gathers the private spaces, since they are the principal bedroom with his corresponding bath and dressing room, the study, a principal bath and a zone that contains the laundry, store, facilities and workshop.
On the other hand, the zone by day consists of a more transparent and glazed zone that includes the zones of lounge and kitchen.
Finally, the area dedicated to the covered terrace places later of the housing, with the possibility of establishing a direct connection with the kitchen-lounge.
This space is closed in his orientation Northwest and is opened for the urbanization of the plot and for the exterior swimming pool, taking advantage of the light and the heat.
Work: Housing in Rúa da Proba
Author: Díaz y Díaz Arquitectos (Gustavo Díaz García y Lucas Díaz Sierra)
Collaborators: Pablo Mera Montecelos, Daniel Orosa Pico, Miguel Ángel Sendín Bacon
Technical architect: Pablo Sanjurjo Morodo
Landscape painter: Aritz Sáez Arostegui
Building company: Ábaco CR
Year: 2016-2017
Location: Oleiros, A Coruña, Galicia, Spain
Photography: Juan Rodríguez
+ diazydiazarquitectos.com
Búsqueda para satisfacer el conocimiento de la actividad arquitectónica y tangentes que se generan. La idea es crear un espacio para divulgar los diversos proyectos en busca de nueva inspiración y de intercambio.