The new monographic number of Tectónica is dedicated to the protection against fires of the buildings. The theoretical content of the monograph has been elaborated by the architects César Martin-Gómez and Natalia Mambrilla, teachers of the Section of Facilities and Energy of the ETSA of the University of Navarre. The article analyzes the principal factors that intervene in the design of the protection against the fire in the buildings, the influence of the characteristics of these in the development of the fire, and the strategies to confine it and to attack it.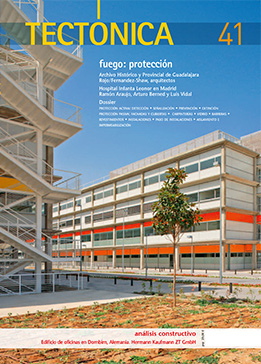 Both projects analyzed in the monographic section of this number use paths strategies differentiated before the fire. In the Hospital Infanta Leonor in Madrid projected by Ramon Araujo, Arturo Berned and Luis Vidal, the determinant aspects of the protection project are the sectorización and the occupants' evacuation with limited mobility. The Historical and Provincial File of Guadalajara, work of Rojo/Fernádez-Shaw, architects and Liliana Obal, proposes a protection plan of the documents by means of modules of concrete equipped with active systems of protection of rapid response.
The projects of this number are completed by the constructive analysis of the office block in Dornbirn, Austria, of Hermann Kaufmann ZT GmbH. This work is the result of a project of investigation in prefabricated construction that has allowed to raise the first building of eight plants of height in seen wood. Opposite to both projects published in the monographic section of this number, which aims were the protection of the occupants in a case and of the contents in other one, this building shows the third aim of protection: the own material of construction of the building.
The Dossier of Products constitutes a selection of the materials, products and more innovative systems developed by the industry of the construction for the protection against fires of the buildings. The systems and selected products have qualified in two paragraphs: protection activates – facilities that intervene actively in the prevention against the fire, his extinction or in the evacuation of the occupants-, and passive protection – constructive elements that avoid or minimize the spread of the fire-.
Edit: A.T.C. Ediciones, S.L.
Directors: José María Marzo and Carlos Quintáns.
Búsqueda para satisfacer el conocimiento de la actividad arquitectónica y tangentes que se generan. La idea es crear un espacio para divulgar los diversos proyectos en busca de nueva inspiración y de intercambio.