Today we move to Madrid to appear  La galería de Magdalena, a project of Raquel Congosto and Isabel Arenas, whose aim is to reinterpret the spaces underestimated of the city to turn them into spaces of opportunity, and that communicate the public space with the digital space by means of the civil participation and the concept of 'Giving'.
¡La galería de Magdalena  is an opportunity to obtain satisfaction, is a laboratory of experimentation in the one that to share an experience with unknown people, is an act of psicomagia!!.
With this end they have transformed spaces as fences of work or solar in ephemeral galleries of art, where everything what is exposed is given to the viandantes. They give a special importance to the communication with the public of all kinds, trying to eliminate existing barriers between the company and the contemporary art, trying to create environments where the people feel comfortable about the art, to the communication between different contexts and between the own people.
"The street is in yes the same opportunity of creativity, of meeting, of exchange, or at least like that we see it. Lagaleriademagdalena is at the same time a platform that serves to realize exhibitions in the street where everything what is exposed gives itself: #RegalosUrbanos, and a community of people of the physical and virtual environment that we met about the culture and the participation."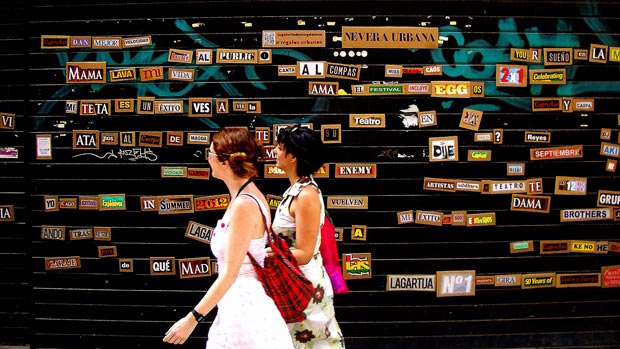 Which has been your formation and professional path before Magdalena's gallery?
Both we are arquitectas for the Technical Top School of Architecture of Madrid and we were employed at diverse studies. Later, one was employed at the edition of the magazine Alive Architecture, while other one was doing it in topics related to the design and assembly of exhibitions. In addition always we have been involved in different creative projects, as a brand of clothes, a television for Internet, painting, etc.
What did lead you to starting this project? Why in this sector?
The project arose from a heap of worries that we had jointly, like the participation of the people in the works that we were doing, the use of the public space, the quantity of unfinished spaces that left the crisis in the city … we realized that we needed to do a use different from this public space. This way our first action arose in the street and later we meet one day a building in works in the street Sponge-cake, a few samples of painting that seemed to be perfect to place a few pictures on them. As is, the following weekend we prepare a few drawings and we did an exhibition that from the beginning was an area of attraction of people who was approaching to look and to ask things us on the work, as if it was a question of an inauguration in a gallery. The people started asking also that when it was the following exhibition and suddenly, this corner in works turned into our place of habitual exhibition, a laboratory of ideas and creative expression.
What other projects and / or activities does it include Lagaleríademagdalena?
What we are charmed with of Lagaleríademagdalena is that it is a project that never becomes exhausted. Inside him every time new ideas arise, but in addition some 'spin-off' have arisen since he can be Lagaleríademúsica, an honoring to the cassettes where we are compiling lists of reproduction of a tons of people, on condition of which they are 60 or 90 minutes, each one, with his personal review and the links to listen to her in Spotify, Grooveshark, Deezer, etc … Also there are the Civil Walls, which are more permanent of integration interventions, in that there are honoured the neighbors of a neighborhood, who for example take part in an opened photocall and later they are his own portraits those that compose the work, feeling identified with them and new links being created between the neighbors and between them and the place. Also we have done university workshops and for children and have created and managed events. Just now we have just realized a Festival of *RegalosUrbanos during a weekend. A drift of *RegalosUrbanos for 9 locations in the Neighborhood of the Letters of Madrid, with a total of 18 exhibitions and the participation of several artists.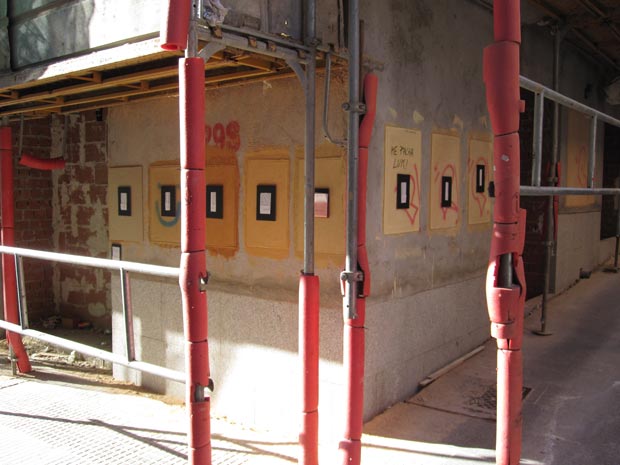 Did you meet many difficulties in his putting in march? What supports have you received?
We never ask for permission to intervene, because what we do, to the ephemeral being and to respect always the surfaces on which we act, is not illegal. So in this aspect we did not have any difficulty. Later the project was growing of natural form, almost without realizing, but really the difficulty which we meet is the habitual one nowadays and is the economic sustainability of the project, though at the moment we are obtaining it. Now we devote ourselves exclusively to lagaleríademagdalena and the truth is that the major support that we have received from the beginning is that of the public. Already from the first exhibitions they were approaching to thank us for doing something like that and were asking us how to find out about the following exhibitions. To see as faeces happily the people is the more wonderful thing that can happen to you. Also we have received always enough I rest on the part of the means, from blogs up to newspapers, national radioes and the television.
Do you think that to study Architecture has been a fundamental passport to have come to your current work?
On the one side of not having studied Architecture, we would not have managed to know and for other one always we speak about the little that knows sometimes these studies. In our career a formation is acquired in very diverse fields and really though one does not realize it has a preparation to do a heap of different things, only it is necessary to have the opened mind. It has allowed us to have a vision wide and different from the spaces in the cities, to bear diverse simultaneous situations in mind … and also it has taught us ways of doing that we do not share a today but that like that we can detect and avoid.
Are you satisfied with the reached aims?
We are contentísimas. When we begin we never think that these actions that we realized were going to manage to turn into a project that already is 3 years old and a half of tour. We would not even have imagined that we could realize interventions of the importance of *Emergiendo for example, in the neighborhood of Madrid de Tetuán, a Civil Wall of 40 meters of length. And in addition, the most important thing, to be able to live of doing what we like.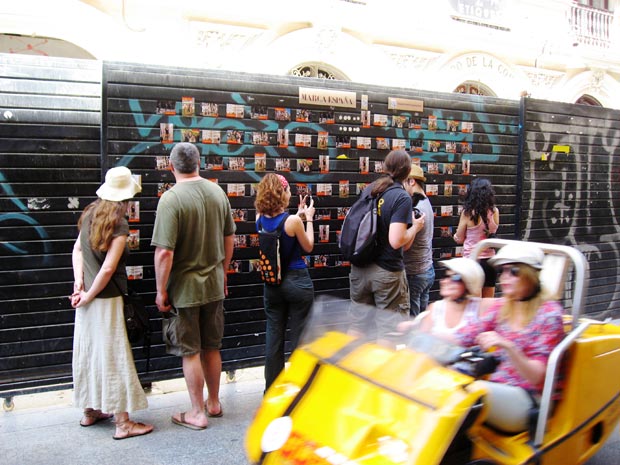 Would you encourage other architects to follow your steps? What steps do you consider that they should give? How to complete his studies? What other advices would you give them?
It encourages the people to appear what is what really they like to do and to doing it with the opened mind, because there is never known what form is going to take this way and now with the crisis it is necessary to be attentive to the tracks that can appear in front of you but that if you are not awake you cannot see them. And the most important thing is to start doing, that there put to do what they fills as the first step and it is probable that little by little it directs them new places that before they were not knowing. And as not, that what they do do it with illusion and energy, believing really in it, if it is not very difficult to support a project in march. With regard to how to complete the studies, a today there is an enormous offer of courses and masters, but often one can find workshops and short courses that sometimes can deserve more a sorrow for what you search in concretly, you itself can organize your package of career education depending on your needs and can extract more profit that to an offer more traditional that it is sometimes slightly obsolete with regard to the current situation.
Do you believe that the architects in Spain we should continue opening new routes of work to go out of the "most "traditional" cabin of projecting given the current situation of the construction in our country?
Certainly that yes, since already we have said we believe that we have to take advantage of the formation that we have, that is more wide than the people believe and to try to apply it to reinvent and to reveal new niches of market.
What do you think of those that they have been going to work abroad?
It is one of two options that exists and both are equal of valid. We know several cases in which the truth is that they are delighted with the place and the conditions that they have found on having gone away of here but also there are others that have not just fitted. Of what if we have realized is, that though it is of trip, is sorry to go out very well of Spain, because here there is a species of cloud of negatividad that surrounds us and of that we are not even conscious when we are put in her. When you go out it is when well-known that was a different environment is breathed, without so many pressure and on having returned you notice brighter than here it is happening.
How do you see the future of the profession?
It is a future that we have to design every day, to create a new profession. In fact one of the problems that we see is that in the universities they continue with an ancient model of education, they are teaching systems and contents to them in such a way that already it does not serve in the real world. And these students are precisely the future of the profession and are without tools or means that are linked by the reality that happens out of the university. In addition we believe that the world is changing to a terrible speed and that we have to be attentive to adapt of the best way. Still we walk with the redraft of the influence of the social networks and of the Internet revolution and with the devastations of the crisis and still there are no many projects that understand the change, or we believe it. For us it is important to answer the models who are working in the network, to understand the art as a way of sharing, to forget to guard the secrets what we do and to give them, to generate a community and to use the public space of another form. And this would be necessary to apply it not only to the world of the art.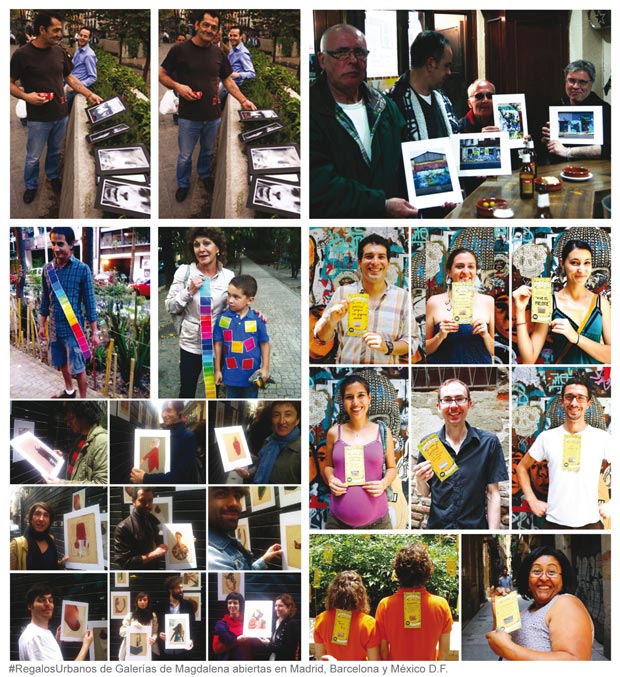 Raquel Congosto-Isabel Arenas · laboratory of experimentation | la galería de Magdalena
juny 2014
Interview realized by Ana Barreiro Blanco and Alberto Alonso Oro. To be grateful for Raquel and for Isabel his time and predisposition with this space.