Up to the date we have seen the diverse fields in which the architects explore new expositions for the profession. One of these fields, the traditional and habitual one in other professions, is recounted to the world of the research and development. Area that of architecture lately has not been very prolific.
This one is the motive that takes us up to Santiago de Compostela for chatting with Óscar Andrés Quintela and Iván Andrés Quintela Her, that architects shape the Arrokabe arquitectos. Today they us present his project, ARKB sistemas, which initiated already some years ago, and that have developed and cocktail with the own labor of day after day of the study.
"It is an initiative of with that we try to position ourselves with regard to some challenges that, from our point of view, appear him to our profession at this moment of transition, of change of social paradigm. It is necessary to bear in mind that the construction in wood in our country and in a moment of expansive cycle of the sector of the building of new plant has not happened of being a by-product, an anecdote."
Any project is needed of a series of supports to be born and to develop the first project of the system, sieteymedio, they have relied on PEMADE's collaboration (Platform of Engineering of the structural wood), technological center of the USC, for the production of the structural tests royal models and two private companies, one for the distribution and court of the material, Maderas Besteiro, and other one for the labors of assembly, Carpintería Carreira.
This bet of future of this group of professionals has managed to formalize a product, convinced that in the next years we will be forced, as company, to construct of more intelligent and efficient form, to constructing more and better in wood. This one is the first step to fix the conditions of his commercialization with the different implied actors.
We leave you with the interview that we realize in his study in the Rúa San Pedro, of Santiago de Compostela.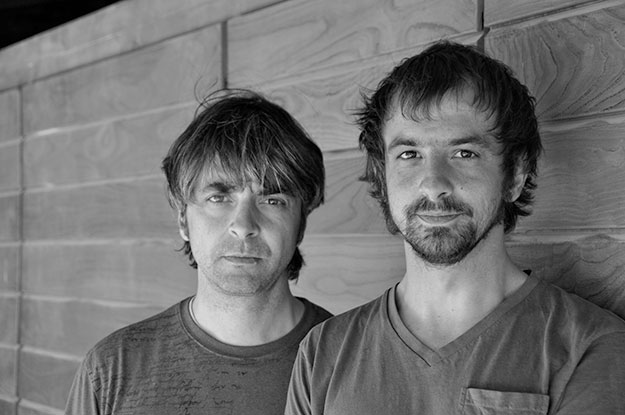 Explain to us, how and why the"Sistema 7 1/2"?
It arises as a professional bet in a period of few orders inside the study. There is a moment about which we think that if we cannot offer the services for those that we are qualified because there is few demand, beside extending the offer, will be necessary to try to offer also products. We decide on the construction prefabricated in wood because we think that it is an area in which there will end up by being a demand providing that the offered product is of quality, because the reality is that, a today, the lack of a widespread use of the wood in our country like material of construction has done that the market of the prefabricación in wood is associated in general with auxiliary, ephemeral or occasional buildings or to the housing which only claim is the price.
In I make concrete, with this first system we were looking for an efficient alternative for the construction modulated in wood of buildings ground floors, with a free important width for an intermediate scale (concerning the seven and I happen meters). We were claiming that it did not specify intermediate elements to guarantee his stability, liberating the plant, facilitating the assembly, and that was the design of the different elements that shape the structure and the exterior closings the one that was guaranteeing the permanence of the material.
Had you some previous experience in this field?
The study possesses an experience of twenty years working with wood, both in rehabilitation and in new work. And this experience has completed with diveros courses and two masteres, one specific of engineering of the structural wood. This regarding the architectural part. On what we were not experienced it was especially what carries the development and the presentation of a product ready to be commercialized. We refer to all those questions related in spite of recognizing the market, raising a strategy to come to the client, to establish collaborations that allow to offer it of a coherent form…
¿Os encontrasteis con muchas dificultades? ¿Cuáles fueron las más problemáticas?
On one hand there are the technical difficulties derived from the problem that we consider to solve. Besides all the pointed questions previously we wanted that it was a royal alternative to other constructive systems in wood and that it was really new. This was happening from entry for the resolution of a structure of a considerable light that could be transportable easily. In addition we were looking for an accessible technology, for what standard should be able to be shaped by small escuadrías of local wood and structural boards. At the same time his configuration had to solve the fixation of the closings making possible the execution of buildings of high energy efficiency. The final image derives from all this series of decisions of design and calculation that have consumed most of the time of product development.
Nevertheless it is possible to say that in our case the most problematic difficulties are those derivatives of the comprehension of the sieteymedio as a product destined for the sale. Beginning for the identification of the client, continuing for the way of commercializing it and finishing in spite of being capable of transmitting all that to the companies that collaborate with the project. Ultimately we have come to the conclusion from that being a system of construction modulated, seemingly rigid in his configuration but sufficiently flexible to adapt to different circumstances, it must be offered of an opened form, so much directly individuals accompanied of a specific project, since technical personnel who consider to use it in his works.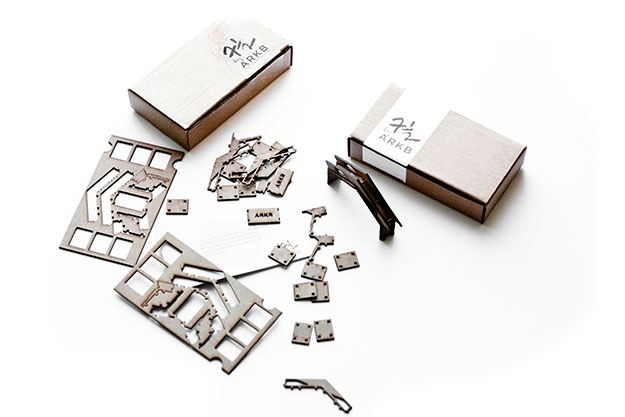 Are you satisfied with the reached aims?
For the present time it is too prompt, we have just presented the system scantily one month ago, but it is possible to say that yes. Of entry we have managed to develop it managing to construct two models of the portico to royal scale, which has allowed to test his assembly and to check in laboratory his correct functioning to structural level. On the other hand we are teaching it across a web page and a packaging presentation in that there are gathered images that show some of the possibilities of the system. To come hitherto already we have had to reach the direct implication of the private company and the university, and all that already makes us be reasonably satisfied.
What expectations and projects of future you have for "Sistema 7 1/2"?
A today we have stated that wakes interest up and are in routes to construct a housing using the system, something that we understand would serve to show his advantages. The fact that it had certain tour it would cost us to develop other systems thought for other scales and configurations. Because, independently of the success of the sieteymedio, yes that we are sure of the success of the way undertaken with ARKB Systems (I use wood, collaboration between private and public entities, innovation …).
Are this type of initiatives profitable? Do you feel good "remunerated" by the labor that you realize?
As we were commenting, we finish of presenting it, for what we understand that it is too prompt to value his economic profitability. In any case, the collaborations already have served us to deepen in technical very specific questions of construction in wood, such as unions, permanence of the finished ones, optimization of the transport and assembly, etc … In addition we are thinking about having learned something of design and presentation of product thank you especially to the help of friends, professionals in different areas of work related to these topics.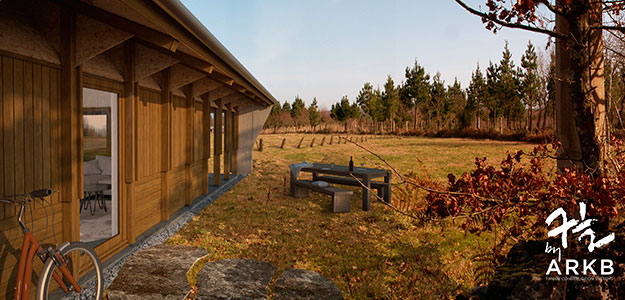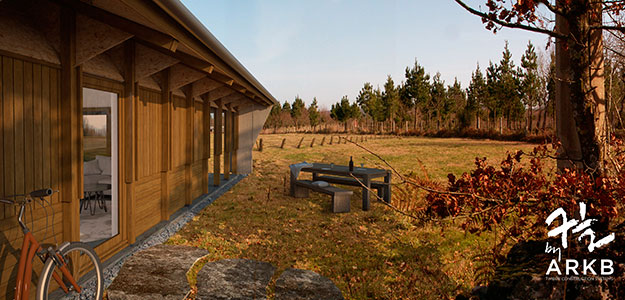 Do you arrange or complement this activity with other labors or in other fields?
We are a study of architecture to the use that we have developed and contributed with other professionals in works of architecture and urbanism to different scales, for some years we work for the administration managing an area of rehabilitation and habitually we take part in labors of teaching in the area of the rehabilitation, the urban regeneration and the construction in wood.
Do you think that the architects in Spain we should continue opening new routes of work to go out of the "most traditional" cabin of projecting given the current situation of the construction in our country?
The most traditional cabin of "projecting" forces to synthesize a response to questions that have more than than unknown one and to organizing the means to be able to take her to good term, though it is to a very small scale. This approach, which necessarily is a part of the formation in the schools of architecture, allows to think of opening new routes of work providing that it complements itself with a certain specialization. Of all forms there is the whole field of action that it has to see directly with the regeneration of our habitat, in spite of promoting environments resilientes, that will be key in the next years. We understand that here there will be the whole series of new niches of work, not so habitual nor so obvious, in that the architect has to have necessarily an important weight.
What do you think of the architects who undertake in new fields?
Since it seems to us to be very logical and we can say, that in these moments, does not stay any more remedy. In any case the formation of the architect about which we speak provides certain perspective related to his "traditional" activity that can be very useful at the moment of undertaking new fields.
Would do you encourage other architects to follow your steps? What steps do you consider that they should give? How to complete his studies? What other advices would you give them?
We remove eleven years of age, so we go out of the school in two different moments, but we do not stop having the sensation of a certain instability, being constant adapting. Fruit of this adjustment is also this initiative that it has to see directly with our convictions and worries and our professional experience. Difficultly we can give advices, only we would encourage others to penetrate and be employed at specific fields in that they are interested without losing the reference, without stopping being Arquitectos.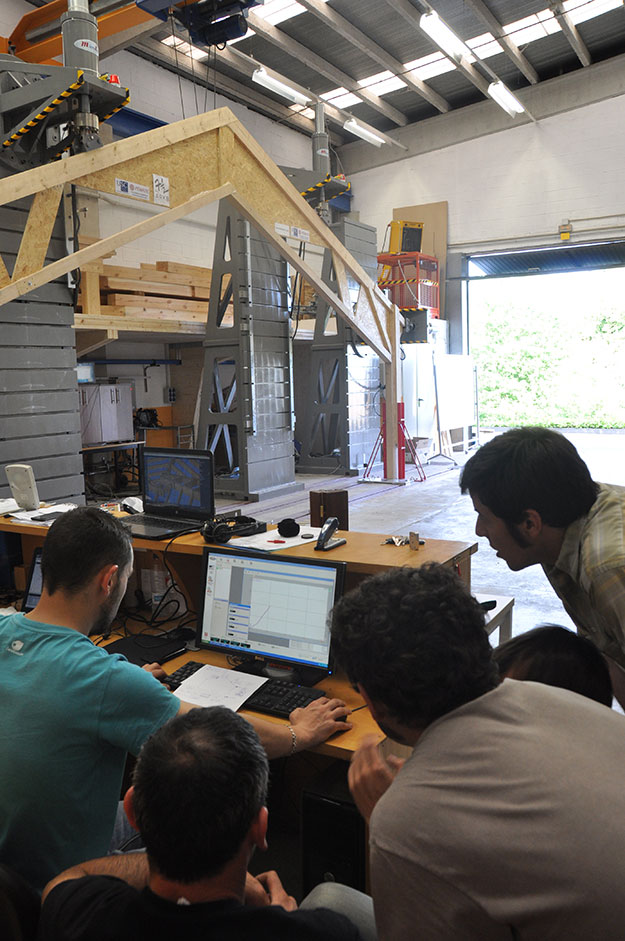 What do you think of those that they have been going to work abroad?
We want to think that always it is wealth-producing. There was a moment in which the people were doing it in better conditions and generally for completing his formation or acquiring new experiences more than for need. This has changed, now we have companions and friends who are out in circumstances and with very diverse motivations. About any form we have to think that they will return of a form or other one and medium-term his experience will be beneficial for all.
How do you see the future of the profession?
So, for everything on what we have commented, without free optimism but hopefully.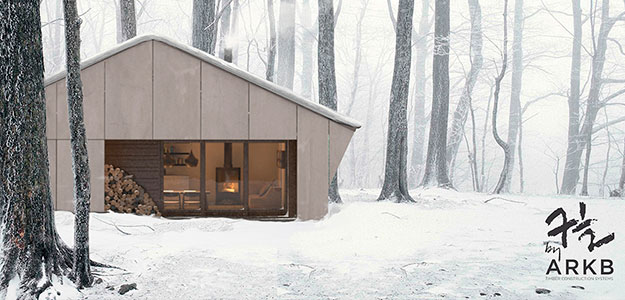 Arrokabe Arquitectos · I+D+I | sistema 7 1/2
May 2015
Interview realized by Ana Barreiro Blanco and Alberto Alonso Oro. To be grateful for Óscar and Iván to him his time, patience and his predisposition with this space.