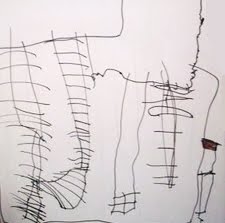 In an occasion, listened fascinado the answer of Oiza when it asked him  on which was his ideal house.
It opened a lot his eyes and began to move the hands, the words and the emotions. With his mastery of always.
I am unable to transcribe his beautiful words. But I will try to move what remained me. Because what remained me is a dream. A dream that assaults me often from that day.
It described us in detail a fantastic house. With two levels. One with the terrain and another by on, up. An extensive place and cambiante, big and generous. A free plane fragmentado by the leading presence of a lot of stairs. A countless forest of disseminated stairs of beautiful traced that drive vertically to the private places, protected. Eaching of the haunts of the night.
I have reconstructed mentally often this house. The house of the stairs.
I have imagined often the emotional effect of the cloud of steps. Weightless. Saviors. That diaphanous place and nevertheless watched, opened and connected.
The sensations of to sleep, of retiring, there. Having as the only door, the only threshold, the ascending energy of a private stairs. His safety and intimacy.
I him put colors, materials, furniture, persons … and always I like it.
What light.
Going beyond I deduce that not only it is a house. Not only an ancient archetype. It is an image.
Without measure, without order. But with soul.
Seeing is to touch.
Sergio de Miguel, architect
Madrid, march 2010
Ph.D. Arquitectura, Universidad Politécnica de Madrid, (ETSAM) 2016.
M.A. Arquitectura, Universidad Politécnica de Madrid, (ETSAM) 1990.
Profesor en la Universidad Politécnica de Madrid, (ETSAM) desde 1995.