From finals of the 19th century and beginnings of the 20th century the attraction that exerted Madrid to the people of the half rural next, did that the big alluviums of immigrants finished generating a grave problem of homelessness. The precarious districts and insalubres that went appearing of spontaneous and anarchic way in the urban perimeter, of special way in the zone south, and the bad conditions of habitabilidad of the houses did that it was born a current of thought sociourbanístico whose application from the public powers gave place to the put in practice of different models of performance in shape of houses protected and social neighbourhoods.
In the period of 1945 to 1956 are diverse the attempts to limit the growth descontrolado of the different populated satellite that salpicaban the periphery of Madrid. To carry out this ordenación, the National Institute of the House (INV) and the Commissariat of Ordenación Urbana of Madrid set up in the year 1955 a first National Plan of the House, that established four fundamental aims.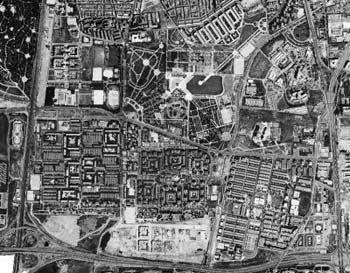 […]
EnriqueFidel
+ article is published in urbancidades.wordpress.com
Búsqueda para satisfacer el conocimiento de la actividad arquitectónica y tangentes que se generan. La idea es crear un espacio para divulgar los diversos proyectos en busca de nueva inspiración y de intercambio.