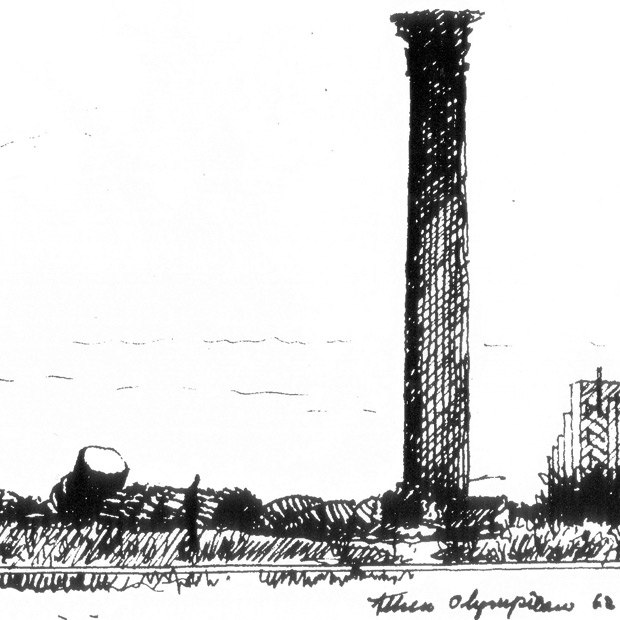 Arne Jacobsen was a great draftsman and even better watercolorist. When he was enjoying a few vacations always his pencils and paintbrushes were accompanying him. He was enjoying this interest, which it was cultivating from his infancy. Always he confessed that it was not any more than it, a mere interest, which did not have any artistic pretension with those drawings or water-colors1. Neither it recognized that they were related to his professional work as architect. But this osmosis, though it was involuntary, was given often. And more, in a person who was living with his family, it was working as architect, was doing outdoors and was cultivating his garden in the same space: the simple one (and precious) leaned to the north of Copenhagen, with a view to the marine strait of the Øresund.
In one of his last trips to the Mediterranean, Jacobsen did his own tour for Greece. Besides the sacred places of the Hellene culture for all acquaintances, he visited the ruins of what was Zeus Olímpico's colossal temple of Athens. The impressive scale of the scanty columns that still are in foot is impressive, so much or more than her than one of them that remains demolished in the place. His drums line up with the own disorder of a collapse on a natural area. The expressiveness of the note (image of the heading of this post2) shows the emotividad of the visit, rare times contemplated in his drawings of trip.
The anecdote might have remained there, but not. These stony drums reappeared metaphorically a few years later in his natal city, Copenhagen, in what it would be his posthumous work: the National Bank of Denmark3.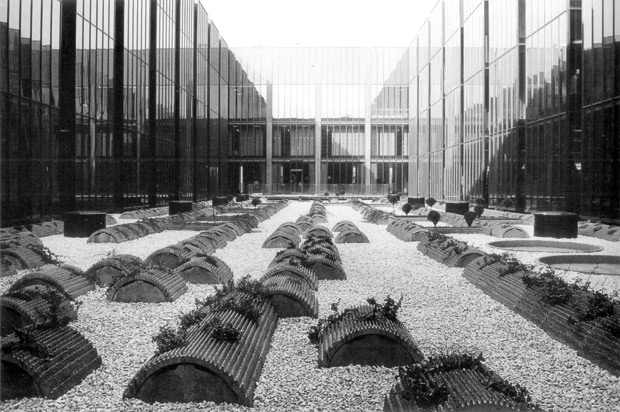 Surely you all remember the great foyer of this building and, especially, his stairs suspended from the ceiling. But on having visited his interior, one discovers a great interior court (I refer the one that could be constructed before his death in 1971, since there are two) whose soil is strangly "landscape in ruins". There they lie, in untid rows, a luck of cylindrical semiburied pieces, on which there grow aleatoriamente vegetable creeping species, as if the time was taking them covering for centuries which classic forgotten ruin. Out, on the sidewalk, a couple of replies of Corinthian capitals they rest at the foot of the monumental building, which always they disconcert the walker, and that they do not do but we to be remembered by a certain halo of continuity still chased by the Architecture.
Or probably not. Probably only it is an oblivion, a mistake in the "movement" (metaphorical, in the space-time) of those Greek columns up to Copenhagen. Dismembered the classic column, today only we see his vestiges, and perhaps could not be already another thing that the mere one (and beautiful) objet trouvé.
Rodrigo Almonacid [r-arquitectura] · doctor architect
valladolid. september 2013
Notes:
1 Interview granted to Ninka (Anne Wolden-Raethinge) for the newspaper Politiken, on February 28, 1971. Translated into the Spanish under the title "The new ideas are criticized always" in the Catalogue of the exhibition (HEATH, Ditte – ed): Arne Jacobsen. Department of Public Works and Transport. Madrid, 1993, pp. 69-72.
2 Note taken of the book: SOLAGUREN-BEASCOA, Félix: Arne Jacobsen. Drawings 1958-1965. Fundación Caja de Arquitectos, collection "Arquíthemas" nº10. Barcelona, 2002, p.155.
3 ALMONACID CANSECO, Rodrigo: Arne Jacobsen: the codified landscape. Doctoral (unpublished) thesis. Department of Theory of the Architecture and Architectural Projects of the E.T.S. Architecture of Valladolid. Valladolid, 2013. (Available summarized in r-arquitectura)
(Teruel, 1974). Licenciado en Arquitectura (1999) con premio extraordinario y Doctor "cum laude" en Arquitectura por la Universidad de Valladolid (2013), compagina su actividad académica como profesor doctor de la E.T.S. de Arquitectura de Valladolid con la profesional al frente de su propio estudio [r-arquitectura]. Es autor de dos libros: Mies van der Rohe: el espacio de la ausencia (2006); y El paisaje codificado en la arquitectura de Arne Jacobsen (2016). Colaborador habitual en blogs de actualidad y crítica arquitectónica.
Proyecto edificios singulares y sostenibles en mi estudio [r-arquitectura] desde el año 2000 con la colaboración un equipo multidisciplinar de especialistas de acreditada experiencia profesional. [Especialidad: Sector Terciario].
Asesoro en el desarrollo de estrategias de comunicación 2.0 y marketing digital para actividades relacionadas con la Arquitectura: identidad digital corporativa, branding arquitectónico, community management, planifico y redacto contenidos para blogs/webs.