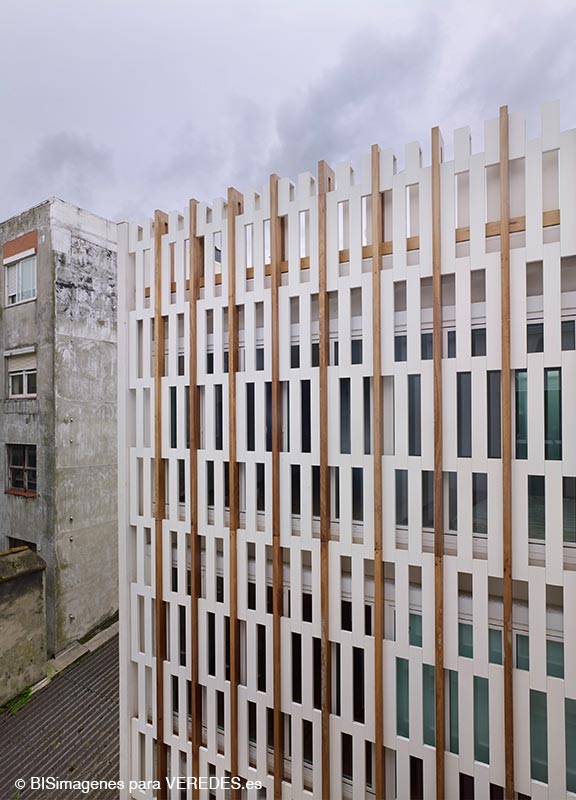 1
To transform a building between dividing, b+3+bc, used as office block, in a building of housings and offices in regime of rent. To optimize his number in relation with the investment, demand of small housing and possibilities of the in force regulation.
2
The narrowness of the street of access and the proximity of the neighboring fronts influences formal aspects and of design. Also the regulations urban development and of habitability, in dimensions and materials. There is needed a solution of front that the current one transforms radically to award to the building a new image.
3
Relating his composition to the galleries by means of vertical modules of identical table that they combine fully and emptily. The exterior part of the front is a sieve where hollow and table they are connected to create three striping for plant that hollows of 1 leave meters of height. Behind, supporting the module, carpentry and glasses of soil to ceiling practicable in its entirety.
4
An apartment and an office for plant that also they can be two housings. To take advantage under cover as extension of one of them, with three bedrooms, of zone by day in the low floor and by night in the Superior.
5
Every apartment: lounge – cocina-comedor, bedroom, bathroom and washer – tendedero. The later one in addition zone of study or dressing room.
6
The amounts of front, of wood to the native, descend to the ground floor, remetiéndose up to the alignment to define an intermediate space, between the portal and the narrow and crowded street.
Work: Rehabilitation of building in c/Galera 43
Autores: CREUSeCARRASCO. Juan Creus y Covadonga Carrasco
Location: c/Galera 43, A Coruña, Galicia, Spain
Collaborators: Belén Salgado, Bárbara Mesquita, Laura Coladas, Manuel Burraco, Cristina Canto, Elisa Moreira, Celsa Pesqueira
Promoter: Fundación Juana de Vega
Useful surface: 611,13m2 / Constructed Surface: 703,45m2
Construction: RENI, Servicios Integrales en Construcción SL
Rigger: Luis Pérez Doval
Structurae: Féliz Suárez Riestra
Facilities: Isabel Francos Anllo
Date of Project / completion: November, 2012 / February, 2013
Photography: Héctor Santos-Díez | BISimages
+ creusecarrasco.es
Búsqueda para satisfacer el conocimiento de la actividad arquitectónica y tangentes que se generan. La idea es crear un espacio para divulgar los diversos proyectos en busca de nueva inspiración y de intercambio.