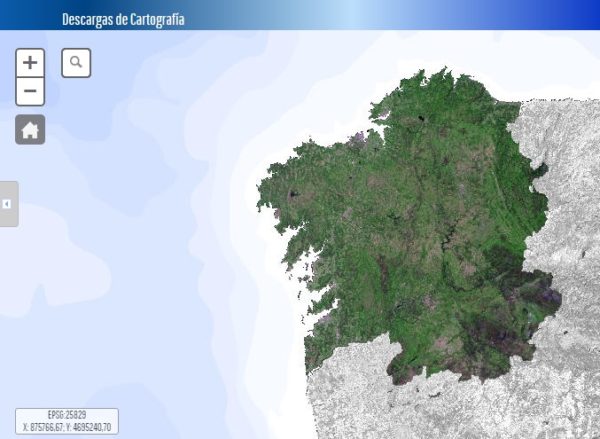 A new application already is available to obtain geographical information of Galicia. The Institute of Studies of the Territory (IET), in collaboration with the Agency of Technological Modernization of Galicia (Amtega), has just released this new service of the Center of Unloads of Geographical Information of the Platform of maps of the Autonomous government of Galicia.
It is a question of a tool orientated to the unload of maps and of files georreferenciados in different formats. In this application there are increased in 225.298 the files of information put at the disposal of the population, happening from 46.945 existing files in the previous version (that 1,1 Terabytes of information supposed) to 272.243 files (3,2 Terabytes), which supposes multiplying for more than five the available information up to the moment.
With this new version of the center of unloads of geographical information, it is a question of obtaining a triple aim:
· facilitating the use of the web for civil anyone;
· increasing the available information;
· and to incorporate the information in different formats for the use on the part of the professionals.
Others of the innovations it is that the application is now more visual, thanks to the incorporation of a new geographical visor in which the user can look for a territorial area determined by means of searches for toponym, coordinates or property codes.
The incorporation of thousands of new files with geographical content allows nowadays the access and the public use of a total of 272.243 files, between cartographic series in PDF (you her climb 250.000, 100.000 and 5.000), ortofotografías air of different years, maps of uses and occupation of the soil in format shapefile, files in format ráster and files of information LIDIAR dates.
This new application supposes an impulse to the simplified diffusion and with high quality of geographical information, across a platform easy to use that it allows to look for the information according to the need of the user, so much of subject matter of the information as of geographical area. This platform will be able to increase the number of files to coming out in a simple way, for what it will allow to the Institute of Studies of the Territory and other departments of the Autonomous government of Galicia to put the disposition of the citizenship to geographical information as it is taking place, in a simple way it is rapid.
Búsqueda para satisfacer el conocimiento de la actividad arquitectónica y tangentes que se generan. La idea es crear un espacio para divulgar los diversos proyectos en busca de nueva inspiración y de intercambio.