CartonLAB is born in 2009 as an initiative of the study Moho Arquitectos, directed by Carlos Abadía Suanzes-Carpegna, Ignacio Bautista Ruiz and Paul García Mora. Together we share an anxious, practical, healthy, sports and travelling spirit. It joins an enterprising mentality, a great capacity of teamwork and especially the desire for enjoying and to reinvent ourselves daily with our work.
Personalized ECOdesign. In cartonLAB design and produce made-to-measure your ideas and projects even we turn into experiences recyclable 100 %, light, resistant, of easy assembly and completely customizable. We design Events, Stands, Exhibitions, Window dressing, Furniture, Decoration, Packaging, Exhibitors of product and games for children.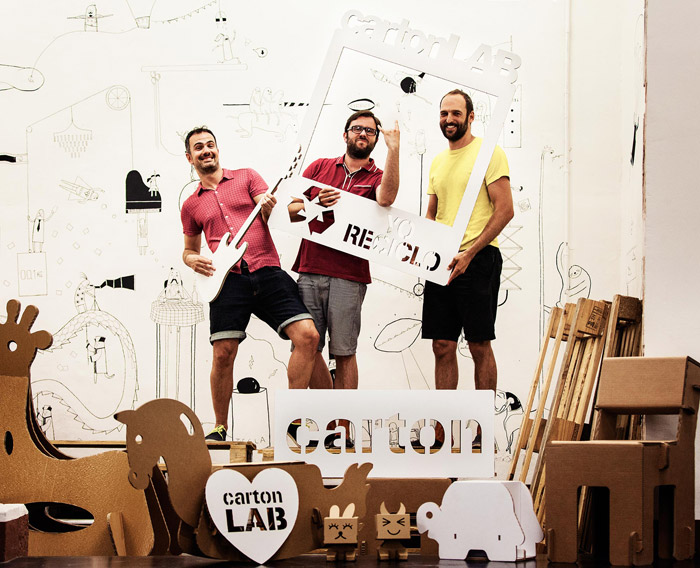 Which has been your formation and professional path before CartonLab?
We knew ourselves in the university, and a couple of years after finishing the career, in 2006, founded the study Mildew architects in Murcia. (www.mohoweb.com) In these 7 years of professional path we have taken part in multiple projects and initiatives of all kinds, from projects and contests of national and international architecture, up to publishing projects, exhibitions and artistic facilities: "Cauchic" in La Conservera of Ceutí. (Murcia) 2013 ,and "Diagrama de Venn" in the Mustang Gallery (Alicante) 2013. Emphasizes also the project All Age City, (www.allagecity.com) of inter-generacionalidad urban, that we are carrying out from 2009 close to Andrés Jaque's office.
Parallel to all this, we have supported always a continuous formative activity and of spreading across workshops and conferences. PH06 (León) 2009, Trashboarding (Barcelona) 2013, and international: Archdesant 2011 in Ulyanovsk, (Russia), Cartonízate 2013 (Santiago of Chile) and Bartlett Summer Course Foundation (London 2013).
What did you lead to opening way you in the design with carton?
Our creative profile has stimulated us always to produce material "things". Since architects we were employed at a territorial, urban scale, edificatoria, with long period of execution, big budgets and complicated administrative processes and of negotiation at many cases. Because of it we seek to complement the architecture with an adventure in the small scale that was allowing us to produce pieces, light, flexible, recyclable and customizable. To adapt definitively our capacities as designers to the times of today, At any one time we enter in touch with the industry of the carton and immediately we start verifying the advantages and possibilities of working with the material: nearby, familiar and attainable, the carton is a product in constant technical evolution. Every day there arise new patents that allow uses and applications in disciplines like furniture, design of product, ephemeral architecture, design of interiors and scenery, all of them very removed from the traditional world of the parcel service.
Do you think that to study Architecture has been a fundamental passport to have come to your current work?
A teacher of the university was commenting to us that the architect is that one that has a knowledge as vast as the ocean, but of a centimeter of depth. We think that the career initiated us in a particular way of relating to this world, a general, peripheral look, unconformist, curious. Also it forced us to develop an enormous capacity of work and helped us to be capable of reporting and taking to the reality of structured form our ideas, creativity and imagination.
Do you believe that the architects in Spain we should continue opening new routes of work to go out of the "most "traditional" cabin of projecting given the current situation of the construction in our country?
The crisis in the sector of the construction in Spain promotes the "alternative" initiatives to the conventional development of the profession. Of all forms we are in a situation in which the majority of the professions are in continuous evolution and redefinition. Even to legal, normative or institutional level. It is a good moment to take advantage of all our capacities (graphical, creative, technologies, management, etc) to find the opportunities to re-formulate close to other groups (of the social sciences, of the industry, of the companies, of the universities, of the social agents) the new paper for the architect in the company.
What do you think of those that they have been going to work abroad?
Many of our companions of career and more nearby friends are living and being employed at places like Miami, London, The Lebanon, Paris, Brasilia, Zúrich, Stuttgart, Berlin, Doha and New York. Professionals of ENORMOUS talent, which has not resigned itself to hoping that they improve the conditions here and that they deserve to take advantage of the opportunities to develop his incredible professional capacities there where they need them.
Would you encourage other architects to follow your steps? What steps do you consider that they should give? How to complete his studies? What other advices would you give them?
The architects we are a few born "prototipadores". As such we have multiple opportunities to contribute in a system and a company that nowadays is re-formulated, reconstructing each of the physical and virtual spaces that occupies.
Moho arquitectos · Diseño industrial y mobiliario | cartonLAB
October 2013
Interview realized by Ana Barreiro Blanco and Alberto Alonso Oro. Be grateful for Carlos Abadía Suanzes-Carpegna, Ignacio Bautista Ruiz and Paul García Mora, his time and predisposition with this small space.