LIVING IN THE DUNES
Place. In the natural reservation of the pinegrove of It Endures, characteristic of the coastal habitat of the dunes of the Atlantic Ocean, an incredible surprise element does this place a special corner of the universe. THE WATER. Near the work, a small artificial lake, it intensifies the WHITE color of the sand, GREEN and the QUOIT of the pines and the BLUE of the sky. The sound of the light of the Sun fills the whole area of an atmosphere of peace, tranquility and of a calm enjoyment. The spiritual contact with the nature is inevitable. THE LONELINESS.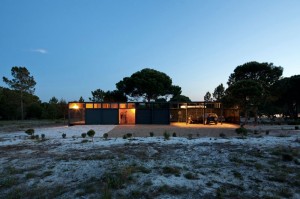 Programmes. The primary function of the object is that of temporary housing for guests. Also, that of PARKING and zone used as STORE for the agricultural activities, they complete the simple program needed by the client.
Concept. A volume, placed parallel to the lake, this one divided in three parts for three different functions – to live, to store and to park. The structure, in his interior realized of WOOD, is based on the design of an element base, that multiplied creates a light construction, which resting on the dunes is not imposed to the place, but it joins delicately respecting the environment. THE MODULE BASED, that constitutes the whole object, he remembers the typical income of the buildings pombalinos Portuguese so much in the drawing and as in his proportions. To highlight the alive colors of the local nature, the volume becomes transparent, semi-transparent or opaque, being capable of answering with FLEXIBILITY to the atmospheric external agents. The dark shades on the white sand photograph the dialog between building and environment, the image possesses an intense CONTRAST. The walls and the ceiling ventilate isolating térmicamente the house, the materials squeeze the importance started to the nature and his choice these stocks in the concept of environmental SUSTAINABILITY. This way the construction constituted from the wood to the cork and the organic materials used as the glazes and ecological used treatments, they do this highly adaptable, sustainable architecture and in end, recyclable.
Work: Guest House
Authors: Monica Ravazzolo+Leonardo Paiella [paratelier]
Location: Carvalhal_Portugal
Promoter: Rucha A
Program: Guests House and agricultural warehouse
Collaborators:Leonardo Paiella (Chief of group)), Ilaria La Corte, Hugo Amaro (Collaborators), Gobal – João Gomes da Silva, Catarina Raposo (landscape Architecture), Drainage+plumbing+Structure (Tropimaloca, lda)
Builder: Tropimaloca, lda
Year: 2009-2011
Photography: Leonardo Finotti
+ paratelier.com
Búsqueda para satisfacer el conocimiento de la actividad arquitectónica y tangentes que se generan. La idea es crear un espacio para divulgar los diversos proyectos en busca de nueva inspiración y de intercambio.