The cycle of Forums forms a part of the academic and educational program of the school and is an obligatory subject for all the pupils understood between 2 º and 5 º course of the career of architecture. Forums ESARQ it is a distinctive subject and motive of pride of the ESARQ and, as his name it indicates, is a subject dedicated to the debate and to the reflection concerning the architectural reality. The principal aim of the subject is the exchange of knowledge, positions and contrasts between pupils and teachers, an instrument of approach and perception of the discipline of the architecture, a platform of events relative to the theory and critique of the work of the architect.
In the cycle of this year, Forums 2013, we will penetrate on the qualities that generate the architectures. Since the architecture is one abstract arte who needs concretion, and it is there where his essence, his body resides.
Forums 2013 chases to discover own and essential work camps across the attentive, sensitive and intelligent look of the different referees. Territories of work that have been concealed in some epochs by the styles, the modes or the currents. Probably a near and necessary route like regeneration of a panorama in collapse, but not as norm.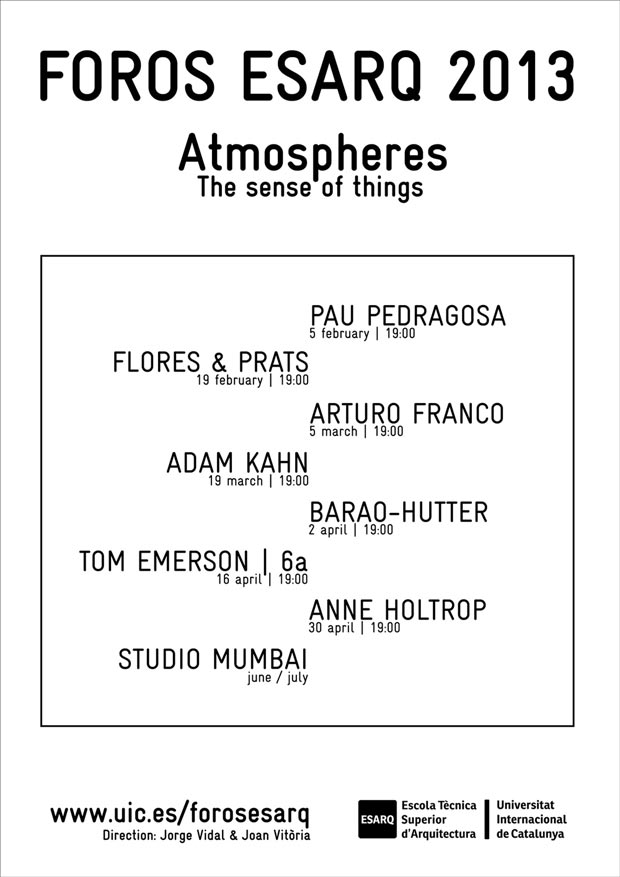 The forums are organized at 7 p.m. in the assembly hall of the ESARQ-UIC and are of free access. And as every year, we will possess lecturers of national and international reference.
Búsqueda para satisfacer el conocimiento de la actividad arquitectónica y tangentes que se generan. La idea es crear un espacio para divulgar los diversos proyectos en busca de nueva inspiración y de intercambio.