The seventh edition of the International Festival of Architecture Eme3 returns to move the action to the public space. With this aim, there recovers the format of previous editions and the interventions and organization of activities are taken again in different locations of the downtown, as lots or spaces that have remained degraded or in disuse. The topic that centres the EME3_12, which is celebrated from June 27 to July 1 in Barcelona and possesses half a hundred of participants of 17 countries, is the concept Bottom-Up. The motto is to study and to debate on the creation from below, with initiatives generated across the civil society, fruit of the collaboration of different groups.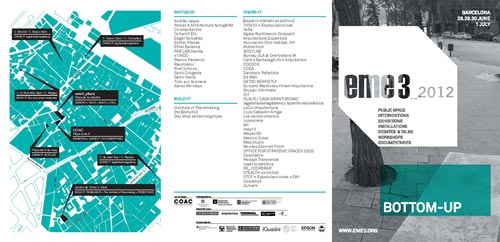 Workshops
In the program it emphasizes Workshops's organization or workshops in Ciutat Vella's different spaces, opened the public in general and free. Some of the activities that more can call the attention by the possibility of civil cooperation, are the project Raval Generator, of the Berliners Raumlabor, who take part for the second year in a row. This one will be the first opportunity to see and to form a part of the construction in situ of his work, which will consist of the practice of an experimental workshop that looks for the interaction of the equipment of Axel Timm, students of architecture and local associations in the heart of the Raval.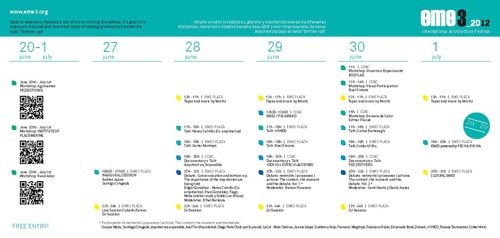 The Institute of Placemaking will carry out the construction of a structure based on recovered materials. In this space there will be given workshops that join methods of production " make it you same " with systems of continuity of resources. The persons from Madrid Fish I Study they will present his methodological test to generate physical infrastructures, inciting to the own knowledge of the neighborhood, reinforcing links that facilitate his automanagement to the neighbors. The group BodyLab, formed by designers and arquitectas, will give a workshop – experiment in which the body will be related to the space and his mutual incidents. Across facilities, drawings, images and sounds, the empty space turns into an opportunity for the body to be thought to if same and to explore his possibilities.
Others of the offers of the Eme3_12 are the School of Heat, of Esther Planas; Roel Simons's Visual Participation and the projects of Everything for the Practice, LaCol, or 100×10 + Especulacciones.
Búsqueda para satisfacer el conocimiento de la actividad arquitectónica y tangentes que se generan. La idea es crear un espacio para divulgar los diversos proyectos en busca de nueva inspiración y de intercambio.