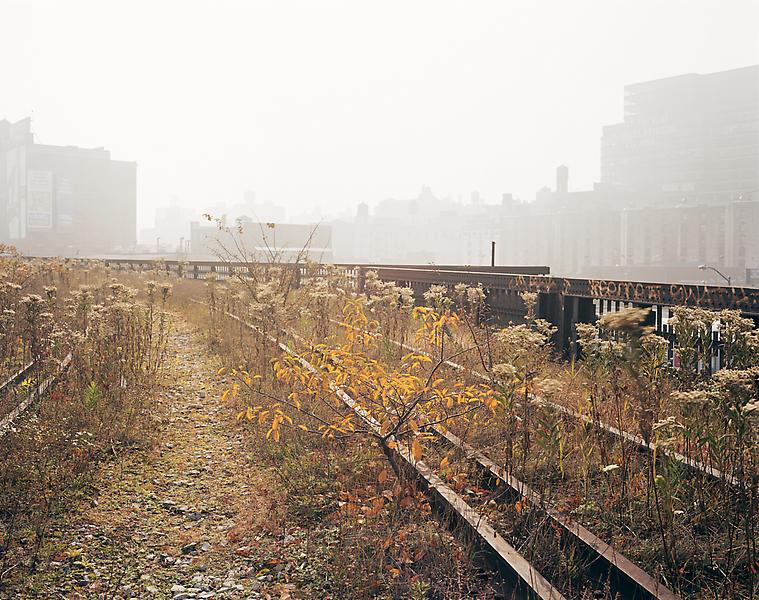 The High Line supposes the meeting with the city of the 30s – decade in the one that constructed the air line of railroad herself to avoid the dangerousness of sharing the street with the pedestrians – and the Nueva York of the 21st century, when the routes – in disuse from 1980-were claimed by the citizens.
It is the meeting with a magisterial work to all the scales of project, both material and immaterial: from the general exposition developed by an equipment to interdiscipline headed by James Corner Field Operations and Diller Scofidio + Renfro, up to the graphical identity concebida for Paula Scher y Pentagram.
Nevertheless, beyond the own names, the High Line emphasizes for the anonymous contribution of numerous citizens that they avoided the demolition of the routes, they promoted his recovery as public space and took part actively in the definition of the new park.
Probably, for all these reasons, when he visits himself to the late afternoon, the impression moves away much from the loneliness of other contemporary architectures. On the streets there has been generated an alive and cozy environment, where it is possible to walk, take something or enjoy different activities. His better education is to turn the history of the city into alive heritage for the future.
antonio s. río vázquez . architect
a coruña. juny 2012
Author of the blog, El tiempo del lobo
Antonio S. Río Vázquez (A Coruña, 1981) es arquitecto por la E.T.S.A. de A Coruña, master en Urbanismo y doctor por la Universidade da Coruña. Especializado en teoría y diseño, su línea de trabajo se ha centrado en la investigación y divulgación del patrimonio arquitectónico moderno. Ha desarrollado proyectos de modo independiente y ha colaborado con varios estudios de arquitectura. Es socio fundador de Aroe Arquitectura. Es profesor en el Departamento de Proyectos Arquitectónicos, Urbanismo y Composición de la Universidade da Coruña, y ha sido profesor invitado en la Robert Gordon University de Aberdeen (Reino Unido), en la Universidade do Minho (Portugal) y en la Università degli Studi di Roma La Sapienza (Italia). Es miembro de la red UEDXX Urbanism of European Dictatorships during the XXth Century, del Grupo de Investigación en Historia de la Arquitectura IALA y del Grupo de Innovación Educativa en Historia de la Arquitectura. Ha formado parte del proyecto de investigación FAME Fotografía y Arquitectura Moderna en España, 1925-1965. Los resultados de sus investigaciones, tanto personales como conjuntas, han servido como aportación a eventos de debate y difusión científica y han sido publicados en libros y revistas.