The factory of pencils Hispania is found in Ferrol Fuzz, in the headland of gardens of the Bulwark of St Xoán, dominating above these views of the harbor and the big wheel, between Mugardos and the Graña. Was founded, in the thirties of the twentieth century (1934, probáblemente), for several members among which Alberto was found Fernández Martín, significant insdustrial of the period, that in addition to the factory of pencils Hispania had other companies. Between them the factory of networks Defer, pens Bolfer and the textile one Textilfer.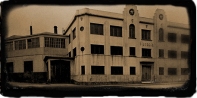 Although it is disparity of criteria, pués some attribute the building to the architect Burdens, or even to the municipal architect Nemesio López Rodriguez, the probable thing is that the factory was projected by the architect Rodolfo Ucha Piñeiro, born enVigo on 27 September 1882, that worked also as a municipal architect of Ferrol until 1936. Although the works of this architect, prolific in the city of Ferrol, were characterised for its apego to the aesthetic modernist, the classification of the factory of pencils is nearer to the industrial rationalism, with expressionist dabs specific to the thirties of the twentieth century.
The disappearance of the former fabric industrial urban of Ferrol is related to the period of crisis and conversion that was lived in the eighties, in which the principal industry that were shipyards had to get around his great first crisis. With the disappearance of the factory of pencils Hispania, would disappear also Pysbe, the Factory of Soaps Pucho, the Fenya and another factory more than pencils in Canido. And in To Malata, where the phase is currently found, the enormous plant of Peninsular Timber merchant, of times in which Guinea was community Spanish and the wood went out free, would disappear also, leaving freed its great plot.
Trás years of uncertainty and numerous fiscal order problems and work, the factory, of more than 4,000 square metres of area, closed on 30 October 1986 and its future se vió dry and sweet to the ruin, state in which finds at this time. The first destination of the building was the demolition with speculative character, dedicating the plot to the house construction. Subsequently the project was stopped, and although there are several initiatives decolectivos popular and of some political group to recover the building giving him a civic use or dotacional, it a certain is that the imminent ruin, next to the most part of Ferrol Fuzz, is the only thing that you can demonstrate.
enrique fidel
+ article is published in urbancidades
Búsqueda para satisfacer el conocimiento de la actividad arquitectónica y tangentes que se generan. La idea es crear un espacio para divulgar los diversos proyectos en busca de nueva inspiración y de intercambio.