The local customs. The customs and Peruvian traditions at all time will meet reflected in the projection of modern buildings. Customs that show a national reality, a way of living particular and different to the places where this modern architecture was in preparation, which will allow to provide, to the modern projects developed in Peru, with a local imminent identity.
The Spanish architect Jose Luís Sert and his partner Paúl Lester Wiener in the project for Chimbote's Regulatory Plan about 1948, after several studies, develop a series of architectural and urban modern offers that were adapted to the local customs that they found in Chimbote. These customs it leads the designers to proposing a type of new habitat based on the " urban tapestry ", this is, a compact fabric of houses of one, two and three plants with courts closed by walls. These courts are in the habit of being major that the own housings, adapted in order that the inhabitants preserve his habits of life on the outside. The road ones of service and pedestrians' streets are defined by the walls of scanty height and practically without openings.
There interfered a new type of urban housing, they were houses based on the houses with court of the local architecture, which origin goes back to the antiquity. These simple structures of brick were needing less technological sophistication and were causing less social alteration than the arrangement in blocks, and more feasible for housings of low cost. Since it was foreseen that the residents of Chimbote were coming from rural mountainous regions, I include a space in the houses to guard animals. Giedion alluded later to these houses as "transitory forms between the past and the future", but in his own presentation of the project, Wiener and Sert, they underline the narrow relation with the local customs.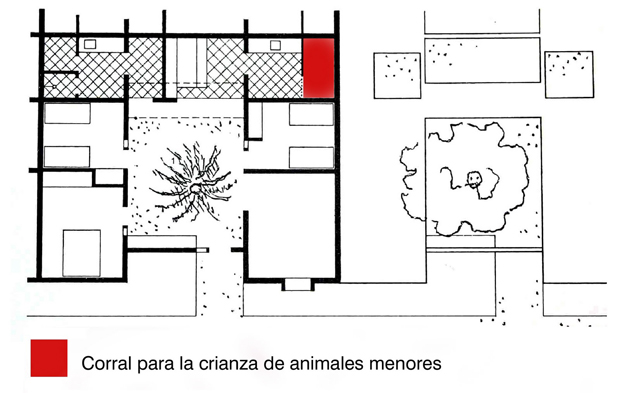 In Peru, thanks to his customs that demand architectural specific needs, a modern architecture has developed with characteristics tipológicas and functional own of a certain company and place. As important factor of this identity in the national architecture – and probably the most important inside the modern movement, since it is given for motives of function and not of form – it is the distribution of the modern developed national housings, which shows spaces destined for the staff; those spaces that could be excluded in the modern housings of the first world.
The area of servitude, unlike the developed countries, is up to the date an indispensable requirement for the projection of housings in Peru. Inside the classes it happens and discharge of the Peruvian company the existence of staff in the housings is a daily fact that has generated an architectural particularity of our way. Fact that demonstrates an economic national reality, where the workforce continues being very cheap, allowing the access to have staff inside the housings, generating hereby functional own solutions of the local architecture.
Finally, the architectural modern summit is observed in the first government of the President Fernando Belaúnde Terry 1963 – 1968, which was interrupted by the military coup in the year 1968.
With Juan Velasco Alvarado as president of Peru, the principal architectural works changed item, going on from the housing to the institutional building. Departments were projected and constructed, the use being observed of I make concrete caravista belonging to the stage called "Brutalist".
Fernando Freire Forga · Doctor Architect
Lima · may 2013 · Author of the Blog La Forma Moderna en Latinoamérica
Note:
Personal tests, 2012. This second part forms a part of a text that exposes the result of almost 10 years of studies related to the development of the modern architecture in Peru. It is important to mention that to manage to complete this test related to the modern architecture in Peru there have been in use studies and opinions of out-standing professionals. Ultimately a brief bibliographical review is done.
Bibliographical sources
1. Córdova, Adolfo "La Agrupación Espacio y la Arquitectura Peruana" – 2005.
3. Ludeña, Wiley "Piqueras – Belaunde – La Agrupación Espacio: TRES BUENOS TIGRES. Vanguardia y Urbanismo en el Perú del Siglo XX". Editado por el CAP Regional Junín y Urbe ediciones – Huancayo 2004. Pag. 186.
4. José Bentín Diez Canseco Extracto de Libro: Enrique Seoane Ros, Una Búsqueda de raíces peruanas. Lima, 1989.
Fernando Freire Forga nace en Lima el 21 de marzo de 1977. Entre los años 1994 y 2000 realiza estudios de arquitectura en la Universidad Peruana de Ciencias Aplicadas en la misma ciudad. En 1999 obtiene el primer premio en el Concurso a nivel nacional organizado por PROCOBRE-PERÚ con la tesis: Edificio Automatizado de Oficinas: "Usos del Cobre en la Arquitectura".
Ha realizado estudios de Doctorado sobre Arquitectura Moderna en la ETSAB, Escuela Técnica Superior de Arquitectura de Barcelona en la Universidad Politécnica de Cataluña, España. Actualmente, se encuentra inmerso en el desarrollo de trabajos de recopilación e investigación de Arquitectura Moderna en el Perú. Es docente de la Pontificia Universidad Católica del Perú y se desenvuelve como proyectista de manera independiente.