Next Tuesday, the 15th of May, inside the programming of the cycle of conferences "Foros Esarq 2012: Modos de ver" that organizes The Technical Top School of Architecture of the Universitat Internacional of Catalonia, ESARQ-UIC, the offices of Catalan architecture Aixopluc (David Tapias), Arquitecturia (Olga Felip y Josep Camps) and HArquitectes (David Lorente, Josep Ricart, Xavier Ros and Roger), formed by young architects, will give a conference under the title " Last localities. "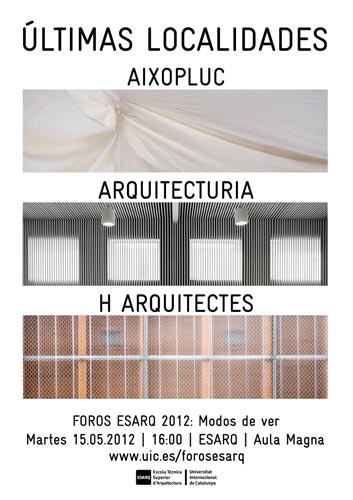 The act, which will be opened the public, will take place at 16:00 in the Assembly hall of the Campus Barcelona of the UIC and will serve to think about the architecture of our times, from the vision of local and young offices of architecture with work constructed in Catalonia and recognized with diverse prizes, which will explain to us first hand his positioning opposite to the topics that the architecture raises nowadays.
– Aixopluc (David Tapias, ETSAB 1999)
– Arquitecturia (it begins in 2006 with Josep Camps y Olga Felip )
– HArquitectes (David Lorente (Granollers, 1972), Josep Ricart (Cerdanyola del Vallès, 1973), Xavier Ros (Sabadell, 1972) and Roger Tudó (Terrassa, 1973). ETSA Vallès 1998-2000)
Búsqueda para satisfacer el conocimiento de la actividad arquitectónica y tangentes que se generan. La idea es crear un espacio para divulgar los diversos proyectos en busca de nueva inspiración y de intercambio.