The proposal is part of the strategy to revitalize part of the old town, which has stagnated for many years for lack of use of the Born Market and lack of permeability of the Citadel.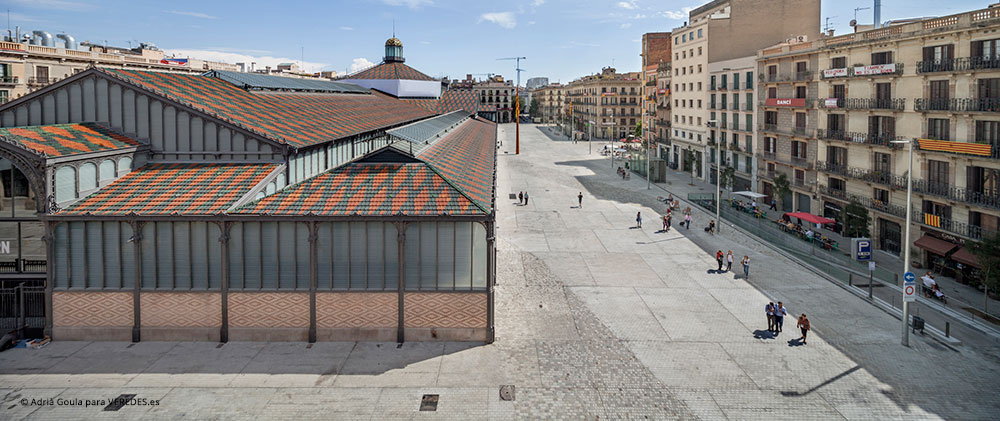 The urbanization of the streets surrounding the old Born Market has the goal to respond to needs and potentials, which an opening of a renovated building like Born Cultural Center will generate in public space.
Connectivity and permeability.
Traffic in the Comerç Street infront of the market has been eliminated and the pedestrian space was included in the continuum of the rest of the district, up to the limit of the Citadel Park.
Centrality and identity.
There has been created a vacuum around the building to highlight its monumentality.
The paving is an element of connection to history and memory of the place.
Flexibility and functionality.
The project was defined with the premise to promote maximum diversity of uses. With the launch of BornCC the current uses were intensified and new ones appeared. The open space, the single platform and the character of the plaza strengthen this diversity.
Work: Born Market surrounding area
Adress: Born Market surrounding area. Barcelona. Spain
Surface Area: 14.000 m2
Project: 2009-12
Construction: September 2012 – September 2013
Architects: vora (Pere Buil and Toni Riba).
Project Team: Adrià Guardiet, Miquel Camps, Jordi Riba, Eva Cotman, Ondrej Fabian
Engineers: PCG arquitectura e ingeniería
Budget control: PCG arquitectura e ingeniería
Lighting project: Anoche
Vegetation project: Josep Selga
Arqueology: Isidre Pastor
Building coordination architects: vora (Toni Riba)
Building coordination engineers: PCG arquitectura e ingeniería (Federico Giacomelli)
Contractor: Copisa
Client: BIMSA (Barcelona d'Infraestructures Municipals)
Photographs:
Adrià Goula
+ vora.cat
Award
European award for architectural heritage intervention 2015/ finalist
Archarathon award 2014/ urban design category
City of barcelona 2013 award/ architecture and urbanism category
fad awards 2014 selection/ spain and portugal
VI enor awards 2014 selection/ spain and portugal
ajac 2012 awards, young catalan architects/ non built projects category award. public space
Búsqueda para satisfacer el conocimiento de la actividad arquitectónica y tangentes que se generan. La idea es crear un espacio para divulgar los diversos proyectos en busca de nueva inspiración y de intercambio.