"We kill ourselves and in spite of everything we are modern"

Juan Carlos Cano1
In 1964, refiriéndose to the project of the Joint Urbano Nonoalco-Tlatelolco, Mario Pani he writes in the Banobras Magazine– one of these magazines that was serving to promote the architectural modern achievements that were coming supported by this bank institution – that his project and vision was placing inside the "pacific revolution" that there had proposed itself the Government of that epoch. His text was gathering this way another judgment realized by the President Lopez Kill You where it was emphasizing that "a pacific revolution avoids a violent revolution".
Accidentally to lose the revolutionary air (and institutional), inheritor of beginning of century, both ideas send different that one with which Corbusier closes his book Vers une architecture, and that they summarize in a dilemma: Architecture or Revolution; solved in such a way that it closes any possibility of election:
"The society wishes violently a thing that it will obtain or not. Everything depends on it, on the effort that we do and of the attention that we resolve to these alarming symptoms. Architecture or revolution. We can avoid the revolution".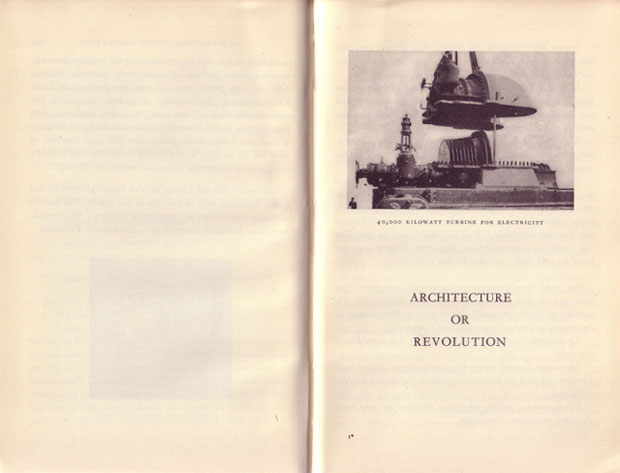 Writing in 1923, Le Corbusie knew – and it knew – that the ghost that was crossing Europe had got up only a few years before in the Soviet Union it had turned into a threat for his neighbors. For the Swiss, the revolution was meaning the chaos, and was the logical consequence of a troublesome society who had lost his way and quality of life through the fault of the industrial city, sickly place for the body and the spirit. This way, the architecture – his architecture – was for LC the only possible exit the revolt of a civil discontented population.
The different European, conscious governments of this problematics, and needed besides the rapid construction of housing after the war, finish for accepting the ideas of this new architecture, which from then turns, clearer, an industrialized product, in series, homogeneously and of clear and white volumes. As the Paris of the Baron Haussmann, the new urban design was turning out to be illuminated under social and hygienic needs. The world needed to clean the city – to extract the garbage it was, it would be necessary to say – and the architecture was the method to achieve it. Another aspect was demonstrating, nevertheless, more secret in the books of architecture, that it was turning to the architecture in an element of domination and control. The Paris hausmannian was allowing the repression of the revolts and the modernity, with similar logic, it would turn into a tool of alertness.2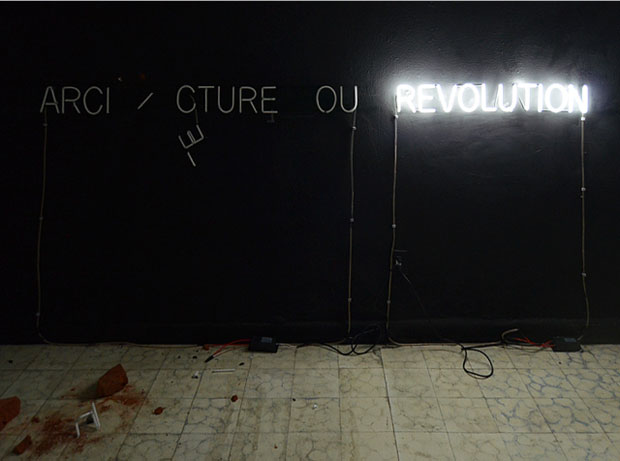 40 years later, when the own modern architecture was questioning his own ideas, Mexico was betting for a great project of State that was gathering the principal modern ideas: the Adolfo López Mateos Nonoalco Tlatlelolco Joint Habitacional. Defined as a superapple or a city inside the city – shaped by almost 12,000 housings with hospitals, schools, sports centers, cinemas and theatres – removed from the noise, the dirt and the discomfort, it was made since one Tabula Rasa that it eliminated the "horse-shoe of huts" that was located in that zone before, but supporting the heroic remains that there had been given in the past. This way, the Plaza de las Tres Culturas –center of the new urban, revolutionary and institutional project- was representing three power and legacies that there they were finding, the pre-Hispanic one, the colonial one and the liberalism that it was bringing I obtain the modernity. The modernity was constructing a new language of State, publicized by announcements, magazines and photographers, free of every historicismo and it was bringing, certainly, the progress, the idea of a better future: new constructive and, materials specially, new spaces for aprehender.
Probably for this lack of knowledge on his form of use, the spaces of the Mexican modernity of half of century turned into perfect scene for the protest and the search of new forms and places of representation. We can imagine CU's project occupied by the students, but specially the mentioned Plaza of Three Cultures where, on October 2, 1968, it materialized "an indiscriminate slaughter that finished with the manifestations of the popular dissatisfaction" 3. The modern architecture was turning into mute witness of the political failure and was fulfilling coldly that one that was saying his original conception:
"Architecture or revolution? (…) we Can avoid the revolution".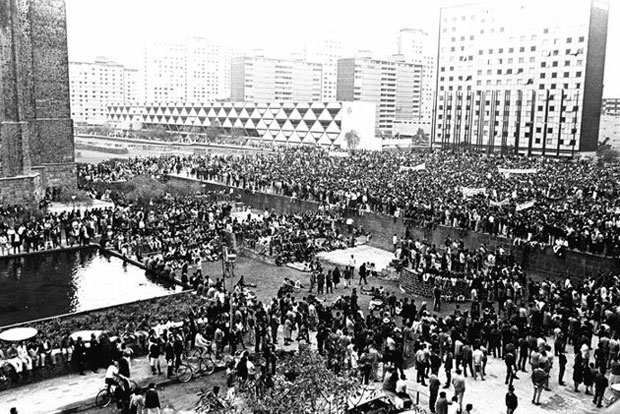 Pedro Hernández · architect
ciudad de méxico. october 2014
Notes:
1 CANO, Juan Carlos. El futuro que no pudo ser. In Revista Código #82. México. (2014)
2 Beatriz Colomina's works be seen as Arquitectura y publicidad o La domesticidad en guerra.
3 ADRIÀ, Miquel. Un intruso en Tlatelolco. En arquine.com
More readings:
La vivienda y reproduccion de la fuerza de trabajo: consumo de los objetos arquitectonicos en Tlatelolco (1964-1985). Lino Fernando Bragança Peres, Universidad Nacional Autonoma de Mexico. Facultad de Arquitectura Universidad Nacional Autonoma de Mexico, Facultad de Arquitectura., 1986.
Tlatelolco: la autoadministración en unidades habitacionales: gestión urbana y planificación. Rubén Cantú Chapa
Architecture or Revolution? Neil Leach
Architecture et révolution: Le Corbusier and the Fascist Revolution. Simone Brott. En Thresholds Journal #41 | Revolution
Soy arquitecto por la Universidad de Alicante, pero mi interés sobre esta disciplina se encuentra alejado de su papel tradicional de diseño de espacios. Más bien, me interesa entender cómo las representaciones de la arquitectura, el paisaje, el diseño o el territorio construyen y materializan determinados discursos ideológicos, imponiendo posturas, subjetividades y formas de acción sobre los cuerpos que la habitan.
En mi trabajo edito estos discursos –sus imágenes, sus historias o sus restos materiales– y reelaboro comentarios críticos que ponen en evidencia sus controversias y contradicciones, formalizándolos en diversos formatos como textos, fotografías, vídeos, objetos o instalaciones, muchas veces entrecruzados entre sí.
He publicado artículos y ensayos en diversos medios de Estados Unidos, Italia, Croacia, España, Chile y México. Desde enero de 2013-2018 residí en la Ciudad de México donde trabajaba como coordinador de contenidos en Arquine. Actualmente resido en Madrid.