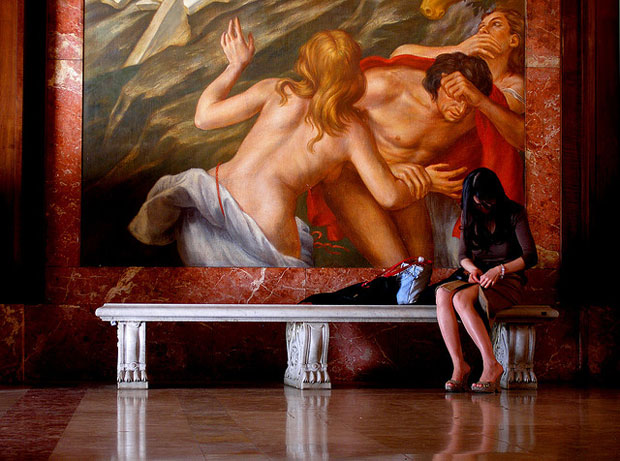 In the book Great Streets, Allan B. Jacobs dedicates the second part to compiling a series of «streets that they teach». Between them the Fifth Avenue, at a height of Central Park. Jacobs aims that «Both the park and the street seem of easy access».
Concerning the Fifth Avenue they turn out to be different of the principal museums of New York. Some of them are located in former residential buildings. Others stand out between the hamlet, as the MET or the Guggenheim.. Whereas others are discovered in the surrounding areas, as the Whitney or the MoMA.
To cross the museums neoyorkinos continues the experience of crossing his avenues. The public's abundance or the quantity of works to which it is possible to accede turn a walk along his rooms into a sweet and sour experience, where the fatigue is combined by the surprise.
Amplified and domesticated by Yoshio Taniguchi, the MoMA has transformed in a «supermarket of two speeds, one for the rich ones, with French restaurant, and other one for the multitude, with cafeteria» – in Marc Fumaroli's words-, without denying his first vocation of jealous temple of the art. Hundreds of public inspectors rise eager in a mechanical stairs while Christina waits for patient in his linen.
The life of the street has moved to the museums. In the city that it baptized and canonized to the modern art – returning to Fumaroli – they are extensions of the urban plot, with his history, his milestones and his images. And, following the game, the streets, the big streets, they have turned into museums.
antonio s. río vázquez . arquitecto
a coruña. augusto 2012
Author of the blog, El tiempo del lobo
Antonio S. Río Vázquez (A Coruña, 1981) es arquitecto por la E.T.S.A. de A Coruña, master en Urbanismo y doctor por la Universidade da Coruña. Especializado en teoría y diseño, su línea de trabajo se ha centrado en la investigación y divulgación del patrimonio arquitectónico moderno. Ha desarrollado proyectos de modo independiente y ha colaborado con varios estudios de arquitectura. Es socio fundador de Aroe Arquitectura. Es profesor en el Departamento de Proyectos Arquitectónicos, Urbanismo y Composición de la Universidade da Coruña, y ha sido profesor invitado en la Robert Gordon University de Aberdeen (Reino Unido), en la Universidade do Minho (Portugal) y en la Università degli Studi di Roma La Sapienza (Italia). Es miembro de la red UEDXX Urbanism of European Dictatorships during the XXth Century, del Grupo de Investigación en Historia de la Arquitectura IALA y del Grupo de Innovación Educativa en Historia de la Arquitectura. Ha formado parte del proyecto de investigación FAME Fotografía y Arquitectura Moderna en España, 1925-1965. Los resultados de sus investigaciones, tanto personales como conjuntas, han servido como aportación a eventos de debate y difusión científica y han sido publicados en libros y revistas.