An emplacement, a place without clear references, a meadow in soft earring that goes down up to the river, a rural relatively distant core, no orientation with conference favoured.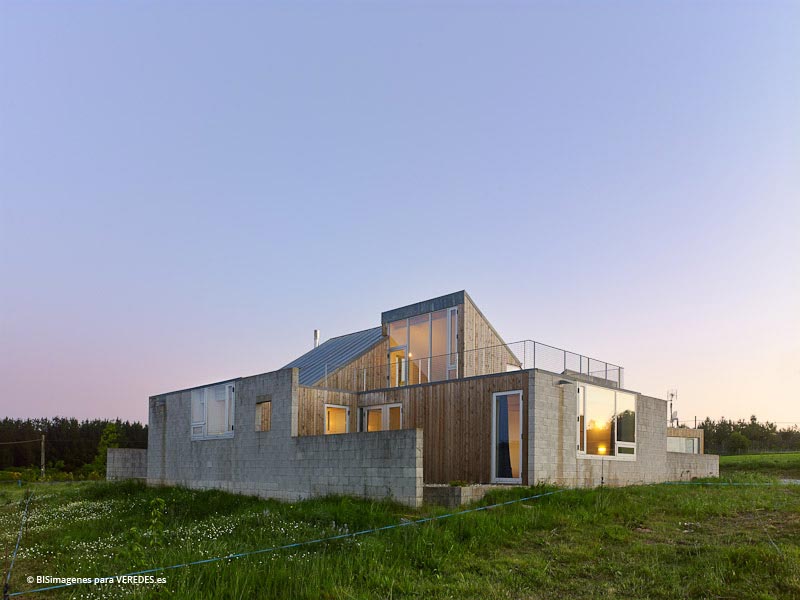 The housing finds his arrangement and his scale across 5 courts that will be these nice places between the domestic thing and the meadow between the human thing and the natural thing.
The time in his ancient dimension of the step of the stations of the climatic variations, the gray, blue clean, sometimes menacing sky penetrates in the housing across big lucernarios turning it into the authentic local reference.
A wall perimetral of block of concrete covers the set as a small accession, of certain defensive, introverted character and at the same time the big lucernarios throw to the distant landscape to the non-existent sights to the conquest of the celestial vault.
The materials that construct the house are the same that have constructed the popular rural architectura, the sheds, the ships, the closings of the estates. Fungibles, of deep, changeable textures with the time, with the age waiting for the moss that colonizes them, the lichen, the Sun that burns them or the rain that blackens them.
Work: Escribenta House
Location: Lugar de Arderís, Oroso, A Coruña, España
Author: Emilio Rodríguez Blanco
Collaborators: Julio Ordax Rodríguez, Antón Pena Auge
Rigger: Jose Manuel Mirás
Construction: Celsa Ferreiro Farto
Promoter: Celsa Ferreiro Farto
Cost: 208.000 euros (p.e.m.)
Surface: 330.0 sqm
Year: 209-2013
Photography: Héctor Santos-Díez | BISimages
+ rodriguezblancoarquitectos.com
Award
Juana de Vega of Architecture Award 2014.
Búsqueda para satisfacer el conocimiento de la actividad arquitectónica y tangentes que se generan. La idea es crear un espacio para divulgar los diversos proyectos en busca de nueva inspiración y de intercambio.