It is recomforting and healthy to see that pupils of different powers of architecture join efforts to safeguard our architectural heritage. In this opportunity they have met to take photographies and to gather general information of the Multifamiliar Building in the Juan de Aliaga- Magdalena Avenue, work of the architect Manuel Villarán Freire. Building that lamentably will be demolished, as they indicate, in a few weeks.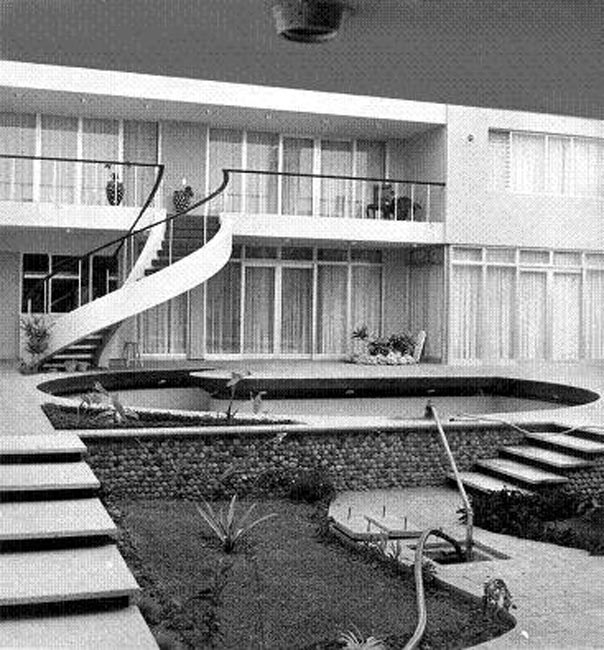 The commercial interest, the growth of the cities and the real-estate demand they have changed our urban profile and it carries to losing valuable architectural works, as many of the housings that already were demolished. Between most remembered the Donofrio House, the Truel House in San Isidro y nd lately the Cockburn House in Surquillo.
To achieve a correct backing in relation to our profession we have to understand our architectural evolution and be able to recognize the valuable works. We have the duty to safeguard and preserve the documentation for the education and this commitment we should assume it as part of our professional path.
Nowadays, we all are united in the labor of safeguarding the infografía of the magnificent Colective Building in the Av.  Juan de Aliaga and to go forward to other similar cases.
I invite to realize a selection of one-family housings and modern multirelatives, who possess an architectural prominent quality and who we must go knowing them or recognizing them to safeguard her and to study them, in altars of contributing to the backing of our profession.
As a following step, I expose later a series of photographies of one-family and multifamiliar housings that I have been recognizing in the ciudades of Lima and provinces, the same ones that mean part of our architectural modern heritage.
Multifamiliar buildings and One-family Housings in Lima, Arequipa, Piura, Trujillo and Chiclayo:
Fernando Freire Forga · Doctor Architect
Lima · august 2013 · Author of the Blog La Forma Moderna en Latinoamérica
*The photos and contents of this article were obtained by means of Internet and diverse means. In occasions in difficult to know the autor/a or the original source of the content. Providing that it has been possible have been added the sources or the author of the same one. If you are the author of some content (image, video, photography, text, etc.) and you do not turn out to be correctly accredited, please put in touch with us and we will name you like autor/a of the same one.
Fernando Freire Forga nace en Lima el 21 de marzo de 1977. Entre los años 1994 y 2000 realiza estudios de arquitectura en la Universidad Peruana de Ciencias Aplicadas en la misma ciudad. En 1999 obtiene el primer premio en el Concurso a nivel nacional organizado por PROCOBRE-PERÚ con la tesis: Edificio Automatizado de Oficinas: "Usos del Cobre en la Arquitectura".
Ha realizado estudios de Doctorado sobre Arquitectura Moderna en la ETSAB, Escuela Técnica Superior de Arquitectura de Barcelona en la Universidad Politécnica de Cataluña, España. Actualmente, se encuentra inmerso en el desarrollo de trabajos de recopilación e investigación de Arquitectura Moderna en el Perú. Es docente de la Pontificia Universidad Católica del Perú y se desenvuelve como proyectista de manera independiente.