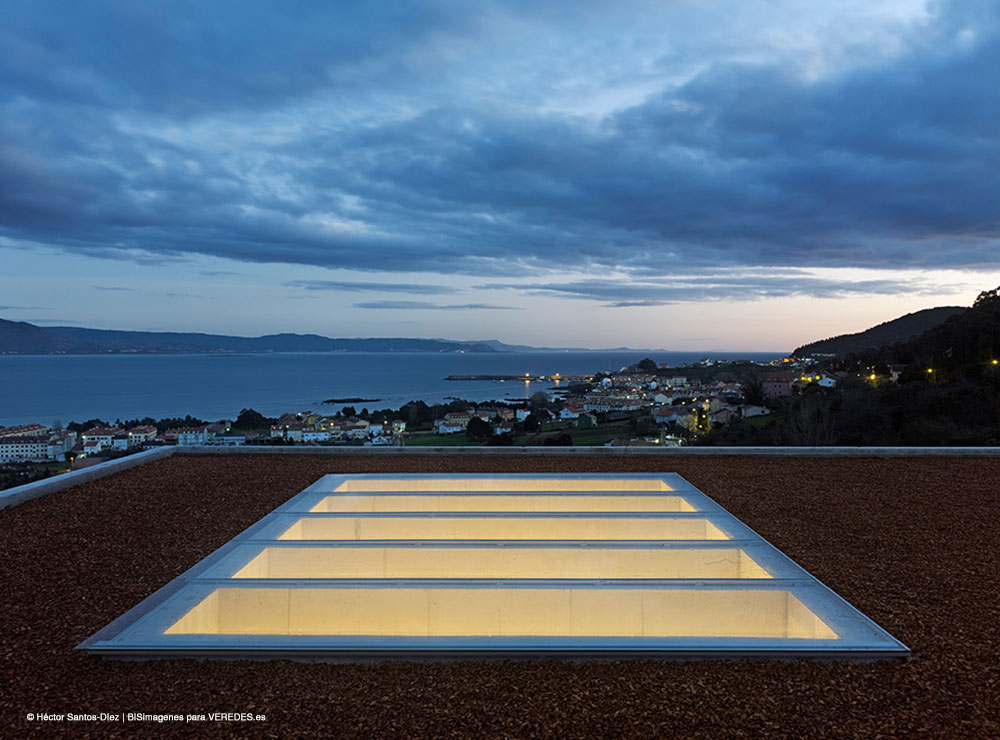 The project rebuilds a small house just over 3 meters wide and 16 deep at the end of a block. It is located in the historic centre of this village of Costa da Morte.
The former house was a dwelling and a bar and it had a blind well oriented dividing wall.
We have sought to resolve the urban scene clearly, bringing a renewed vision of building but without losing identity, through references to history and culture of the place.
It was constructed in wood, recalling the maritime construction and using white painted table. White is the colour of galleries and houses of the village. The ground floor facade is stony, in continuity with the traditional street facades. We wanted to reflect the spirit of the popular architecture without giving up our self-expression.
The house is about 120m2 divided between 3 floors. The ground floor is the entrance and a two car garage. The first ground takes the day area -lounge and kitchen-. The second floor has a bedroom, an office and a bathroom. At the penthouse floor is the ensuite room.
We made a simple approach based on the longitudinal dimension of an open space and the access centrality. The ladder -leaning against the partition wall-, leaves rooms on each side. Meanwhile the facade stands out at its centre making larger spaces, or it approaches to the stairs making an entrance cover.
The high ceilings and narrow windows relate plants to each other and the outside space, without actually showing it all.
The purpose was to reinvent a new living space, which is nowadays in ruins and unresolved.
Work: O Fragón Restaurant
Authors: CREUSeCARRASCO. Juan Creus y Covadonga Carrasco
Location: It is a question Corunna, Galicia as a set of plots in San Martiño's place of Above, Finisterre, Spain
Date Project / Completion: June 2012 / December 2013
Area: 162.74 m² / Living Area: 221.78 m²
Collaborators: Barbara Mesquita, Celsa Pesqueira
Developer: Jose Manuel Chao
Contractor: J. M. Rodríguez Garrido
Structure: Félix Suárez Riestra
Installations: Isabel Francos Anllo
Photographer:Héctor Santos-Díez | BISimages
+ creusecarrasco.es
Surge enero de 2009 como búsqueda de satisfacer el conocimiento de la actividad arquitectónica y tangentes que se generan. La idea es crear un espacio para divulgar los diversos proyectos en busca de nueva inspiración y de intercambio. Además de ofrecer la inmediatez de las noticias, se puede buscar información a través de distintas clasificaciones.