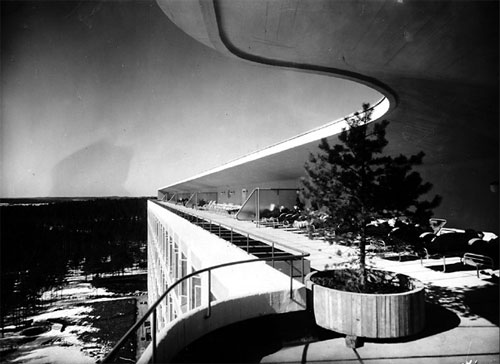 In the personal thing, one of the best moments that offer Beatriz Colomina's theses is when it connects the architecture with the health. Always me the idea has pleased what exhibits.
"The modern architecture was understood of unanimous form as a luck of medical equipment, a mechanism to protect and to improve the body" [Colomina, Beatriz – La domesticidad en guerra – Ed. Actar]
Fruit of this we can find the development of the sanatoria of tubercular of the 30s or tape-worm sees as the lawn of the suburban life a sense of treatment of the both physical and mental disorders, caused in the traumatic war.
It is evident that a relation exists between the living conditions and the health: the higienismo derived from the bad conditions – labor and domestic – of the industrial revolution is a clear sample of it. Opening of streets, urban, normative arrangement of the real estate … are results of many years (thousands) working on this topic.
And we continue doing it, in my school for example, it is very normal to find references to the luminoterapia, aromaterapia, … todomalquetengaterapia.
The architecture, as good inheritor of the modern movement, continues thinking that it can be a medical device, an element capable of relieving the urban males (the city, and his way of life is therefore dirty and dark) such as the stress … But alluding now to physiological changes (being employed at the biological chemistry). We are entering a pharmacological world, which Beatriz Preciado, would say, and the architecture seems to try to go to the rear.
But, can architecture work from areas exclusively belonging to the medicine? And if it is like that can this architecture answer something more than alone this curative need? Is it such a good architecture, so capable of solving all the males?
Doubts, opinions …. Because I do not know it.
Pedro Hernández · architect
ciudad de méxico. november 2013
Soy arquitecto por la Universidad de Alicante, pero mi interés sobre esta disciplina se encuentra alejado de su papel tradicional de diseño de espacios. Más bien, me interesa entender cómo las representaciones de la arquitectura, el paisaje, el diseño o el territorio construyen y materializan determinados discursos ideológicos, imponiendo posturas, subjetividades y formas de acción sobre los cuerpos que la habitan.
En mi trabajo edito estos discursos –sus imágenes, sus historias o sus restos materiales– y reelaboro comentarios críticos que ponen en evidencia sus controversias y contradicciones, formalizándolos en diversos formatos como textos, fotografías, vídeos, objetos o instalaciones, muchas veces entrecruzados entre sí.
He publicado artículos y ensayos en diversos medios de Estados Unidos, Italia, Croacia, España, Chile y México. Desde enero de 2013-2018 residí en la Ciudad de México donde trabajaba como coordinador de contenidos en Arquine. Actualmente resido en Madrid.