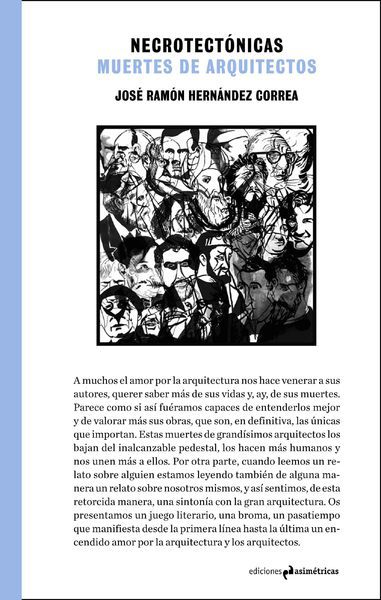 The love for the architecture makes many people venerate his authors, want to know more of his lives and, sigh, of his deaths. It seems as if this way we were capable of understanding them better and of valuing more his works, which are, definitively, the only ones that matter. These deaths of the biggest architects them go down the unattainable pedestal, make them more human and join more theirs them.
On the other hand, when we read a statement on someone we are reading also somehow a statement on us themselves, and like that feel, of this involved way, a tuning in with the great architecture.
Let's sense beforehand a literary game, a joke, a pastime that demonstrates from the first line up to the last one a flushed love for the architecture and the architects.
It is a collection of veinitrés statements on the deaths of twenty-three illustrious architects:
1.- Caín
2.- Dédalo
3.- Hiram-Abib
4.- Apolodoro de Damasco
5.- Michelangelo Buonarroti
6.- Sinan Ibn Adülmennan
7.- Francesco Borromini
8.- Claude-Nicolas Ledoux
9.- Frederick Law Olmsted
10.- Antonio Sant'Elia
11.- Louis Henri Sullivan
12.- Antoni Gaudí i Cornet
13.- Charles Rennie Mackintosh
14.- José Manuel Aizpúrua y Azqueta
15.- Josep Torres Clavé
16.- Giuseppe Terragni
17.- Lilly Reich
18.- Ivan Ilich Leonidov
19.- Le Corbusier
20.- Louis I. Kahn
21.- Carlo Scarpa
22.- Albert Speer
23.- Enric Miralles
Búsqueda para satisfacer el conocimiento de la actividad arquitectónica y tangentes que se generan. La idea es crear un espacio para divulgar los diversos proyectos en busca de nueva inspiración y de intercambio.