By María Moliner,
Clogs:
1. Piece of footwear done of wood, which the peasants use in different countries; it is in the habit of having something of heel and a few pieces that them separate something from the soil and the top turned up; Cork-soled clog, clog, cantesa, grinds, clog, maize, corche, galosh, haloza, madreña, souk.
2. Certain shoe with sole of wood or cork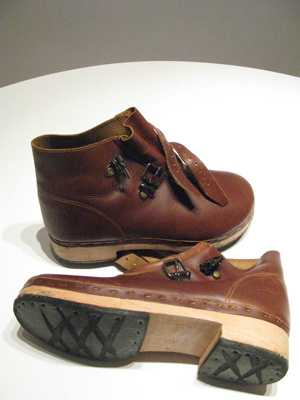 I refer in these brief words to the Zoco, shoe of wood and leather and not to the zocas, or to the description 1 of the MM, all in a piece of wood. Object of vernacular design, that is to say anonymous and constructed for the purification of the use and the form along successive generations. It pleases of them very specially this orphanhood because in his origin intellectual construction of the creator does not intervene today inflacionada, but the simple collective logic of the company that uses them close to the limits of the material, wood – leather. Always I have liked this sensation of anonymity of this article – invento-mueble for the feet, doing history of the design without knowing it, as if it was the work of the Photographer Virxilio Vieitez, that it portrayed so many souks, doing art without knowing it, only doing trade, without any other pretension. I say article because the souk is a coat unlike other footwears and say invention – furniture, for his crushing logic of element that separates and raises us on the soil, skilful frontier machine between the geography and the body that allows the life in adverse climates.
Today, as many other things of the immediate past, his use already only makes ethnographic sense, since in the representations of the traditional dance or, since it is my case, a sense esnobgraphy using them out of context to come to acts and familiar and cultural celebrations, to mean, though only it is for a few hours, the dignity of the humble thing and know those who we are or we were.
Luis Gil Pita. architect
santiago de compostela. january 2012
Arquitecto por la ETSA de A Coruña en 1997, desde ese año colabora en el estudio de Manuel Gallego Jorreto hasta 1999. Becado de investigación en Holanda en 2000-1, con un estudio sobre lo fronterizo y liminar en arquitectura, por la Diputación de A Coruña, fue posteriormente Profesor invitado en el área de proyectos de la Facultad de Arquitectura de Guimaráes, Universidade do Minho, del 2001 hasta el 2007. Desde el inicio de su carrera ha publicado asíduamente artículos y ha participado como editor en diferentes publicaciones alrededor de la arquitectura.