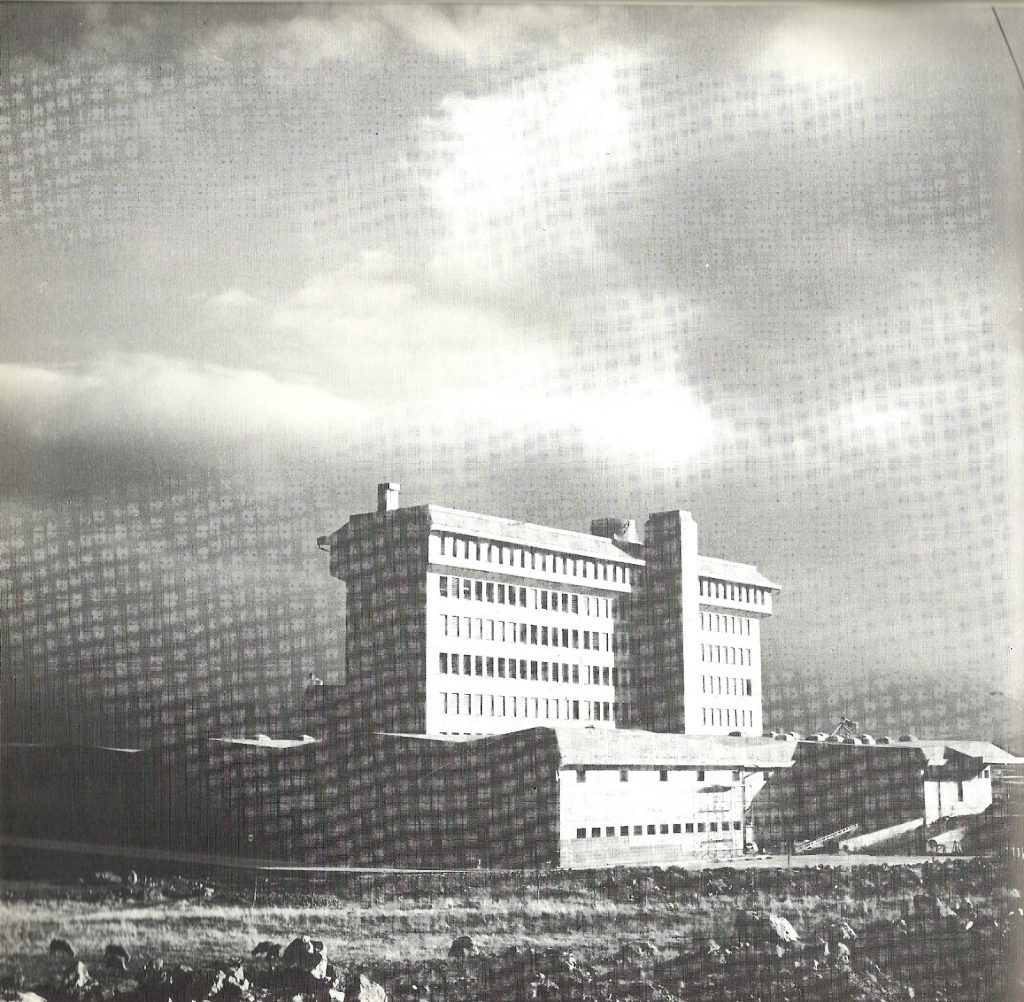 It does little I dedicated an entry of this blog to Curro Inza, and scarcely I mentioned his masterpiece. I did it voluntarily to be able to dedicate an entry to alone her, which deserves it. Campofrío treats itself about the Sausages Factory Postigo, El Acueducto, Campofrío… It has had many names, as they have gone selling or there being absorbed the meat companies that were exploiting it, but in Segovia the whole world has known her always as "La Choricera", and this way I prefer being calling it I here.
After economic problems increasingly serious, it was closed finally in 2009. On the other hand, I read that one tries to protect and to honor her since to deserve. Do not be in what situation it will be situated just now. Ojalá, even with this horrible crisis that we suffer, is capable of re-arising.
The project is of 1963. They made it Inza and Heliodoro Dols,, architect whom, I confess, did not know, and whose hurried link I have just put. (I promise to study his works with attention). Apparently, in the direction of the work Dols was not. The work finished in 1966.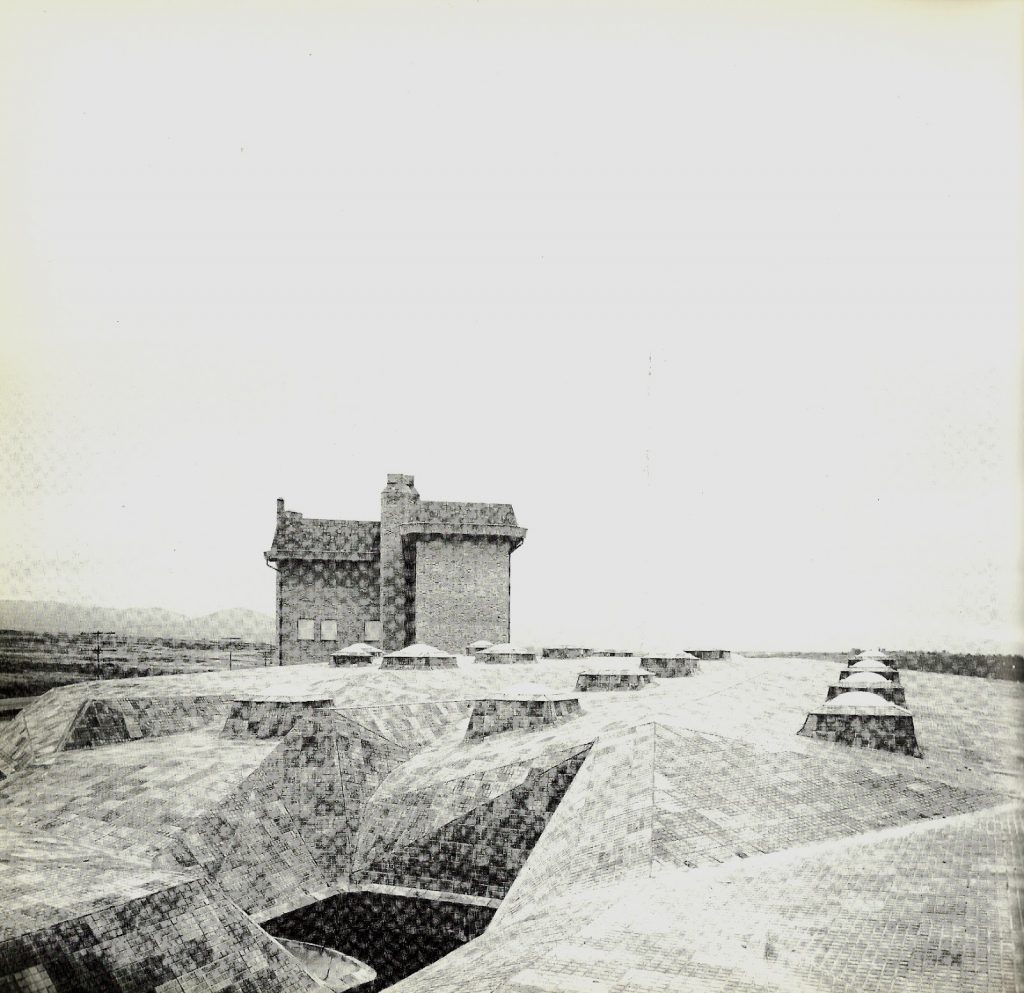 It is at the entry of Segovia, to the left side coming from San Rafael. I it counted again, but I repeat it. I had never heard speaking about Job Inza, and it was in a RTVE documentary (the famous documentaries of 2) where I saw the wavy, exagerate cover, dispartada of the building and thought that it had seen few ones uglier in my life, but it could neither change channel nor separate the sight of all that. It was fascinating.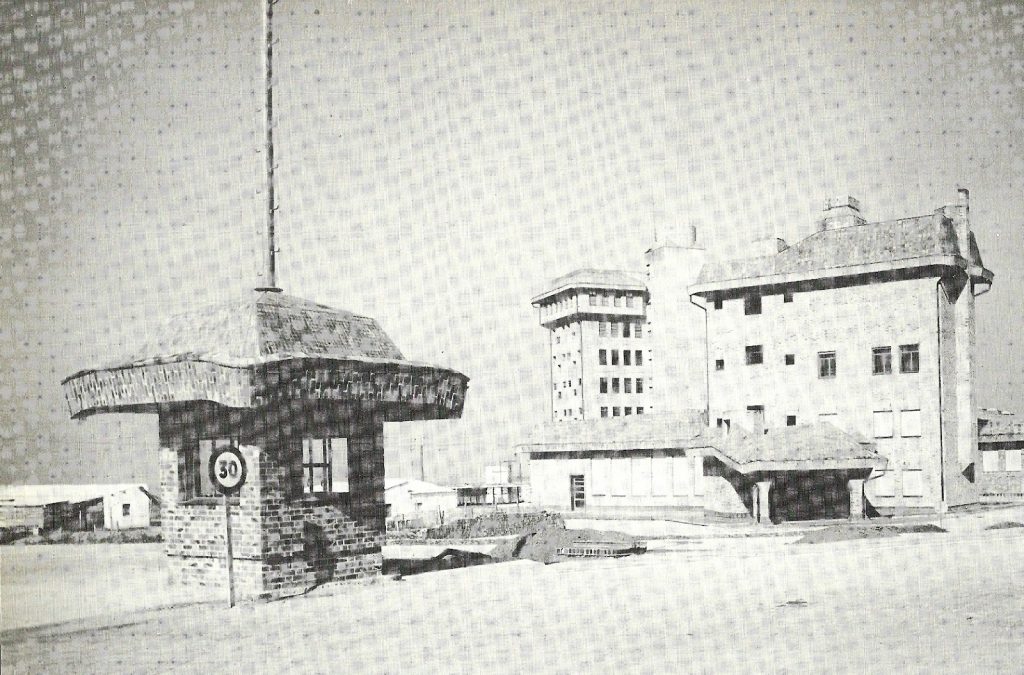 The booth of the watchman of the entry, the foyer, the stairs… Quite so disproportionate, so pigheaded one, so loudly, so tremendous. This rare taste expressionist, what be I: Castilian, organic expressionist – brutalista. What queráis. As an image of science hard and terrible fiction. It dries, desasosegadora, arid.
Inza and Dols are absolutely funcionalistas in his explanations of why they did the things like that. Or, they shield his expressionism saying that a caprice is not (alone), but everything answers to a program (very complex) and to a usefulness.
It is true, but this program and these functions were not demanding necessarily these forms, by no means, but these were some of so many people (of tantísimas) that they could serve. The case, in short, is that they serve perfectly, and that when an architect answers correctly to the functional solicitations it is necessary to allow him that should be made happy. She has been gained.
( The whole architecture, be of the style that is and has the formal beginning that it has, it has to solve the functions, and this work solves them. So fulfilled mission. In fact, the problems that have ended in his closing have not had anything to see with his functioning as building and installation, which during more than forty years has given fulfilled response to what it was asked him. It was extended a decade later, but the original work continued working perfectly).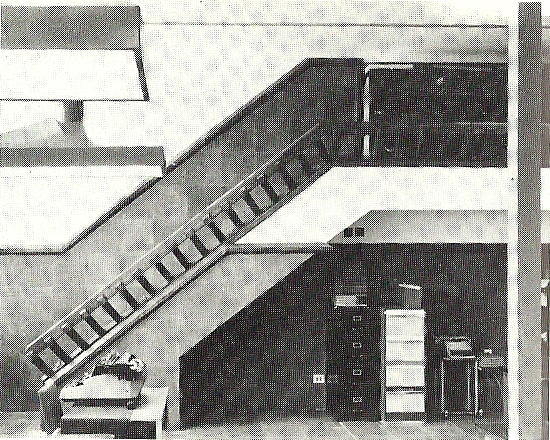 For example, the tower of six plants is the dry of sausages. It is orientated to the dominant winds and fulfills everything what had to expire. But had it to be like that?
Also the turned bodies answer to which one, as we say, it is orientated by the winds, other one by the light, and this way the architects turn us to insisting that nothing is capricious (when, on the other hand, everything it is).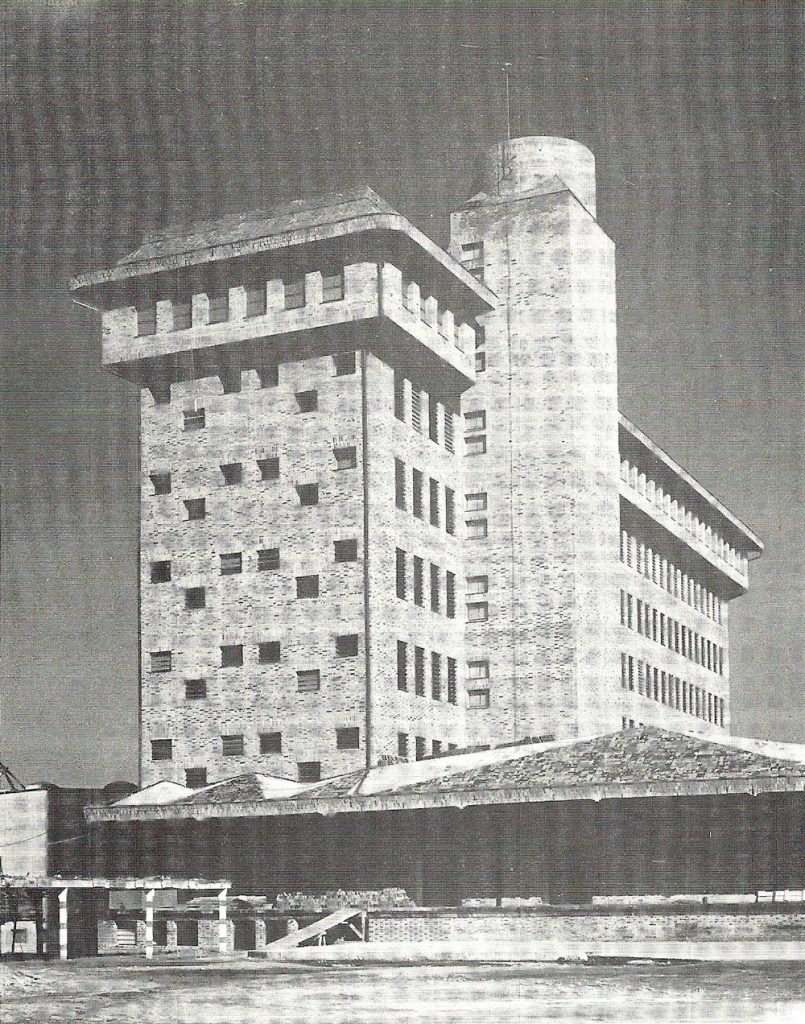 Another example of functional justification: For reasons of work, except the tower of dried treated and the offices, the whole factory is of an alone plant, very extensive. For hygiene, the ceiling of this enormous plant has to be horizontal, smooth and constant (to clean it with facility). But, due to the extension of the cover and the big differences of temperature in Segovia, there must be something on this wrought one that protects it, that does a chamber. Therefore, there is done a cover that aisle the wrought one, it protects and ventilates it. But also has it to be this ceramic surge facetado and completely irregularly?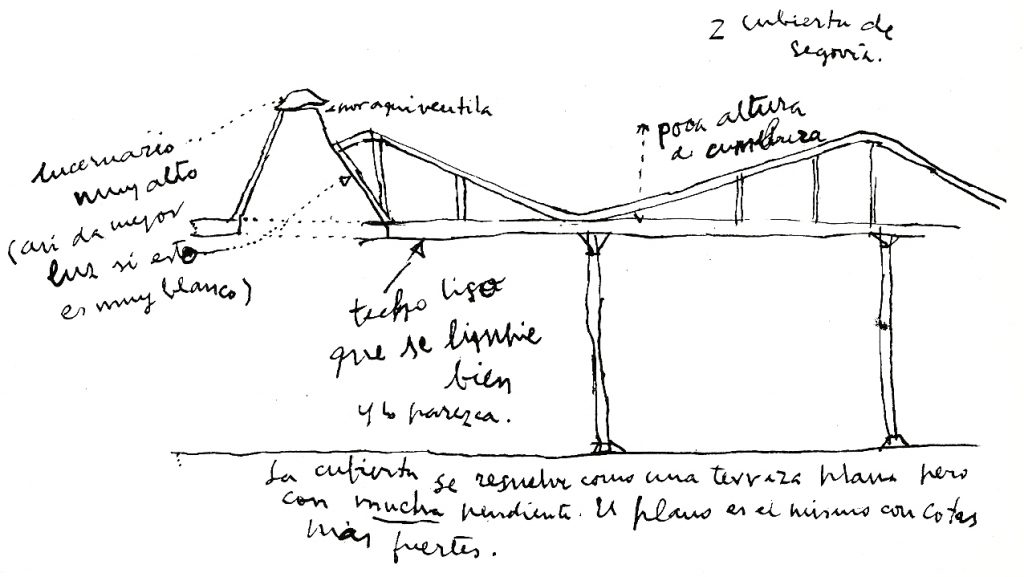 Certainly, to illuminate the ship of manufacture with this cover remedy does not stay any more that to place a few high places lucernarios, etc. Everything seems to come forced. The architects seem to limit to solving humbly a mere technical problem.
And, nevertheless, nothing of this building is neither humble or bland, nor goes unnoticed.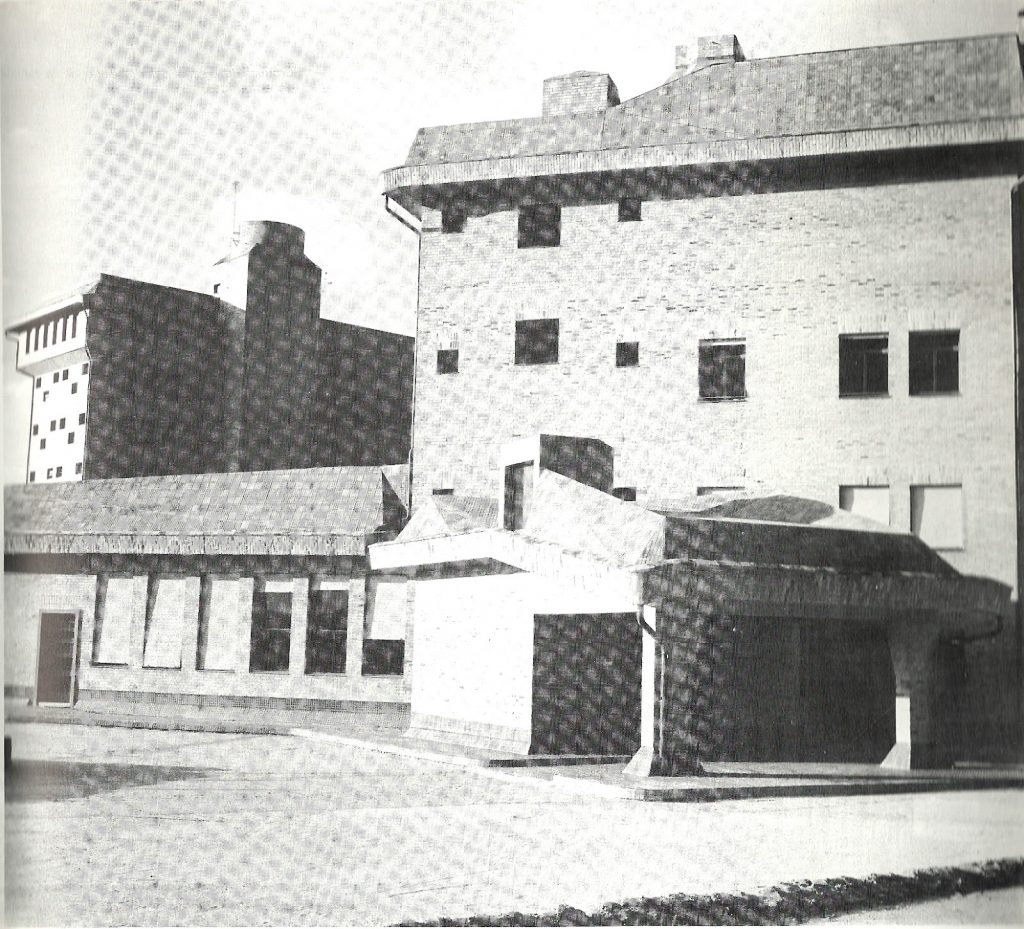 It turns out to me very curious that the office body has been designed like so carelessly, so tastelessly, since (already I say) if it should not import his form to the architects.
It seems (I say it seriously) that they have given up the windows to I volley, without grace, which they have done the silliest volume that has gone out for them, and to running. As if the order they had solved it sloppily. But it is not like that. On the contrary, let's see the love and the dedication with which Inza designs an armchair for the offices (work that is not own of this type of orders).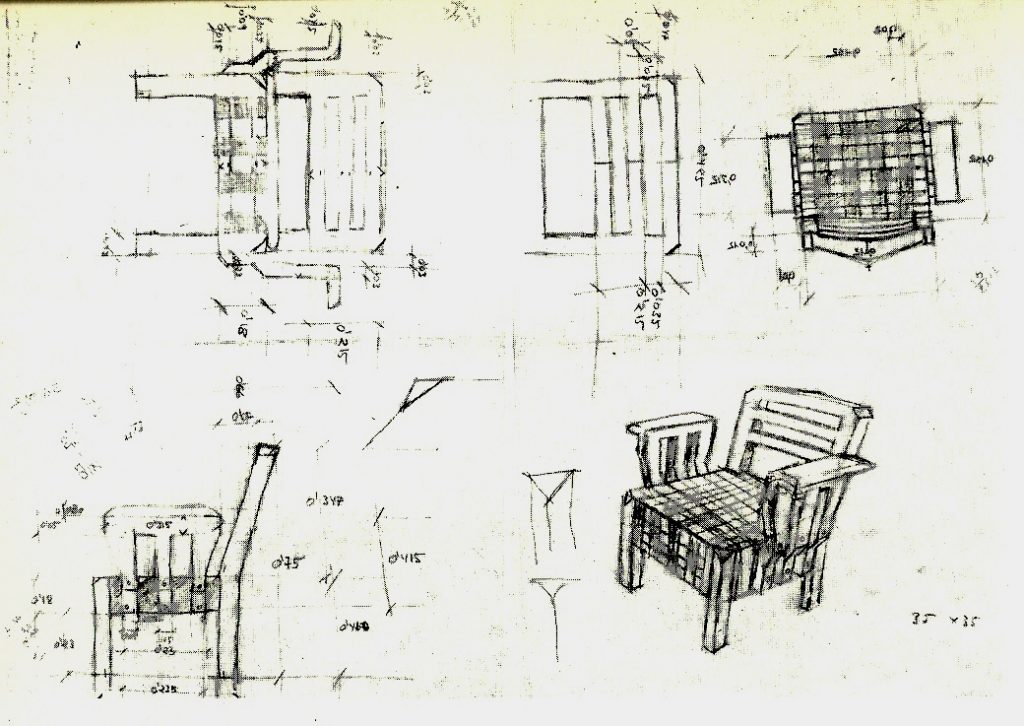 And, especially, the mural that does in the foyer.
It is to say: It is a work with a high implication of the architects. An enthusiastic work. Therefore, let's think another thing of the office body: what let's let's want less that it is done by laziness. Let's think that this it is his expressive force (that I do not stop seeing) inside such a complex work sometimes it needs to stop, to be contradicted, to breathe.
It is a rare work, which us comes very well to those that we spend to ourselves the day with the "beauty" in the mouth.
Shrieks beauty! Architecture!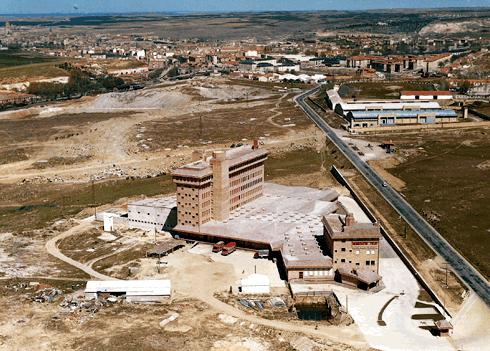 José Ramón Hernández Correa
PhD Architect and author of Arquitectamos locos?
Toledo · october 2012
Nací en 1960. Arquitecto por la ETSAM, 1985. Doctor Arquitecto por la Universidad Politécnica, 1992. Soy, en el buen sentido de la palabra, bueno. Ahora estoy algo cansado, pero sigo atento y curioso.