Hugh Ferriss (1889-1962) is one of those prominent figures who, supported on the fantasies of the skill with the pencil and his expressiveness, constructed a good part of the images of the future, almost one century ago behind. With the distortion of the point of escape typical of the Italian Antonio Sant ' Elia that the Russians Chernijov, Leonidov, Vesnin and The Lissitzky led to the stardom, dramatizes the scale of the new urban constructions in North America raising his disproportion of way escenográfica.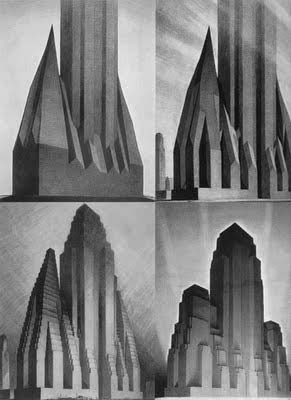 […]
It´s edited by Martín Lisnovsky, architect
+ article is published in arquitecturamashistoria.blogspot.com
Búsqueda para satisfacer el conocimiento de la actividad arquitectónica y tangentes que se generan. La idea es crear un espacio para divulgar los diversos proyectos en busca de nueva inspiración y de intercambio.