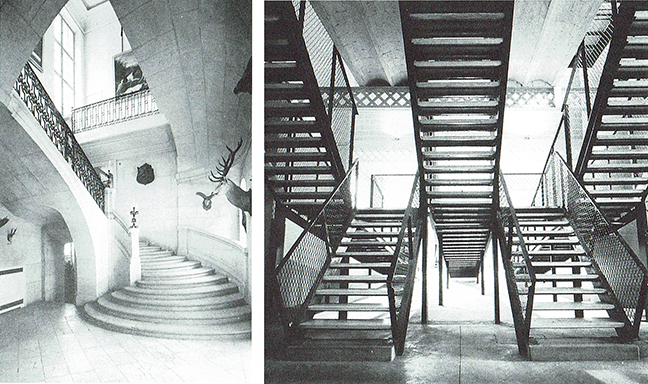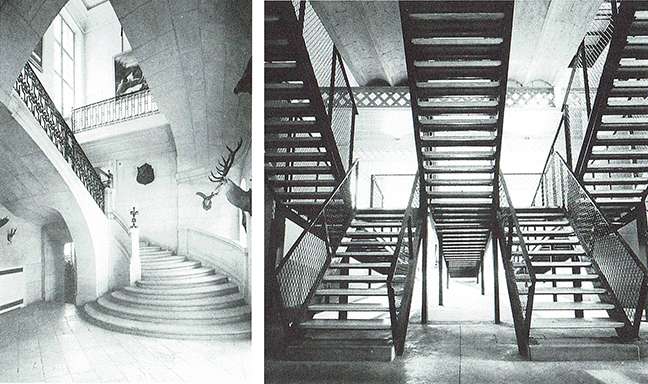 To the stairs one has to look at her abreast. To attack his tracing walking of backs – or of side – a sudden loss of the balance might suppose1. And the stairs is generous, we would say even detached in the application of the supreme Law of the Gravity2. Any stairs a beginning, an expectation supposes always craft.
Probably embarking is here the suitable word: also abreast we accede to the ship, also our foot hesitates in the space at the moment of leaving the road surface. Nevertheless, any stairs offers end and literally a disembarkation.
Every step ends in the emptiness, every plateau supposes an opportunity. Beyond the mere arrangement vertical and ruled of the space, beyond the closed and functional tour, the stairs supposes always an event in the emptiness.
Well there knew architects as different as Sota or Miralles -between others- the architecture of the stairs, in occasions managing simply half levels, topografías connected by minimal light and transparent joints, as that one that they count always Don Alejandro was coming out in photographs in the house Guzmán, or the stairs / ramp of the college La Llauna designed like dock for Enric Miralles and Carme Pinós in Badalona.
The stairs has so much that to see with the beginning as with the dignity of the ends. Of the stairs it leaves like one leaves a ship, a church or a summer: behind the empty space will stay. Spaces like the great room of the stairs in the Guenegaud Hotel des Brosses, of Mansart, 1653; punctual in the stairs "to the miller's wife" of Beard Corsini in the apartments of the Milá House, 1955; fluid spaces after the steps in the room of exhibitions constructed for Olivetti for Carlo Scarpa in Venice, 1957-58, another dock – in this case of concrete – on the vibrant mosaic of numerous ceramic pieces carefully (des)organized3.
Any stairs a beginning, an expectation supposes always craft. It suits to remain attentive to the opportunities and qualifications of stairs and disembarkations.
Miguel Ángel Díaz Camacho. PhD Architect
Madrid. February 2016.
Author of the Parráfos de arquitectura. #arquiParrafos
1 "Instructions to raise a stairs", Julio Cortázar en el libro Historias de Cronopios y Famas (1962).
2 In the Anglo-Saxon world, the horizontal measure of the step or "fingerprint" is translated for "going", valuing the action of the displacement instead of the static measurable plant. The width of the fingerprint, or horizontal distance between steps, is known like "nosing" referring to the measure between the external points of the mamperlán. On this anthropomorphic identification of the stairs we will return in another occasion.
3 All the stairs recounted in the text would be prohibited today for not fulfilling the in force legislation. To see " Mamperlán. The stairs succumbs before the regulation ", for Ignacio Paricio, Arquitectura Viva nº35, in March – April, 1994, págs. 114-115.