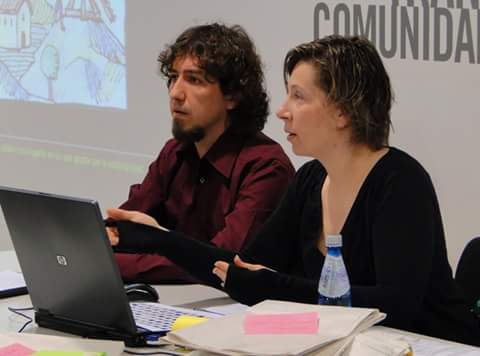 I knew Lorenzo and Agnieszka in a summer course in The Carolina of the University of Jaen in 2010. Since then I they have followed the track up to ending up by being his pupil in the fantastic Course Online of Digital Identity for architects. Already I said to them that, I think that the search of the excellence in his life has made them come where they are. There his answers go.
The Blog of StepienyBarnó, Haiki, Sustainable Synergy, The Alive City, sucks nest … does it hook 2.0?
Since it must be that yes; but as any good hooking it happens almost without realizing. The truth is that the network has something of addictive and for us it is our natural habitat. It yes, the desires of sharing come from the world 1.0; always we have thought that the best way of learning is to be teaching the little or much that we know. In addition, the network is very grateful and always it gives you much more than you give him her.
Had you imagined in your university stage that you would be uniting so squarely in these topics? How have they influenced the social networks in your work?
Though still we consider ourselves to be young architects, our learning was totally analogical. Since good aims At Quetglás, always we have thought that in the library the best teachers were; it is more, now also, in opposition to what it could seem, we continue being very of books, not so much of magazines.
This way, the study of architecture we mount it 10 years ago and during the 5 first ones, up to the arrival of the crisis, we were a traditional study that was using the e-mail and little more. It yes, five following years have been of a digital very big intensity.
The social networks came a bit later; we were not pioneering architects in them. What yes that we saw clear, is that the architects, in general, were not doing a professional use of them, and it seemed to us that there was many task for doing in this sense.
This way, the networks and the network in general, they have been a marvel that has allowed us to be able to live calmly in a hamlet of Navarre, Estella, covered by the family and quite close of many good friends and, simultaneously, to be connected by an infinity of people that we had never dreamed.
You do a labor of diffusion of blogs of very important architecture. Which your favorite ones?
Ahhhhh! This question is not done! Jajaja
Good … There we go and at the risk of that friend gets angry with us some blogger; we remain with Múltiples Estrategias de arquitectura by Santi de Molina, Párrafos de arquitectura by Miguel Ángel Díaz Camacho and the blog de José Fariña.
What is that more has marked you with your university stage?
The friends that we knew then and who, thankfully, in many cases still continue it being. Thankfully or unfortunately, though we have in mind some good teacher, it was not the relation with any of them what marked us.
Both we were coming of studying before riggers (Lorenzo) and civil engineering (Agnieszka) and it did that we were enjoying the career another perspective. The architecture plundered us squarely and, a today, in spite of all our flirtings with other disciplines, he continues inspiring love in us equally or more than the first day.
In addition, in our case, this stage was specially important since it was the moment in which we knew ourselves, we fall in love and decide to share our life together. So any more we cannot ask!!
Which are your relating architects? Someone acts in I make concrete?
Here we are going to be very clasicotes!! Jajaj
In spite of the fact that we feel fascinated by many of the things that are done now, even in the periphery of the architecture since it can be the wonderful process of Campo de Cebada, if we have to choose, we remain with Aalto and Siza.
We remember with great fondness our trip for Finland. Alvar Aalto is an architect who has the virtue of escaping to the reason and to give itself squarely in the heart.
In turn, our alive architect of head-board always has been Álvaro Siza. We have never learned so many architecture as visiting his buildings. Each of them is a lesson of architecture in yes same.
Total fans of two Álvaros!
Tell us of what project you feel prouder of all that you have made.
Thankfully, as we were commenting initially, we could enjoy of 5 years of study, in conditions that today they look like a dream. In them, we could do some interesting little house and were lucky to gain two or three contests.
In this stage, we were interested very much in the buildings of education and we were lucky to do a small school in collaboration with our friends Javier Barrera and Jose Manuel Etayo, who remained very powerful. It is a project where everything went out to ask of mouth and, in spite of not having a lot of experience in work, we could enjoy the pretty of the whole process. (To see project here)
Ah!! And certainly, though it is not a project to the use, for us our Stepienybarno´s blog does not stop being a project; of fact, our more pampered project!
Obliged question: what is for you the architecture?
The architecture, the authentic architecture, is like the happiness or the truth, you can try to catch them, but always they end up by escaping! Of all forms, we remain with the definition of Elizabeth Dieller and Ricardo Scofidio:
 "Architecture is what exists between the skin of a man and other one".
¿Qué cambios os gustaría que sucedieran en las Escuelas de arquitectura?
The schools of architecture with since big pachyderms, dreaming that the past will return one day of to call these to our doors. But the past, our past of real-estate bubble and orders without moving the anus, already will not return. The times have changed and the school that first realizes it and integrates it in his formation will take the cat to itself to the water.
For us there are three key points on which to act:
1. Facilitatting the arrival of the lads to the real world, speaking to them with clarity what expects for them out, and providing them with tools to minimize the bump of the disembarkation in the real world.
2. Facilitatting the arrival of the lads to the real world, speaking to them with clarity what expects for them out, and providing them with tools to minimize the bump of the disembarkation in the real world.
3. New times have come and besides the possibilities of the expanded education, new models of education come more centred in teaching to learn that in sitting chair. But good … against the church we have run.
Do you think that the architects' colleges are adapting to " 2.0"?
To the architects' colleges they something similar goes on to on what we have commented on the schools. They have been too many years of extracting sheen to the stamp of the visa and, now, there is no waist to offer a few different services that make them really necessary. Or they give a radical change and they turn into the representative of all them architects, not only of those who do projects, which is not easy, or they will fall down for his own weight.
Have you long-term goals?
Actually, we are not very of goals. It is not that we do not like to dream, which happens is that we are sure of the fact that the destination knows what is convenient for us much better than we themselves. It is a question of trusting, and especially accepting what is coming. In this sense, we are more of agreeing and, from there, living with intensity what touches in every moment.
The authoress of the interview is Sheila Palomares. Architect. PhD. Reutilization of the Industrial Heritage / www.plazasdelmercado.com
Stepienybarno está formado por Agnieszka Stepien y Lorenzo Barnó, ambos arquitectos y formados en temas de Identidad Digital y Comunicación online. Desde el 2004 tenemos nuestro propio estudio de arquitectura, ubicado en un pequeño pueblo de Navarra, Estella, y ambos estamos embarcados en nuestras tesis doctorales. A su vez, colaboramos con otros profesionales tanto del ámbito de la arquitectura, sostenibilidad y comunicación online. Vivir en Estella nos da la tranquilidad necesaria para poder encarar el día a día con energía y la red nos posibilita contactar con un mundo maravilloso que de otra forma hubiera sido imposible.