3er Symposium of Wood Architecture and Construction, that will be celebrated within the framework of the fairground Construlan 2010 in Bilbao Exhibition Centers on April 15 and 16, will spread qualities of the wood as a sustainable building material through the experience of architects and specialists. They will present his experiences studies as Kaden Klingbeil, Berliner company that the first building has projected of seven built plants in wood in the center of an European big city, Sou Fujimoto, Japanese architect youngster whose works, as his Treatment de Center for Children with Mental illnesses, are being recognized internationally or Carlos Puente, from Bilbao afincado in Madrid, finalist of the Prize Mies go der Rohe of the European community, among others many.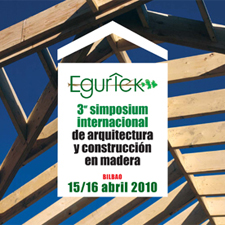 + www.construarea.com
Búsqueda para satisfacer el conocimiento de la actividad arquitectónica y tangentes que se generan. La idea es crear un espacio para divulgar los diversos proyectos en busca de nueva inspiración y de intercambio.