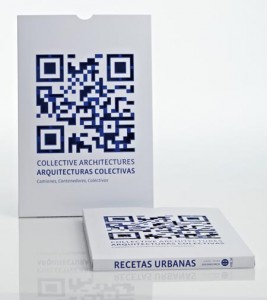 This book is false. It is not devoted to Santiago Cirugeda and Recetas Urbanas.
This book is partial. If it is devoted to Santiago Cirugeda and Recetass.
This book is useless. It does not offer guides neither certainties, it does questions instead of giving answers.
This book does not speak of architecture. If you do not ask you what is the architecture, it does not interest you.

This publication is the constatación of the union of two architectural efforts, by a side Santiago Cirugeda and by other editions Vib[]k. Speak of Santiago Cirugeda is to speak of a social architecture engaged in the field of the urban reality, where reviews and questions the current structures urbanísticas. This work has developed it through architectural or social projects, like Urban Recipes or Communities in Network, and in writing or articles, receiving thus that numerous prizes and quotations. Besides it has participated in different debates, round tables, congresses or biennial of architecture. Editions Vib[]k, is an independent publisher that investigates innovative forms of publication that break with the traditional publication. They are open books, fruit of the exchange and the collaboration between editors and readers, even before being printed matter, turning into platforms of cooperative investigation. Recently editions Vib[]k has been selected to participate in the pilot experience of the Factory of Innovation of the School of Industrial Organisation
Of the fruit of this union goes out to the light COLLECTIVE ARCHITECTURES, a publication that poses  like an open process, a code QR, and that will complement  with the step of time by means of the sum of future experiences, that will be collected in next editions. This first "container", maquetado by the study of design hispalense Good morning and that publishes  in bilingual edition (Spanish and English), houses in his interior the book, "Trucks, Containers, Communities", an initiative of Santiago Cirugeda, that collects contributions of distinct authors that investigate with different perspectives in varied fields and directions, whose end is to give an answer chord to the possibilities and needs of each intervention, like this expresses  in the same contraportada "the possibility of other space models and biopolíticos, the forms of construction of the common, the desnormalización of the architecture or his indisciplinariedad" that ends in the network of international cooperation "Collective Architectures". The "container"  complete with five fascículos desplegables, of 10 pages, and convertible in posters (285x950mm). They are projects-initiatives, distributed by the Spanish territory that involve to diverse communities, that aúnan strengths to configure new spaces and incidir on a need and that invites to repensar essential questions of the architectural practice amongst other appearances.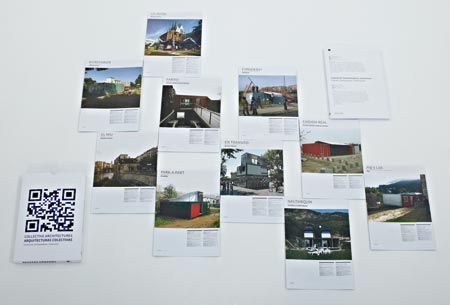 Contributions: David Torres, José M. Galán, Paula Álvarez, Ramón Parramón, Santiago Cirugeda, Urban Recipes, Judith Albors and Saskia Sassen
Projects: In Traffic (Martorell-Barcelona): Urban Recipes; Houses Alegales in azoteas: Urban Recipes; Park-to-part (Arbucies, Girona): Stradlle3; Spaider 3 (Esplugues of Llobregat, Barcelona): LaFundició; Seaweed-lab (Parish of Valladares): Alg-to; Künstainer (Tarragona): Caldodecultivo; The Niu (Girona): Urban Recipes; Nautarquia (Sant Pere of Torelló): Straddle3  the Alien Nation; Spider Mega (Seville): Urban Recipes; Satellites of fight (Seville): Urban Recipes; Farito (Castuera): I Project asylum  Urban Recipes; Centre of Training Cañada Real (Madrid): Everything by the Praxis  Urban Recipes; Terracings for the Cañada Real (Madrid): Everything by the Praxis and Urban Recipes.
Design: Buenos Dias
This cooperation remains confirms in the conjoint presentation of the documentary  "En la red" and of the rid "Collective Architectures" of Editions Vibok and in La Casa Encendida [Round Valencia, 2 Madrid] the dia 3 March, to the 20:00. They participate:Santiago Cirugeda [artist and architect,], Paula Álvarez [editor], y Guillermo Cruz [producer of the documentary  "En La Red"].
+ info
Thanks to Editions Vibok and White Chair, especially to Paula V. Álvarez and to Elena Álvarez for sending us the copy.
COLLECTIVE ARCHITECTURES | Trucks, Containers, Collective
Santiago Cirugeda – Recetas Urbanas
Paula V. Álvarez (ed.)
Judith Albors, Paula Álvarez, Santiago Cirugeda, José M. Galán, Ramón Parramón, SaskiaSassen, David G. Torres.
The articulate is written by alberto alonso oro
Búsqueda para satisfacer el conocimiento de la actividad arquitectónica y tangentes que se generan. La idea es crear un espacio para divulgar los diversos proyectos en busca de nueva inspiración y de intercambio.