In this book the authors analyse with absolute coolness the current situation of the profession of Architect. With an offer of professionals that exceeds the 55.000 and a missing demand, the situation of the profession does  tragically dramatic.
For "Arquitectos en la encrucijada" is not only the exercise of a profession that was and that no longer is. It is the approach of a new professional future, that will go through a traumatic reconversion for many, but indispensable if the architect wants to follow existing.
"There is not place for all, or reconvert us or disappear" indicate the authors. The architect Rafael de la Hoz, author of the prologue of "Arquitectos en la encrucijada" indicates "is a text of reference for the future of the profession of Architect".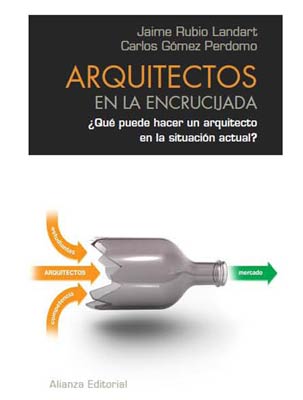 Given the critical situation by which this happening the profession of the Architect in Spain, after the presentation, in the Foundation of the Official School of Architects in Madrid, opened  a long debate on the possible exits and restructuring of the professional future.
A cold book, documented but that however does not lose the hope that in a future the training pipe to these professionals by what the market this asking of them.
Arquitectos en la encrucijada
Jaime Rubio Landart
Carlos Gómez Perdomo
ALIANZA Editorial
Búsqueda para satisfacer el conocimiento de la actividad arquitectónica y tangentes que se generan. La idea es crear un espacio para divulgar los diversos proyectos en busca de nueva inspiración y de intercambio.