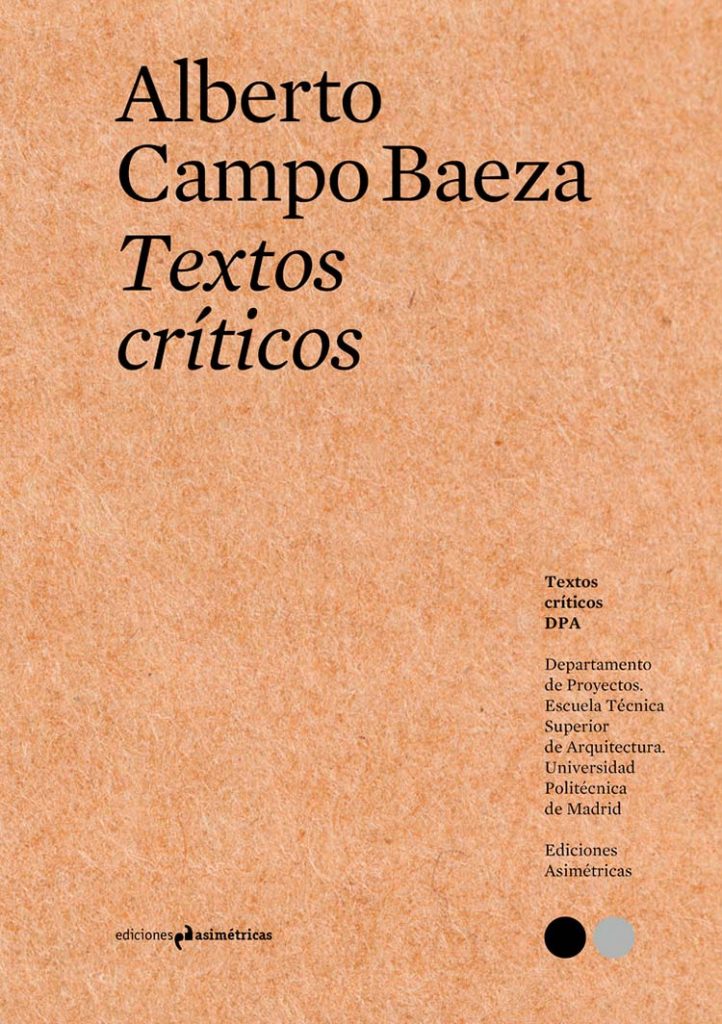 This book forms a part of the collection Critical Texts, which he gathers the teachers' fundamental writings of the Project department of the Technical Top School of Architecture of Madrid, where they have exercised for years a wide and generous teaching.
In these texts selected by the own author as legacy of an encomiable educational path, there centers, revealed, his ethical and aesthetic beginning. This summary of his thought shows the passion that Field feels Baeza for the architecture and for the education. His speech, direct and clear, goes towards the pupils with the intention of sharing with them his deep knowledge, his wide culture, his perfected sensibility and the reasons ("the reason is the principal instrument of the architect") for that it has done and does architecture.
Definitively, it is a question of the fecund intellectual and human testament of an extraordinary architect and inspiring teacher, always generously with pupils and colleagues.
Alberto Campo Baeza.
He is a project professor in the School of Architecture of Madrid, ETSAM, in which he has been a teacher during more than 35 years. His works have had a wide recognition; from the House Turégano or Of Blas, both in Madrid, up to the houses Gaspar, Asencio and Warrior in Cadiz, spending for the House Olnick Spanu in New York and the Day-care center for Benetton in Venice.
Of his book of texts The Constructed Idea more than 30 editions have been published. In 2009 there was edited the second collection of his texts titled Thinking with the hands. In 2015, the publishing house The books of the Cataract has published I want to be an architect.
Búsqueda para satisfacer el conocimiento de la actividad arquitectónica y tangentes que se generan. La idea es crear un espacio para divulgar los diversos proyectos en busca de nueva inspiración y de intercambio.