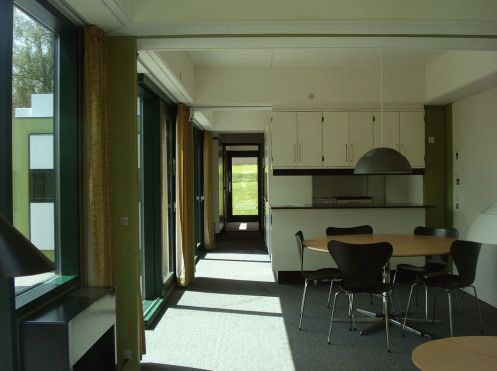 To speak about modular homes has never been synonymous of quality. I refer to the architectural quality, that one that so much we admire for his spatial, aesthetic, material, representative values, etc. I do not remember any constructed that has gone on to the posterity and still it continues being a place of peregrination for the professionals and students of Architecture. In fact, I do not say that still it should exist, but probably there has never existed any that has deserved such reverences … or yes?
Though someone of my reading darlings will correct me (and deservedly, insurance, since one has his limitations), only I know a casa prefabricada that miraculously was saved from the disaster: the house – prototype known as "KUBEFLEX" of the danish Arne Jacobsen.
It is the whole miracle that has remained a house as that one to the present day, so his vicissitudes have been slightly propitious since it was constructed as far back as 1970 on the occasion of the exhibition of housing Archibo in Ishøj (Denmark). We might summarize the history of the only "Kubeflex" in these 10 stages, not to get longer:
Es todo un milagro que se haya conservado una casa como ésa hasta nuestros días, pues sus vicisitudes han sido poco propicias desde que fue construida allá por 1970 con motivo de la exposición de vivienda Archibo en Ishøj (Dinamarca). Podríamos resumir la historia de la única "Kubeflex" en estas 10 etapas, para no alargarnos:
1. Architect receives order of Danish company of modular homes Høm (1969);
2. Architect realizes two projects based on modular systems "Flexes" called KVADRAFLEX and KUBEFLEX (1969-70);
3. Architect and company elaborate several houses KVADRAFLEX and an alone house KUBEFLEX for exhibition of housing (1970);
4. Company does not receive scarcely requests of acquisition of any of the models; architect decides to buy KUBEFLEX's prototype constructed for the exhibition;
5. Family of the architect moves house to the south of Copenhagen for his enjoyment as house of weekend or of vacations; architect dies one year after starting enjoying the house (1971);
6. Family continues using the house for years; they all age, including the own house, falling down in a certain condition of deterioration;
7. Almost absolute oblivion during three decades: scarcely a minuscule group of architects know about the existence of this house and visit her;
8. The centenary of the birth of the architect in 2002 serves to recover Jacobsen's figure worldwide: congresses, publications, exhibitions, etc.; of there it divided my doctoral thesis on Jacobsen, certainly (that you can consult here: theses summarize ARNE JACOBSEN. THE CODIFIED LANDSCAPE (c) Rodrigo Almonacid (PhD.architect).
9. Danish State receives notice of the condition of the house and it her decides to acquire (2005) for his rehabilitation and interior adequacy with pieces of design of domestic objects designed by the architect (armchairs, tables, lamps, clocks, cutlery, game of coffee, …);
10. I move to the Museum of Trapholt's Contemporary Art (Jutlandia's region, peninsular zone of Denmark) and exhibition of the modular home as a piece of museum up to the current importance.
Curious history, truth?
As lovers of the Architecture, we will continue betting for claiming the paper of the architect as professional capable of granting a nobility and aesthetic quality to the humblest construction. To give "hare for cat" is an almost a duty assumed of the architect, a professional duty that we must never forget for ensalzar our difficult task, though there am not asked us in the great majority of the occasions that we confront a new project. If we conform to giving "cat for cat" (or at best "hare for hare"), probably we will fall down in the discouragement and the easy complacency; so that, without realizing and probably harassed by the daily housekeeping (already it is known: meetings, regulations, negotiations, invoices, insurances, incidents of work, results of tests, etc.), let's meet giving finally the "cat for hare", served éso yes with this aftertaste adorned with certain rhetorical adornments, or with disguises kitsch, or neo-rustic for more glory of the magazine Casa&Jardín, or even excuses derived from the evil I please the client.
I have listened to the same cantinela to some companions of "to seeing when I touch a good client to do …" (do not be what). The experience says to us that every client is the perfect one, the ideal one (or this way we should treat it), and that if you expect to do what you owed in all that there arises the "ideal client" have for insurance that you it will never do. To give hare for cat is the way, more for less, though already we know that that one is not the easy path of the forest, the commode, not surely that of the economic success either. There is no another way to go out wherefrom we are, to claim the worthy paper of the architect and of the Architecture, disciplines very over the simple civil construction. There is no another way to go out wherefrom we are, to claim the worthy paper of the architect and of the Architecture, disciplines very over the simple civil construction. Those who have degraded the condition of the profession up to where we are have served so many cats that they never believed possibly to deal since others they were serving (or they were trying) to serve hare. These same ones now seek to devastate other places serving the same cats the same promoters of always, though it endures it to leave the natal country if it is precise. Everything for the pasta, already is known, especially if the cat grows in number and turns into cats … mew!!!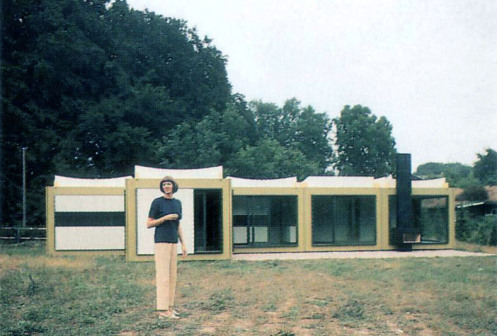 The difficult thing, the meritorious thing, is to believe that as architects we can do that a modular home removes at the level of excellence, up to turning even into piece of museum (though it is clear that this one does not have to be the aim in yes same, but the service to the needs of a client). But, yes, it is possible, reading, alone darling it is necessary to love your work. And, in spite of seeing that the rest of the world does not accompany you, to be kept in the determination. The time ends up by placing everyone in his site. For that now to the house Kubeflex numerous visitors honor her in a Museum of Contemporary Danish Art. Thanks to a good project and to that his architect put so much fondness in the house that even he bought to rescue her of an imminent demolition. It is clear that Jacobsen did not do business with this order, but the house was fantastic and he knew it. And now, finally, we recognize it all. Even his client, the company Høm, who now seems to return to the load with the new commercialization of these houses "Kubeflex" as the most celebrated of his catalogue of one-family prefabricated housings. Better evening that never, not?
Rodrigo Almonacid [r-arquitectura] · doctor architect
valladolid. december 2013
Note:
If you are interested in knowing more of this work I invite you to that you consult the presentation of slides in my SLIDESHARE and the complete article of the presentation in my ISSUU that I did recently on these projects of Jacobsen's modular homes in the International Days of Investigation in the Construction (be afraid: "Housing. Past, present and future") celebrated in the Institute of Sciences of the Construction Eduardo Torroja of Madrid on the 21st and 22nd of November, 2013. Thank you for your interest, reading darling.
(Teruel, 1974). Licenciado en Arquitectura (1999) con premio extraordinario y Doctor "cum laude" en Arquitectura por la Universidad de Valladolid (2013), compagina su actividad académica como profesor doctor de la E.T.S. de Arquitectura de Valladolid con la profesional al frente de su propio estudio [r-arquitectura]. Es autor de dos libros: Mies van der Rohe: el espacio de la ausencia (2006); y El paisaje codificado en la arquitectura de Arne Jacobsen (2016). Colaborador habitual en blogs de actualidad y crítica arquitectónica.
Proyecto edificios singulares y sostenibles en mi estudio [r-arquitectura] desde el año 2000 con la colaboración un equipo multidisciplinar de especialistas de acreditada experiencia profesional. [Especialidad: Sector Terciario].
Asesoro en el desarrollo de estrategias de comunicación 2.0 y marketing digital para actividades relacionadas con la Arquitectura: identidad digital corporativa, branding arquitectónico, community management, planifico y redacto contenidos para blogs/webs.