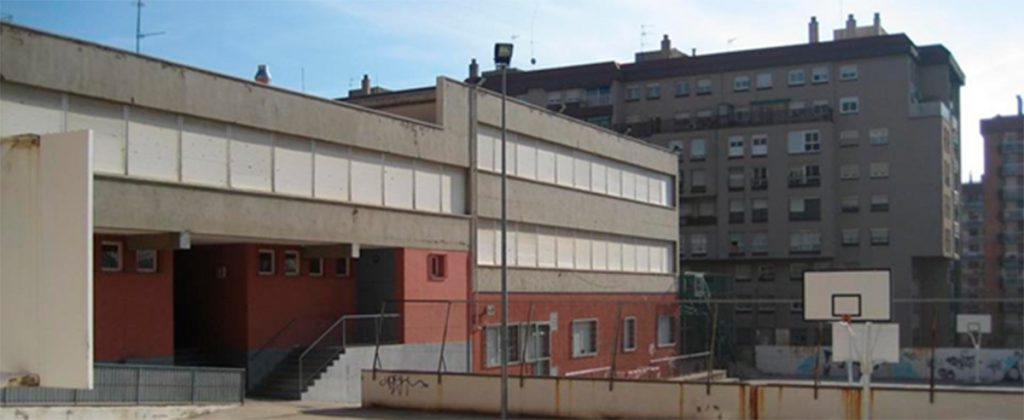 Our work consisted of improving the surrounding one of the building (fronts and covers) to obtain more efficiency and better aesthetics to a building of educational use that had remained functionally obsolete. From the beginning we appear our intervention as THE SECOND OPPORTUNITY that the architecture can offer to the buildings in the frame of an operation of integral reform.
Since point of item the project takes as an object the repair of fronts and covers and the substitution of the exterior carpentries. Nevertheless the diagnostics before the development of the executive project revealed serious constructive deficiencies that were concerning the thermal isolation of the front and the integrity of the mechanisms and systems of the blinds enrollables. This situation supposed a change of course in the line of action foreseen by the Consorci d'Educació de Barcelona who led to the project to considering the need to provide with a new skin to the building, which was solving detected deficiencies and was providing to the building of a major energetic solvency and of a renewed image.
The new architectural action was carried out incorporating externally into the front an added thickness that contains, simultaneously, the necessary isolation and the new coating. For a better logistics of the work, and recovering the experience of this study in similar projects, one chooses to work with metallic sheets folded (type Europrofile) as new skin and image. Simultaneously it thinks that this new coating, in his microperforated version, can collaborate in the solar control of the big openings for the classrooms. Precisely this great dimension of the large windows invites to a solution in the shape of "folds" that dynamism contributes to the final composition.
Work: Integral reform of surrounding (fronts and covers) of building with educational use
Client: Consorci d'Educació de Barcelona
Author: ZFA Architecture & Urban Lab (Juan Manuel Zaguirre Fernández)
Technical architect: David Salsench Fernández
Scholars collaborators: Igor Muñoz, Isaac Gallego
Project year: 2015
Year of construction: 2016
PEC: 636.500 €
Construction company: Tarraco empresa constructora, S.A.
Photography: Pepo Segura
+ zfa.cat
Búsqueda para satisfacer el conocimiento de la actividad arquitectónica y tangentes que se generan. La idea es crear un espacio para divulgar los diversos proyectos en busca de nueva inspiración y de intercambio.