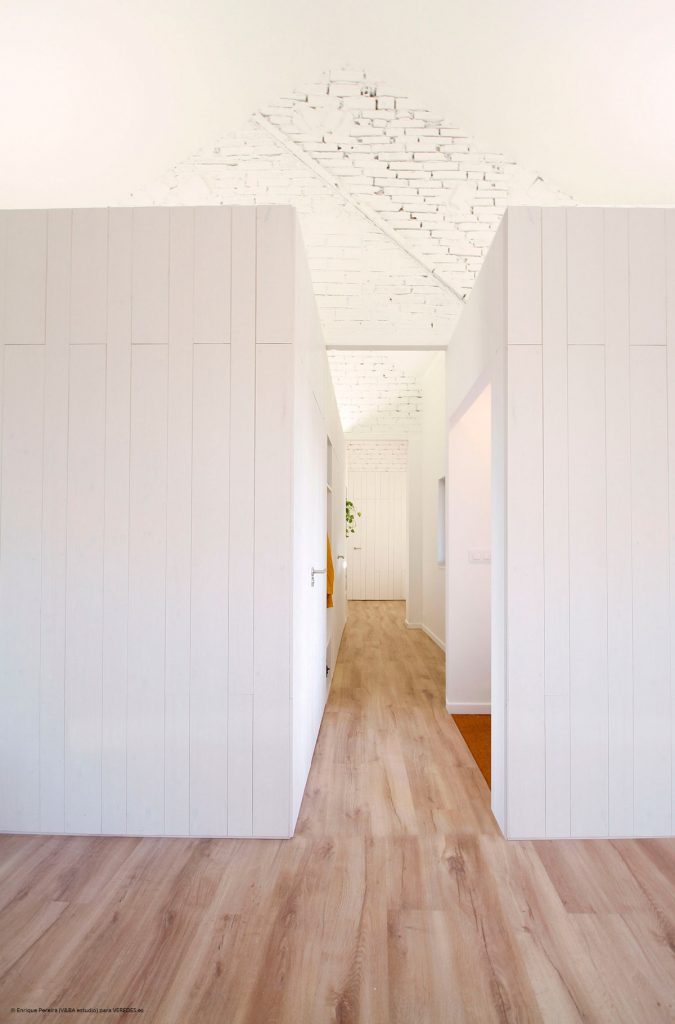 When the old makes room for the new.
S&A housing reform project consisting of 90m² of useful space capable of integrating: 3 bedrooms, study, living room, bathroom and kitchen.
The preexisting analysis revealed a self-construction dwelling in the rural area, executed in different phases, with poor installations and practically no insulation. Together with this problem, the distribution of the rooms, conditioned by the existing wall structure, did not meet 100% with the program requirements desired by the clients.
One of the objectives of the project was to achieve the highest possible comfort, both thermal and functional; at the same time that we were dealing with the structure of existing load-bearing walls, which conditioned any diaphanous distribution. It is a challenge. That is why, in order to obtain a feeling of greater breadth and light, it is decided to demolish part of the attics and recover the total height of the house, with a gabled roof, decongesting the rooms and providing them with a scale and personality completely new.
The rooms that conserve the attics are converted into two boxes covered with wooden slats: one runs along the corridor and houses the bathroom, one of the bedrooms and a multipurpose room, while the second, houses the access and helps define the space destined to living room and dining room.
In a nod to the history of housing, from the height of 2.60m, part of its original structure is preserved without plastering, and it is painted white, as is the rest of the walls in order to unite the past with the present.
Work: Integral housing reform S&A
Autlor: V&BA estudio (Elena Gimeno Bayés)
Location: Fornelos da Ribeira, Salvaterra do Miño. Galicia. Spain.
Year: 2018
Total Useful Surface: 80 m²
Total Constructed Area: 94 m²
Photography: Enrique Pereira (V&BA estudio)
Collaborators: Maria Pintos Pavón
Construction: Grupo Conscem
+ vandba.com
Búsqueda para satisfacer el conocimiento de la actividad arquitectónica y tangentes que se generan. La idea es crear un espacio para divulgar los diversos proyectos en busca de nueva inspiración y de intercambio.