Already we have the list of referees that will take part in the sixth edition of Pecha Kucha Night Coruña, next Friday, the 25th of May from 11 p.m. in the Playa Club (Platforms of Riazor s/n):
Lara Pintos [Painting/illustration], trespes.arquitectos [Architecture], Meisterstück [creative Study and gallery], Diego Cabezas [Sculpture], Negocios raros [Development of creative companies], LCG [Architecture], Miguel Angulo [Ninja videos], Javier Martín [Arts of the movement] and music by ONE OF THESE DAYS & Thee Heavy Random Tone Colour Lab.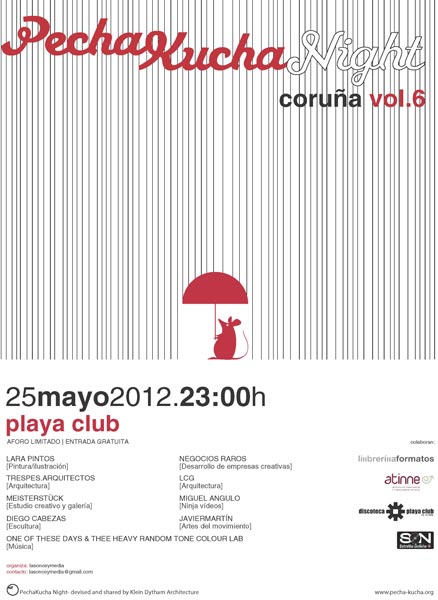 We you remember that the doors will be opened at 22:30, and the entry will be free. The access will be free up to completing appraisal.
Organize: lasonceymedia
Contact: lasonceymedia@gmail.com
Búsqueda para satisfacer el conocimiento de la actividad arquitectónica y tangentes que se generan. La idea es crear un espacio para divulgar los diversos proyectos en busca de nueva inspiración y de intercambio.