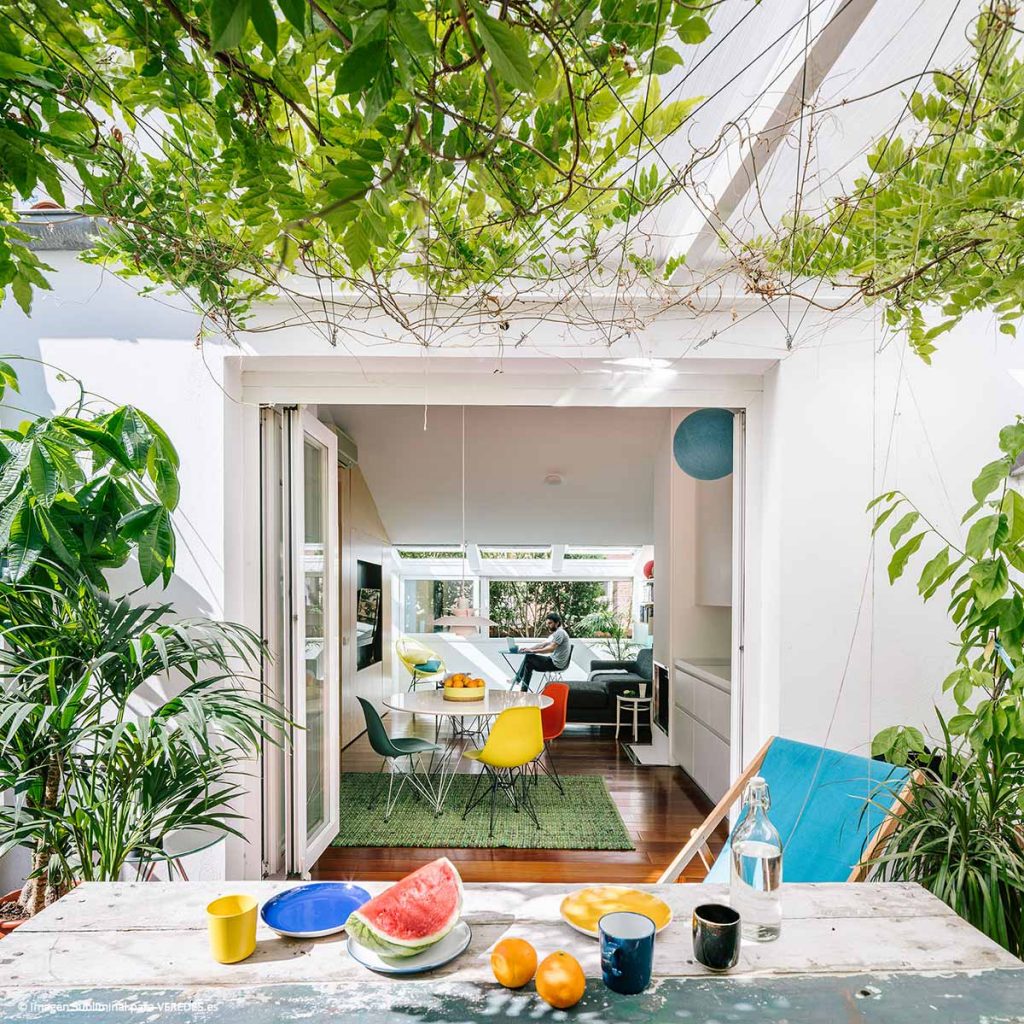 Reform of an attic in the neighborhood of Conde Duque in Madrid.
Hedonism and pleasure are possibly the two concepts most present in many of the decisions that are made to make the reform of this penthouse located in the center of Madrid for a person who lives alone.
Faced with an exclusively functional domestic organization, this house takes into account other real and fabled considerations, and is projected as a diffuse space, free of partitions, where the boundaries between the different rooms are blurred so that any unforeseen event can happen.
The sensations define the function of each area: smell, touch and sight are the fundamental materials of construction; but it is also made of the desire to produce and consume experiences that are to come, in solitude or in company: sitting by the fire in the fireplace in the winter, bathing in the pool with the windows open, reading on the terrace in the middle of the vegetation or see the stars on the roof on a summer night.
The body is the protagonist of all these dreams that develop in a mutable hybrid space, halfway between a loft and a matrioska. While the actions of cooking, eating, sleeping, relating, working or resting take place in a free environment defined by the shape and position of the objects with a certain scenographic condition, the cleaning and care of the body are carried out in a set of connected rooms in the heart of the house.
The storage system, a wooden chest-cabinet that occupies the center, is the link between both worlds; an element of game: it hides between its doors a secret access to the bathroom, creating in the house a place of surprise and mystery.
The limits of the domestic space, a linear planter of more than ten meters in length and two terraces facing south, are plant landscapes proposed as artificial devices that dissolve the boundaries between the public and the private, the interior and the exterior, the house and the city.
All this is my house, the one I need. A home that, far from being a space of representation and appearance, above all seeks the celebration of a place for life.
Work: G house. Reform of an attic in the neighborhood of Conde Duque in Madrid.
Architect: gon (Gonzalo Pardo)
Location: neighborhood of Conde Duque, Madrid, Spain
Collaborators: Alejandro Sánchez, Clara Dios
Construction: Alejandro Ruiz. serviteco obras sl
Carpentry: Mariano García. Alma Ebanistería sl
Cuisine: Victoria González. vonnas
Photography: Imagen Subliminal
Year: 2017
Client: Private
Area: 121,5 m2
+ gon-architects.com
Búsqueda para satisfacer el conocimiento de la actividad arquitectónica y tangentes que se generan. La idea es crear un espacio para divulgar los diversos proyectos en busca de nueva inspiración y de intercambio.