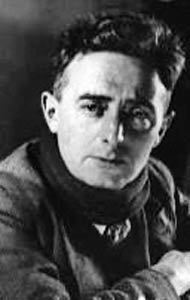 In previous income I have been assembling texts in which the accomplishment of a movie was compared with the construction of a building. Writings of the directors Ingmar Bergman, Walerian Borowczyk, René Clair, John Ford and Amos Gitai; an actress, Viola Dana, and a historian, Sigfried Giedion.
Now I include in this "series" a fragment of a manifest written by David Abelevich Kaufman, more known as Dziga Vertov (that can be translated for " it turns spinning top "), one of the most important filmmakers of the history, in spite of his short cinematographic production compared with other more prolific directors, small production provoked by the fierce political censorship, restored to safeguard the Soviet dogma. In spite of it Vertov had "luck" because it did not finish murdered in the Stalinist purges. While the civil servants and hangmen of the regime already nobody remembers, the work and Vertov's theoretical offers have come out, having a decisive influence on different generations of filmmakers from the sixties up to the current importance.
In his text About Kinopravda (Kino-Pravda can translate as cinema truth) of 1924 he writes:
«Kinopravda is done by movie as a house is done by bricks. With bricks one can do an oven, a wall of the Kremlin and many other things. One can construct several film – object with movie. As well as they are necessary good bricks for a house, there is needed good quantity of movie to organize a film – object».
Vertov, as theoretical others, compares again the fragile consistency of the celluloid with the solidity and the perdurabilidad of the architectural construction. A construction that, certainly, every time is less solid and lasting.
Jorge Gorostiza, arquitecto. Author of the blog Arquitectura+Cine+Ciudad
Santa Cruz de Tenerife, december 2011
Doctor arquitecto, proyecta y construye edificios y desarrolla trabajos de urbanismo. Desde 1990, publica numerosos artículos sobre cine y arquitectura en medios de su localidad, revistas como Nosferatu, Nickleodeon, Academia, Lateral, Cahiers du Cinema… y en varios volúmenes colectivos. Entre el 2000 y el 2005 dirige la Filmoteca Canaria. Imparte conferencias sobre arquitectura y cine en instituciones como el CAAM en Gran Canaria, la UIMP, el CENDEAC en Murcia, INCUNA en Gijón, Fundación Telefónica, la ETS de Arquitectura y el CCCB de Barcelona, las ETS de Arquitectura de La Coruña, Sevilla, Valencia y SEU madrileña, La Ciudad de la Luz en Alicante, la UNED en Pamplona, en varios colegios de arquitectos, así como en las universidades del País Vasco, Gerona, Valladolid, Málaga, Granada, SEK en Segovia y CEES de Madrid. Jurado en varios festivales cinematográficos, como los de Alcalá de Henares (2001), San Sebastián (2002), Sitges (2003), Las Palmas (2005) y Documentamadrid (2005), y comisario de las exposiciones Constructores de quimeras. (Centro Conde Duque, Madrid, 1999) y La arquitectura de los sueños (Capilla del Oidor, Alcalá de Henares, 2001).
He publicado bastantes libros y muchos artículos, he impartido conferencias, he sido comisario de exposiciones y jurado en muchísmos festivales. Si quieren saber más no duden en consultar mi blog ARQUITECTURA + CINE + CIUDAD.