The contest expects select the best proposal for the design of a prototype of household with courtyard, with a construction of low cost, set aside for poorer families, in a flat topography area, within the perimeter of Luanda.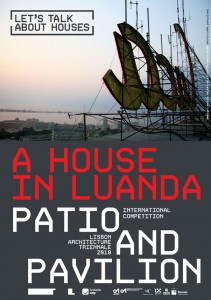 With the contest is expected to create a model replicable that translates the social, economic and cultural specificity of Luanda, wanting that this model "does city", using systems, practices and materials of the architecture local. The construction system should privilege the logic of the sustainability, being able to consider the construction for phases or the use of the auto-construction on the part of his resident futures, with the desire of a prospective attitude associated to an evolutionary model component. The total area of the field is 250 m² and the total cost of the construction will be of twenty-five thousand euros.
Although it not yet be a certainty, the Triennial one seeks to do all the efforts needed to arrive to promote the construction of this household. The share in the contest is open to Portuguese architects and foreigners that registered people are in his respective professional association.
The jury, integrated by architects Álvaro Siza (President, appointed by the Fundación EDP), João Luís Carrilho gives Graça (Commissioner of the Contest/Exhibition), Fernando Mello Franco (designated by the mecenas of the Triennial one), Barry Bergdoll (appointed by the mecenas of the Triennial one) and Angela Mingas (designated by the Triennial one of Luanda), will select 30 projects finalists to whose authors an introduction mockup will request them to him of his proposal. These models will constitute the assets of the exhibition that the Triennial one will promote in the Museum of the Electricity, from October 28, 2010 until 16 of January 2011.
Four prizes will be given for an aggregate value of twenty-five thousand euros, the first prize of ten thousand, the second of 7500, the third party of five thousand euros and the fourth one 2500 euros.
Búsqueda para satisfacer el conocimiento de la actividad arquitectónica y tangentes que se generan. La idea es crear un espacio para divulgar los diversos proyectos en busca de nueva inspiración y de intercambio.