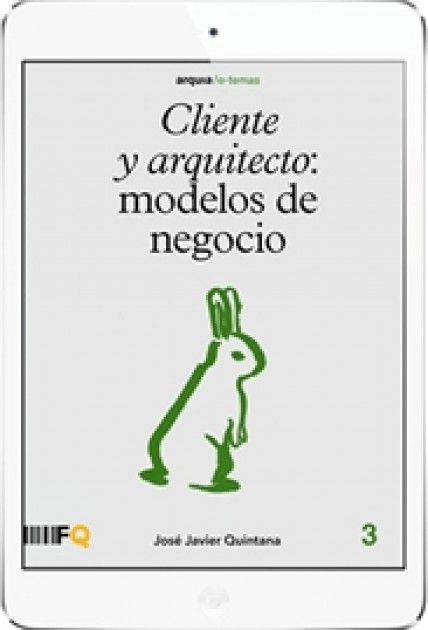 Between the different tools of visualization and mechanics of work it is necessary to emphasize the linens or "canvas" as support for the Companies of Arquitecta's Professional Services (ESPA). This publication there adapts the different current theories of business and the generation of new ideas to design a tool adapted for the generation of models of business of the ESPA.
With this aim it is described, first (1) how the existing bosses work the model linen of business and (2). Later it centres on the generation of the offer of value, where one must produce the connection between the client and the architect.
José Javier Quintana Saldise.
Expert in business management, strategic change, commercial practice, emprendimiento and innovation in the sector of the architecture and, especially, in the companies of professional services of architecture in Spain.
Architect for the Technical Top School of Architecture of the Navarrese one's University (ETSAUN) 1990.
After finishing the race opened his professional studio , which acted as managing partner and in the early years built a large volume of homes . Vronze founded in 1995 , property development company from which numerous projects have been promoted .
In 2008 Business School of Madrid dealed Alta Dirección de empresas's program (PADE-A-08) in the IESE.
In 2009, after the cessation of the real-estate activity due to the crisis, case bsA (Rethinking architecture), company of consultancy specialized in architecture. At present he reconciles the consultancy and the teaching with the development of business of several companies.
It is forming, an author of several courses of managerial content for architects, where it analyzes and presents several cases of study. He has been a guest regularly as lecturer in several schools and institutions. He has contributed to the emprendimiento and to the strategic change in more than thirty professional offices, identifying the keys of his business and adapting his model to the market. It has advised to several architects' colleges and is a collaborator of CSCAE.
Búsqueda para satisfacer el conocimiento de la actividad arquitectónica y tangentes que se generan. La idea es crear un espacio para divulgar los diversos proyectos en busca de nueva inspiración y de intercambio.