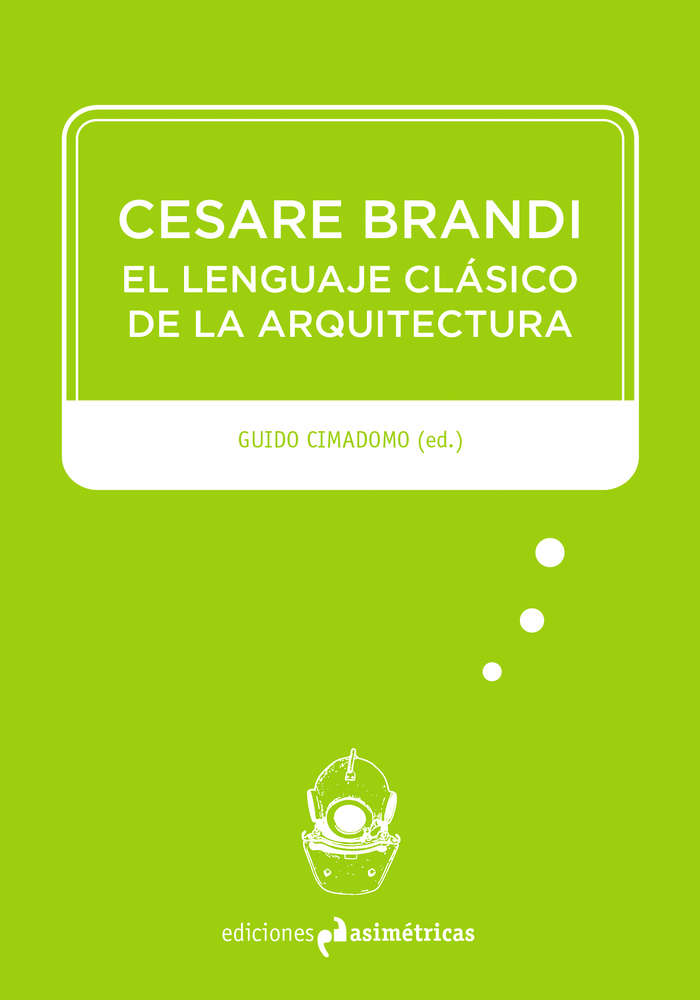 The intention of this book is to re-discover the essence of the classic architecture, since he avoids the simple chronological succession of the styles and chooses like alternative certain epochs to explain his evolution. The lucid descriptions of Cesare Brandi, prestigious historian of the art, they present the evolution of the classic orders along the history across some singular buildings from the ancient Greece, the imperial Rome and the Renaissance.
His clairvoyants and extremely perspicacious observations, his peculiar way of understanding the space and the relations between interior and exterior, allow to come to a deeper comprehension of the genesis of some masterpieces, key pieces in to develop of the history of the architecture, explaining the intentions of his authors.
Unfortunately, in Spain Brandi's work has been little spread; apart from his indispensable Theory of the Restoration, alone some notebooks of trips have been translated into the Castilian. Before the difficulty of acceding to his entire corpus ensayístico, the transverse reading that generates this selection of passages of diverse books realized by the teacher Guido Cimadomo offers the first approximation now to the reader to Brandi's thought. They are critical texts of the highest level that expose the genesis of the classic architecture, and show also the literary value that Brandi always instills in his writings.
Cesare Brandi (1906-1988) has been one of the most recognized historians of the art and founder of the Theory of the Restoration. In 1938 it founds the Istituto Centre Him of I restore together with Giulio Carlo Argan, giving a total relevancy to the rehabilitation, recovery and conservation of the works of art. His bibliography is extensive and varied, of wide temporary and geographical range, always with a personal and critical look that positions it as one of the big intellectual Italians of the 20th century.
His deep knowledge of the history of the art and of the architecture, opposite to other big figures more specialized in concrete areas, they allow him the necessary extent of gun-sights to express simply and clearly his genesis and transcendency. The works of art, be these pictorial or architectural, they are seen as something only and unrepeatable and his attentive analysis joins other sources historiográficas existing to give a clear reading of the intentions of the architects. Author of monographs, of writings aesthetics, theory of the art and of journalistic articles, his dialogs of the forties and fifties on painting, sculpture, poetry and architecture – that symbolically they open this selection of texts – us resemble the big commentators of the history of the architecture.
Búsqueda para satisfacer el conocimiento de la actividad arquitectónica y tangentes que se generan. La idea es crear un espacio para divulgar los diversos proyectos en busca de nueva inspiración y de intercambio.