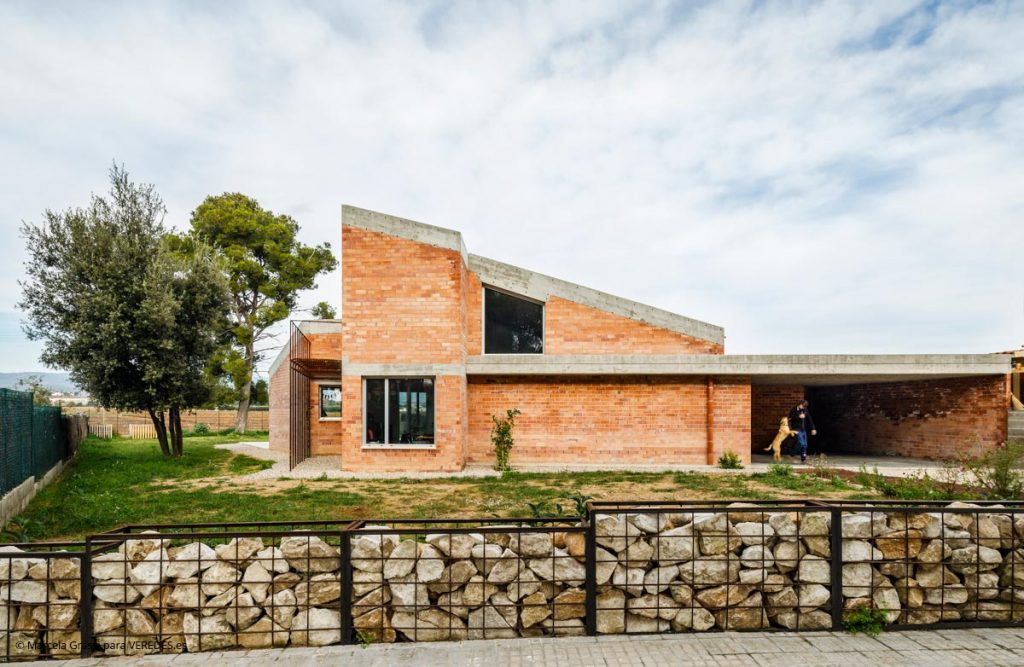 THE COMMISSION
Almudena and Jordi asked us to design a ground floor house, for them and their two children to live in. They have many hobbies, such as music, arts and crafts and cooking. They always look forward to spending time together as a family.
The objective of the property was clear: for all the members of this small family be able to share as much time together as possible, irrespective of where they are in the house.
At the same time, we wanted to maintain a certain degree of privacy with regards to the street and to their neighbours and open the house up to a beautiful vineyard.
The result is a house with a walled façade, featuring irregular shapes which open up to the landscape of the vineyards.
PASSAGEWAYS
The structure of the house was based on several continuous passageways with one central element: a glazed inner courtyard. This shape allows us to create a home with circularity and to visually
connect the different parts of the house.
In this way it wouldn't matter if you were preparing dinner while the children were doing their homework: you always have the feeling that the rest of the family are with you.
Once it was finished, we were able to make sure that the courtyard allowed the day rooms to have one common focus, converting the various rooms of the house into one large living room to be enjoyed as a family.
VOLUME
Aside from the passageways, each room of the house was built independently, piece by piece, working with sloped rooves which give each room of the house a different expression. The rooves are made of concrete and their entire history is visible: the concrete formwork and the imperfections of the building process.
MATERIALS AND CONSTRUCTION
We wanted to give the house sensibility, working with exposed materials. Ceramic, concrete and wood.
The construction has followed a traditional method. Once the structure was completed, the walls and ceilings were insulated with wood, to ensure it was insulated without a thermal bridge, in a natural and breathable way.
Work: Casa Almudena
Author: Jesús Perales Arquitecto (Jesús Perales Cañaveras)
Location: Avinguda Marta Mata, 51. 43711 Els Boscos, Banyeres del Penedès. Tarragona.
Year: 2015-2017
Promotors: Almudena Álvarez Sánchez and Jorge Ybarra Corpas
Superface: 224,28 m2
Construction cost: 1300€/m2
Collaborators: Anthony Benitez Martin, architect, Marc Riera Arbós, technical architect
Photography: Marcela Grassi
+ jesusperales.es
Búsqueda para satisfacer el conocimiento de la actividad arquitectónica y tangentes que se generan. La idea es crear un espacio para divulgar los diversos proyectos en busca de nueva inspiración y de intercambio.